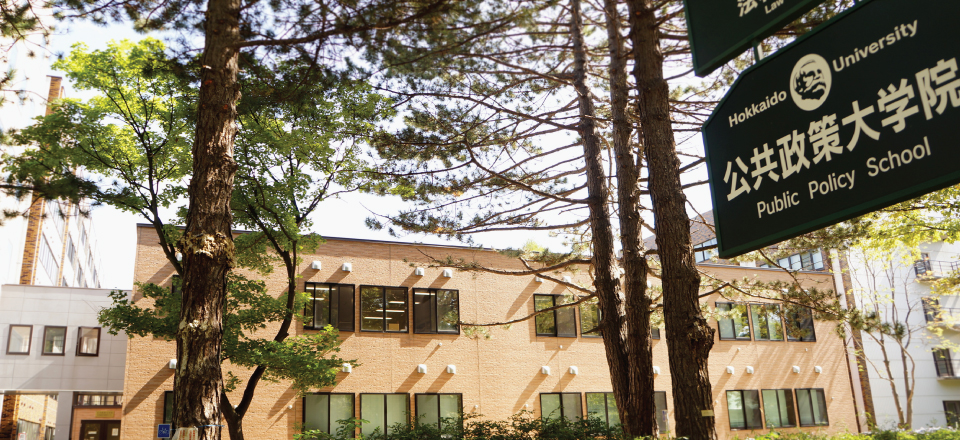 As more people get involved in making and implementing public policies, the Graduate School of Public Policy aim to help students become versatile public-policy experts. To achieve this objective, our prominent faculty members provide small-group education, and the graduate school offers three crossover programs. Students have opportunities to pursue careers serving national and local governments or as public-policy professionals working in corporations, think tanks, and NPOs.
Requirements

In order to gain entry into the Professional Degree Program, applicants must:

Hold a bachelor's degree or equivalent and have completed at least 16 years of education.
STEP

1

Find a Supervisor

Graduate and research students conduct research under the guidance of a supervisor. To enter Hokkaido University as a research or graduate student, you need to find a faculty member who is willing to give you instruction on your research. Find a prospective supervisor from our website:

STEP

2

Apply to the Graduate School

Check how to apply on the website of the graduate school you wish to enter.

Applicants must pay the examination fee at the time of application.

STEP

3

Take the entrance examination

Screening procedures for research students are conducted on the basis of documentation submitted whilst screening procedures for graduate level students differ between each school. Please check the website of the school you wish to enter. In the event that you are required to come to Japan for the entrance examination, you will need to obtain a temporary stay visa at your local 

Japanese Embassy.

STEP

4

Commence enrolment procedures

After passing the screening process, you will be required to submit necessary documentation, pay the entrance fee, and complete other necessary procedures to become enrolled. Once you are issued with a Letter of Acceptance from Hokkaido University, you can apply for a student visa at your local Japanese Embassy.
| FEES | POSTGRADUATE STUDENTS |
| --- | --- |
| Tuition Fee | ¥535,800 / $5,880 (per year) |
| Entrance Fee | ¥282,000 / $3,100 |
| Examination Fee | ¥30,000 / $330 |
Graduate School of Public Policy




PROFESSIONAL DEGREE PROGRAM

Semester Commencement
April*** √

–

–
–
***This is a two year professional degree. There is no Masters or Doctoral Program.
Subjects

Public Policy

Public Management, International Relations, Technology Policy