Brand-new Bachelor's Degree Program in English

Program Details
The Integrated Science Program (ISP) is a cross-disciplinary educational program for international students interested in pursuing a degree in sciences. The program fundamentally consists of a 4-year Bachelor's degree and a 2-year Master's degree. Hokkaido University has also put in place an advanced graduation initiative, meaning that highly motivated and capable students will have the opportunity to graduate from the Bachelor's and Master's components in 3.5 and 1.5 years, respectively.
Visit the Program Website
The ISP website is here. Please read it carefully for all details about the program. 
Keep abreast with all news updates regarding the course by 'liking' our official Facebook Page.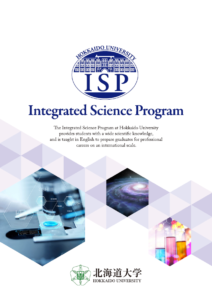 (click to get PDF)