Research Press Release | October 22, 2015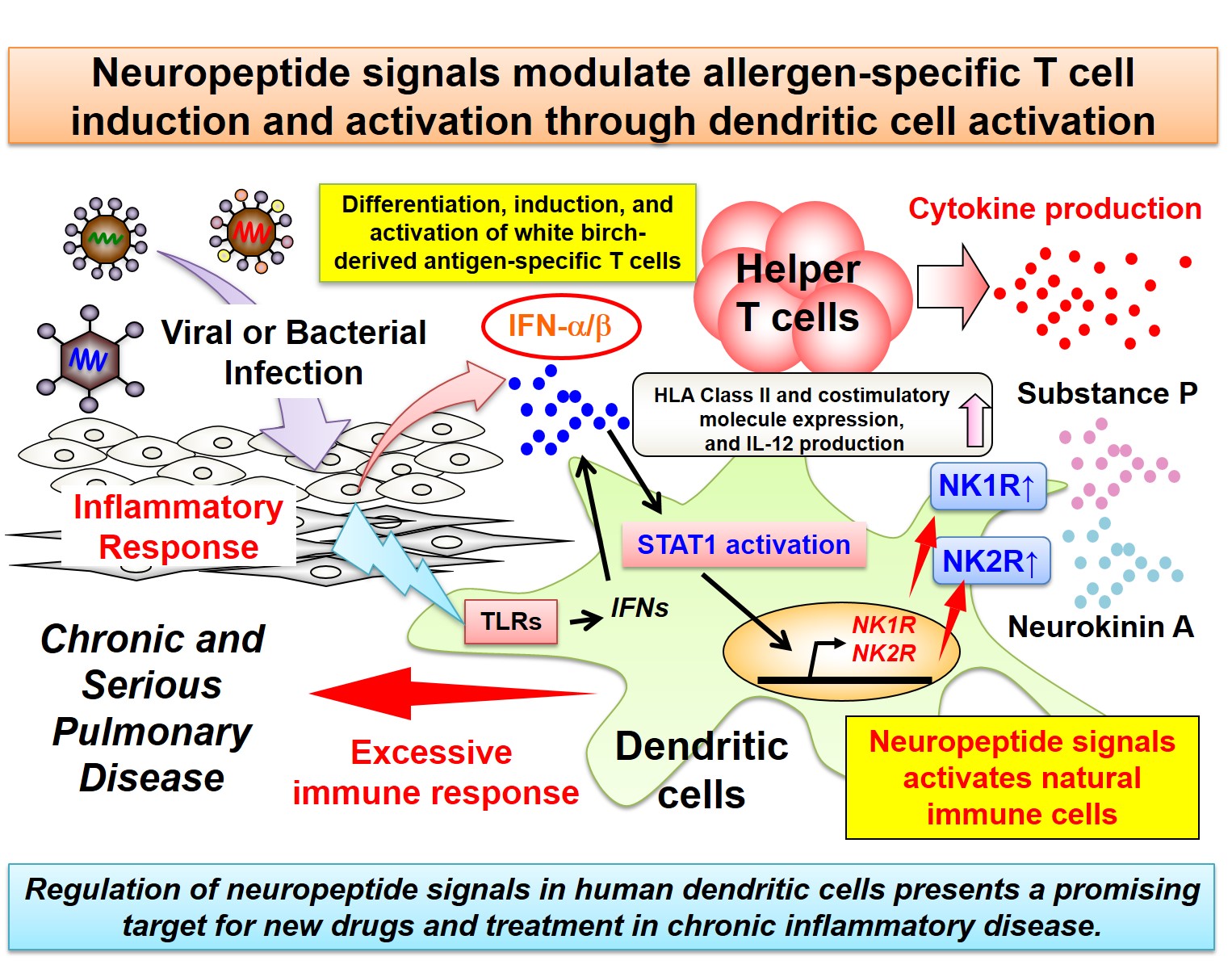 Press Release
Key Points
・Elucidation of a novel mechanism: neuropeptide1 receptors mediate activation of human dendritic cells.2

・Specific T-cell immune responses to white birch pollen can be modulated by controlling neuropeptide signals.

・Potential for application in development of new drugs and treatments for respiratory diseases such as severe asthma.

Overview
Asthmatic disease is generally controlled with anti-allergy medications and steroids, but some patients are resistant to treatment, or infection with viruses or other pathogens may cause exacerbation or chronic disease. In this study, we revealed the following new discoveries: Stimuli mimicking a viral or bacterial infection can cause STAT13 activation which induces the expression of neuropeptide (Substance P,4 Neurokinin A5) receptors (NK1R, NK2R) in human dendritic cells. Neuropeptide signals regulate the antigen-presenting function of dendritic cells and are involved in the differentiation, induction, and activation of helper T-cells6 specific to white birch pollen antigen. NK1R and NK2R are expressed on the cells infiltrating the lung tissue of patients with asthma and hypersensitivity pneumonitis.7

This study suggested that by blocking the signaling pathway of neuropeptides in dendritic cells, we could inhibit excessive immune responses. This may help patients with asthma improve, or prevent the disease from becoming chronic or serious. We believe this discovery has applications as a potential target in developing new treatments for intractable inflammatory diseases.

Notes

1)Neuropeptide:

Generally refers to a peptide that is secreted when the brain or neurons are stimulated. It is usually released from a nerve ending. Neuropeptides in trachea include VIP (vasoactive intestinal peptide) of the parasympathetic nervous system, tachykinins (Substance P, Neurokinin A, Neurokinin B), and CGRP (calcitonin gene-related peptide) of sensory nerve C-fiber.




2)Dendritic cells:

A typical antigen presenting cell. Dendritic cells engulf foreign compounds and harmful cells including virus-infected cells and tumor cells, then digests the component proteins into antigen peptide fragments. The peptides then binds to MHC Class II or Class I molecules on the cells and presents to helper T-cells and killer T-cells, inducing differentiation and activating T cells in response to the specific antigens.




3)STAT1:

A signal transducer and activator of transcription. When cytokines such as Type I interferon or IFN-γ bind to the receptors on cells and activate protein kinase, phosphorylated STAT1 migrates into cell nuclei and mediates induction of various target genes.




4)Substance P:

A type of tachykinin. It is released from sensory nerve endings when the airway is irritated. It is known to cause vasodilation, and enhances airway hyperreactivity. It also stimulates mast cells into releasing histamine, and regulates cell function via neurokinin 1 receptors (NK1R). Recent reports suggest it may also modulate immune function by affecting macrophages.




5)Neurokinin A:

A type of tachykinin. Airway stimulation causes release from sensory nerve endings. It is known to constrict airway smooth muscles and regulates cell function via neurokinin 2 receptors (NK2R). Compared to substance P, many of its effects remain unknown.




6)Helper T-cells:

Thymus-derived CD4 positive cells involved in adaptive immunity. When stimulated with antigens presented by dendritic cells, it produces various cytokines that activate the immune system in host. Th1 cells activate CD8 positive killer T-cells which play a vital role in preventing infections and enhancing anti-tumor immune responses. Th2 cells are involved in humoral immunity, preventing parasitic infections and promoting activation of antibody-producing cells. While excessive activation of Th1 cells causes autoimmune disease and hepatitis, overactivation of Th2 cells causes the onset of asthma and other allergic diseases.




7)Hypersensitivity pneumonitis:

A respiratory disease. It occurs as a result of repeated inhalation or exposure to antigens such as fungi (mold or mushroom spores), animal wastes, chemical substances, or dust. Symptoms include fever, coughing, and difficulty breathing. If the pneumonitis becomes chronic, symptoms can appear even in the absence of triggers such as exposure to antigens. If it becomes serious, a Th1 immune response is also observed.

Inquiries

Hidemitsu KITAMURA, Assoc. Professor, Institute for Genetic Medicine, Hokkaido University
TEL: +81-11-706-5520

FAX: +81-11-706-5519
E-mail: kitamura[at]igm.hokudai.ac.jp

Japanese Link
ヒト免疫応答を調節する神経ペプチド受容体を介した 新たな制御メカニズムの解明 (2015.10.7)
Publications

Neuropeptide signaling through neurokinin-1 and neurokinin-2 receptors augments antigen presentation by human dendritic cells,

Ohtake J., Kaneumi S., Tanino M., Kishikawa T., Terada S., Sumida K., Masuko K., Ohno Y., Kita T., Iwabuchi S., Shinohara T., Tanino Y., Takemura T., Tanaka S., Kobayashi H., Kitamura H.,

The Journal of Allergy and Clinical Immunology (2015.9.11), doi: 10.1016/j.jaci.2015.06.050.