Finished
Oct

05

2016

The 1st HUCI Forum will be held at Hokkaido University Conference Hall on 13:30-15:00, Oct 5th, 2016.
The forum aims to encourage a dialogue among members of Hokkaido University community to assure the promising future that the ten-yer visions of HUCI (Hokkaido Universal Campus Initiative) seek for.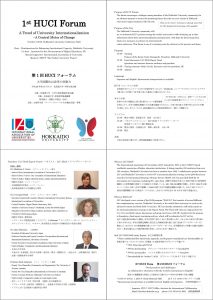 (click to get Program PDF)
The forum will be supported by International Association of University (IAU) and MEXT "Top Global University Project".
All Hokkaido University members are encouraged to attend this forum. No advance registration required.