Event | December 16, 2015
Finished
Dec

16

2015
Staff Training in the Age of Globalization
Faculty and staff of Hokkaido University and other universities interested in understanding the initiatives and challenges that universities in the United Kingdom confronted in the areas of diversity and the respect for individuals are invited to attend this faculty development workshop given by Amarah Khan, former Human Resource staff at the University of London. Ms. Khan is an experienced trainer with more than 15 years of training experience both inside and outside academia in the field of diversity and inclusion.
Participants will learn first-hand about the basic training content that was actually carried out in UK universities.
This is a perfect opportunity for persons wanting to expand their definition of what constitutes FD training.
(Scroll down for details in English.)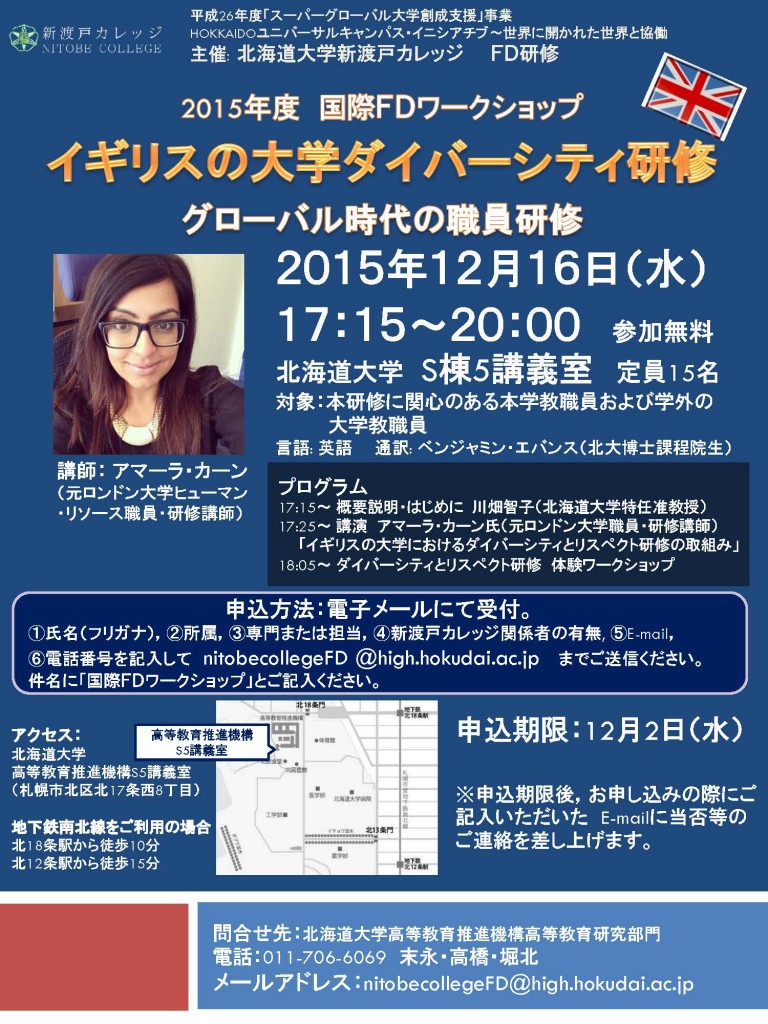 Date / Time:

Dec 12 (Wed), 2015  17:15 – 20:00

Venue:

S5 seminar room, 5F S building, Institute for the Advancement of Higher Education, Hokkaido University

Program:

17:15 –

Intro. of topic: Specially Appointed Assoc. Prof. Tomoko KAWABATA

17:25 –




Lecture : Ms. Amarah Khan

Initiatives for the promotion of diversity and respect toward individuals in UK universities

18:05 – 

Workshop: Training to promote diversity and respect for individuals 

Registration:

E-mail us  ( nitobecollegeFD[at]high.hokudai.ac.jp ) with:

your name (include furigana),   2. faculty,   3. field or area,   4. whether you are associated with NITOBE College,   5. e-mail,   6. tel#
Deadline: Dec 2 (Wed)

Contact:


Research Division for Higher Education, Institute for the Advancement of Higher Education, Hokkaido University
(Kita 16 Nishi 8, Kita-ku, Sapporo 060-0817)
TEL: 011-706-7520 (in Japanese)

Language:

Consecutive interpretation provided (Jpn – English)

Charge / Capacity:

Free / 15 persons