Event | February 01, 2016
Finished
Feb

01

2016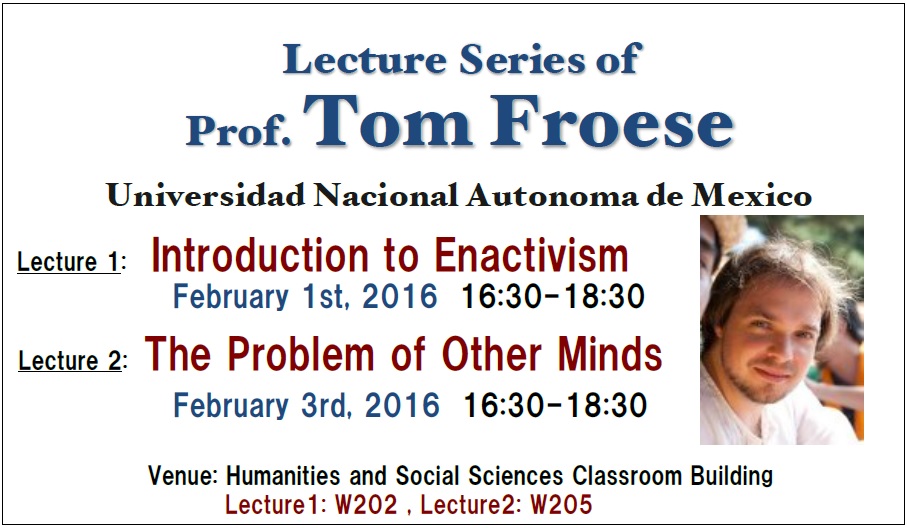 Dr. Tom Froese is a researcher who is active around the world in the field of cognitive science, especially Enactive approach.
He has published a number of original articles with renowned philosophers, cognitive scientists, and neuroscientists.
■ Lecturer
Associate Professor
Universidad Nacional Autonoma de Mexico (UNAM)
■ Place
Humanities and Social Sciences Classroom Building , Hokkaido University
Lecture 1: W202
Lecture 2: W205
■ Seminar date
(1) 2/1/2016 (Wed) 16:30-18:30
(2) 2/3/2016 (Fri) 16:30-18:30
■ Language
English (No interpretation available)
■ Pre-registration is not required / Free
■ Japanese Link
トム・フレーゼ氏 連続講演会開催のお知らせ
■Inquiries
Assoc. Prof. Shigeru TAGUCHI
Ethics and Applied Ethics, Philosophy and Cultural Sciences, Graduate School of Letters, Hokkaido University
tag[at]let.hokudai.ac.jp
This seminar is funded from Grant-in-Aid for Scientific Research, Scientific Research (C), #25370001.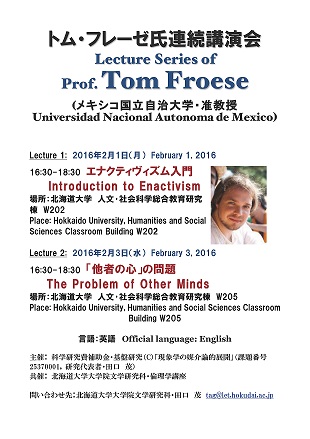 (click to get the PDF)