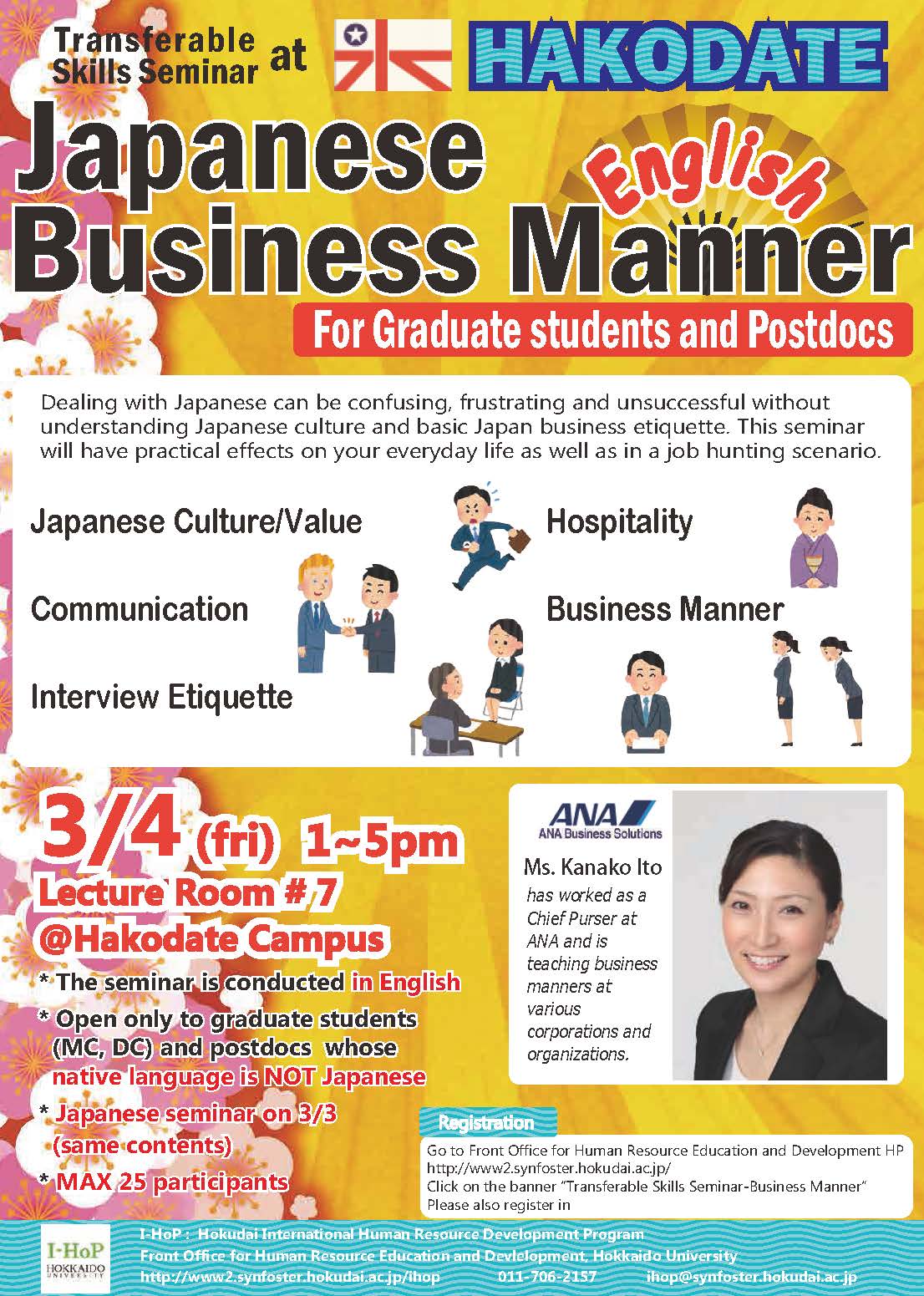 (click to get the PDF)
Dealing with Japanese can be confusing, frustrating and unsccessful without understanding Japanese culture and basic Japan business etiquette. This seminar will have practical effects on your everyday life as well as in a job hunting scenario.
This transferable skills seminar is targeted for international researchers (MC, DC, PD).
Seminar will be conducted in Japanese on 3/3, in English on 3/4.
■ Curriculum
1. Orientation
2. Cultural differences, different values
3. Unique characteristics of Japanese communication
4. Japanese Business Manner Workshop
5. Setting your goal
You will learn at this seminar
・Japanese Culture / Value
・Hospitality
・High context / low context communication
・Unique characteristics of Japanese communication
・Importance of communication
・How to bow
・Business card etiquette
・Interview etiquette
* 3/3(thu)Japanese Business Manner seminar will be conducted in Japanese. (same contents)
If you prefer to be taught in Japanese, take the seminar on 3/3(thu) 14:00-18:00.
■ Lecturer
Ms. Kanako Ito
She has worked as a Chief Purser on both international and domestic flights. She also has experiences of assisting many VIP (Imperial family, government officials) flights. She is now a manner instructor at ANA Business Solutions teaching at various corporations and organizations.
■ Place
Room #7, Lecture-room Building, Hakodate Campus
■ Seminar date
3/3/2016 (Thu) 14:00-18:00 – in Japanese
3/4/2016 (Fri) 13:00-17:00 – in English
■ Eligible
Hokkaido University graduate students (MC, DC) and postdocs whose nativelanguage is NOT Japanese.
* We accept Japanese native students if the number of participants on 3/3 is low.
■ Max participants
25 / each seminar
■ Application Deadline
3/2/2016 noon
■ How to register
You need to be registered in the Hi-System.
If you are not, please register at the page.
*Hi-System details are found at here.
Seminar registration at the pages below (After Hi-System registration)
—3/3/2016 (Thu) 14:00-18:00 – in Japanese
—3/4/2016 (Fri) 13:00-17:00 – in English
Click "申し込む" button (left one at the bottom).
If you do not receive a confirmation e-mail in three business days after registration, please contact I-HoP.
■Inquiries
I-HoP :International Human Resource Development Program, Front Office for Human Resource Education and Development, Hokkaido University
ihop[at]synfoster.hokudai.ac.jp
011-706-2157