Event | February 29, 2016
Finished
Feb

29

2016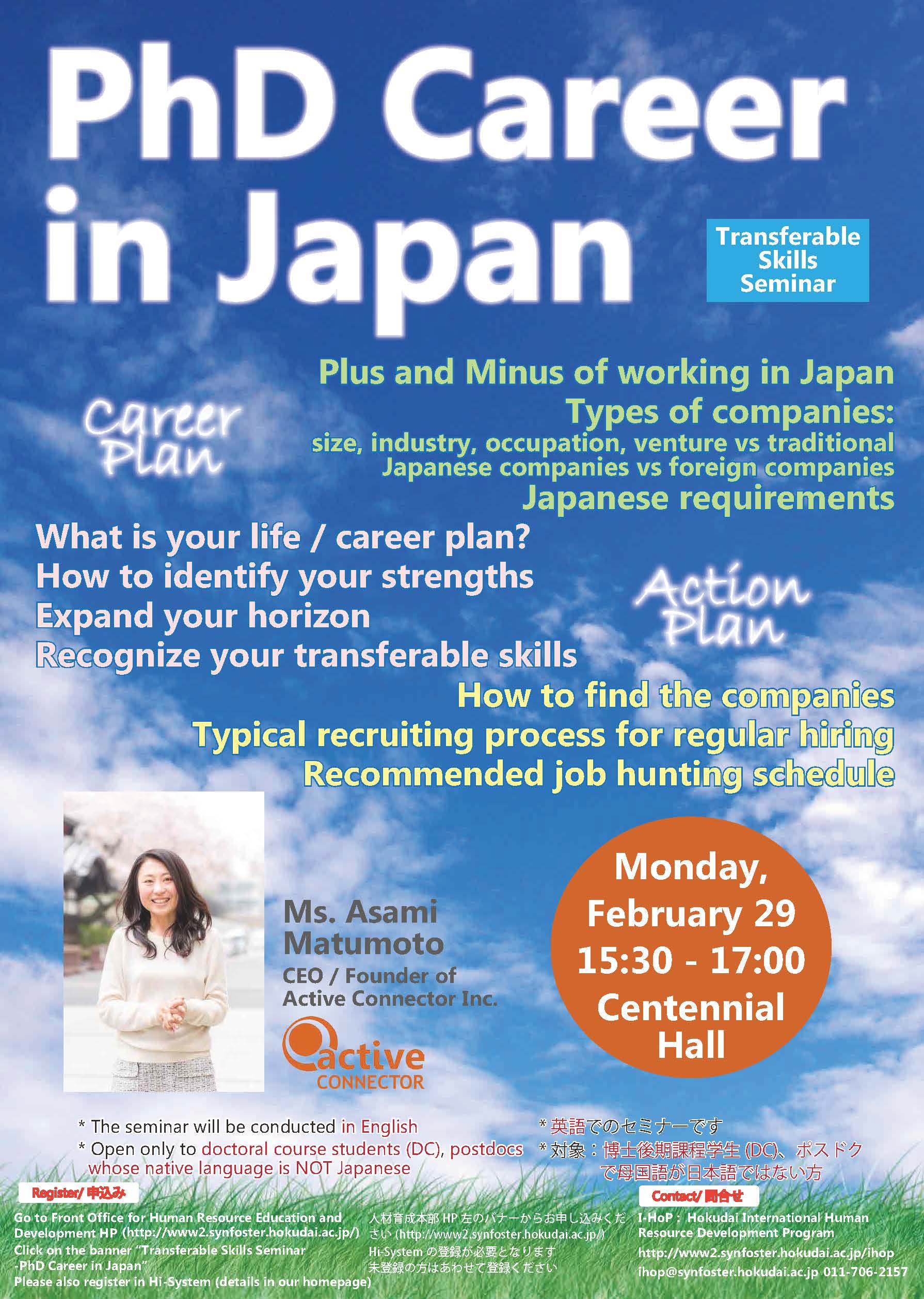 (click to get the PDF)
This transferable skills seminar is targeted for international researchers (DC, PD).
Seminar will be conducted in English.
CEO and Founder of Active Connector Inc. will give us insight into non-academic career in Japan and advise you on your next move.
【General Background】
・ Plus and Minus of working in Japan
・ Types of companies: size, industry, occupation, venture vs traditional, Japanese companies vs foreign companies
・ Japanese requirements
【About your career plan】
・ What is your life/career plan?
・ How to identify your strengths, – Expand your horizon – recognition of your transferable skills
【Action plan】
・ How to find the companies
・ Typical recruiting process for regular hiring
・ Recommended job hunting schedule
■ Lecturer
Ms. Asami Matsumoto
CEO/Founder of Active Connector Inc.
Active Connector is committed to creating meaningful career opportunities for international students in Japan. Their vision is to create a community in which everyone can enjoy working and living in a transcultural environment.
■ Place
Centennial Hall 1st Floor Conference Room
■ Seminar date
2/29/2016 (Mon) 15:30-17:00
■ Eligible
Hokkaido University doctoral course students and postdocs whose native language is NOT Japanese
■ Max participants
50
■ Application Deadline
2/28/2016 23:00
■ How to register
Click here and scroll to the bottom of the page and click "申し込む" to register.
You must be registered in the Hi-System. If you are not, please register here.
*Hi-System details are found at here.
If you do not receive a confirmation e-mail in three business days after registering, please contact I-HoP.
■Inquiries
I-HoP :International Human Resource Development Program, Front Office for Human Resource Education and Development, Hokkaido University
ihop[at]synfoster.hokudai.ac.jp
011-706-2157