Research Press Release | February 22, 2016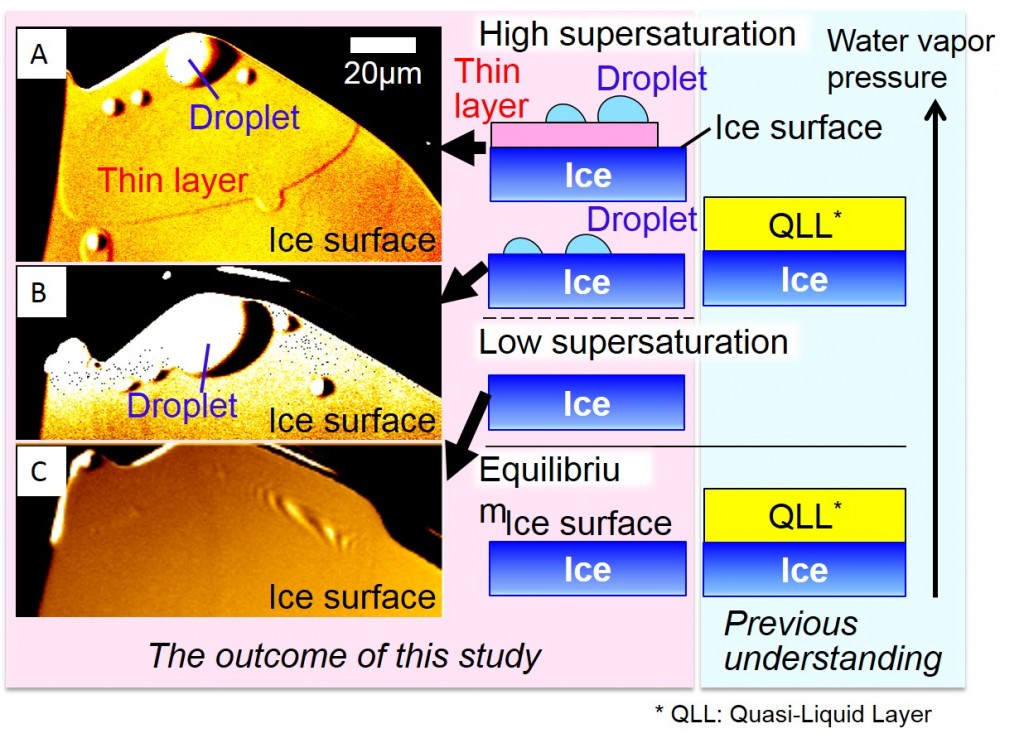 Fig. 1. The formation of two types of quasi-liquid layers (QLLs)1 and water vapor pressure. The left and right figures show the outcome of this study and previous understanding, respectively. Under highly supersaturated water vapor pressure, droplet and thin-layer QLLs were formed on a growing ice crystal surface (A). However, with decreasing water vapor pressure, thin-layer QLLs first disappeared (B) and then droplet QLLs vanished next (C), although elementary steps of ice crystals were still growing.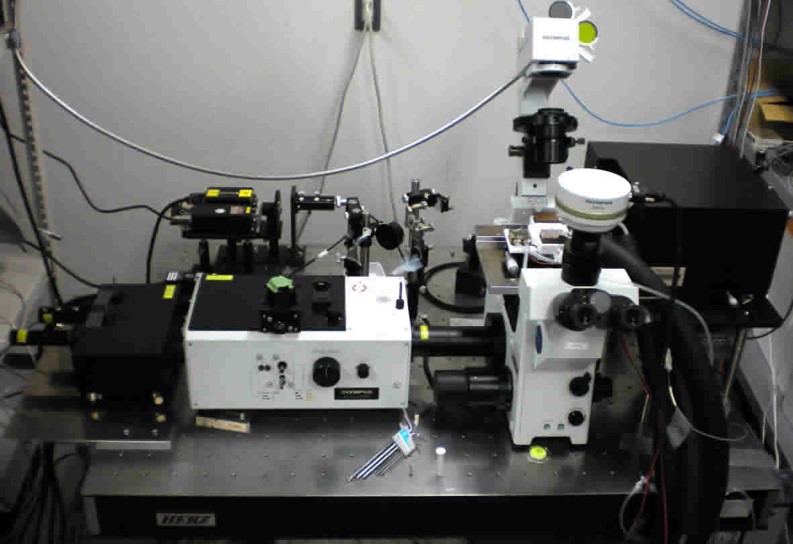 Fig. 2. Laser Confocal Microscopy combined with Differential Interference Contrast Microscopy2 (LCM-DIM). This microscope can detect 0.37-nm-thick elementary steps on ice crystal surfaces.
Key Points

>> It has been known that surfaces of ice crystals are covered with two types of liquid water layers even at temperatures below melting point (0°C). We have discovered that these liquid water layers are generated, not by the melting of ice surfaces, but rather by the deposition of water vapor.




>> The findings in this study will provide a key to unlocking the secrets of a wide variety of phenomena, such as ice skating, regelation, frost heave, low-temperature (frozen) preservation of food and organs, and the electrification of thunderclouds–all phenomena for which liquid water layers on ice surfaces play an important role.

Outline

Ice surfaces are covered with thin liquid water layers, called quasi-liquid layers (QLLs)1, even at temperatures below melting point (0°C). This phenomenon has been called "surface melting" and is thought to be the key of a wide variety of phenomena from ice skating to the generation of thunder.

However, it had been unclear how the liquid water layers are formed. In our study, we directly observed ice crystal surfaces under various water vapor pressures by advanced optical microscopy2, which can visualize atomic/molecular-thick elementary steps on crystal surfaces.

Then we found that the two types of QLLs are not formed by melting of ice crystal surfaces but rather are formed by the deposition of supersaturated water vapor on ice crystal surfaces (Fig. 1).




These results clearly demonstrate that the conventional picture of the phenomenon called "surface melting" needs significant reexamination. Our results are expected to be significantly useful in the future for elucidating the mechanisms of a wide variety of phenomena in which the liquid water layers on ice surfaces play an important role, as well as for explaining ultra high-temperature surface/interface phenomena (found in various materials such as semiconductor crystals and organic crystals) at temperatures just below melting point.




This research was published on February 1, 2016 (Mon.) (U.S. Eastern Time), in the online news flash of the Proceedings of the National Academy of Sciences of the United States of America (PNAS).

Terms

Quasi-Liquid Layers (QLLs): The QLLs show liquid layers that cover crystal surfaces at temperatures just below melting point. The QLLs have the properties (e.g. structure and viscosity) intermediate between liquids and solids. It is widely acknowledged that the QLLs are formed, not only on ice, but also on crystal surfaces of a wide variety of materials, such as metals, semiconductors, and organic compounds.
Advanced Optical Microscopy: In Collaboration with Olympus Engineering Co., Ltd., we developed Laser Confocal Microscopy combined with Differential Interference Contrast Microscopy (LCM-DIM). Laser confocal microscopy significantly eliminates noise light and hence increases the quality of sample images. Differential interference contrast microscopy provides three-dimensional contrast for atomic/molecular-thick elementary steps on crystal surfaces. The LCM-DIM used in this research combines these two microscopy methods and adds other improvements (Fig. 2).

Inquiries

Gen SAZAKI, Professor

Research Group for Phase Transition Dynamics of Ice, The Institute of Low Temperature Science

sazaki[at]lowtem.hokudai.ac.jp

Japanese Link

氷表面での水膜のでき方を解明 (02.02.2016)

Publications

Two types of quasi-liquid layers on ice crystals are formed kinetically, Proceedings of the National Academy of Sciences of the United States of America (02.02.2016)