Finished
May

31

2016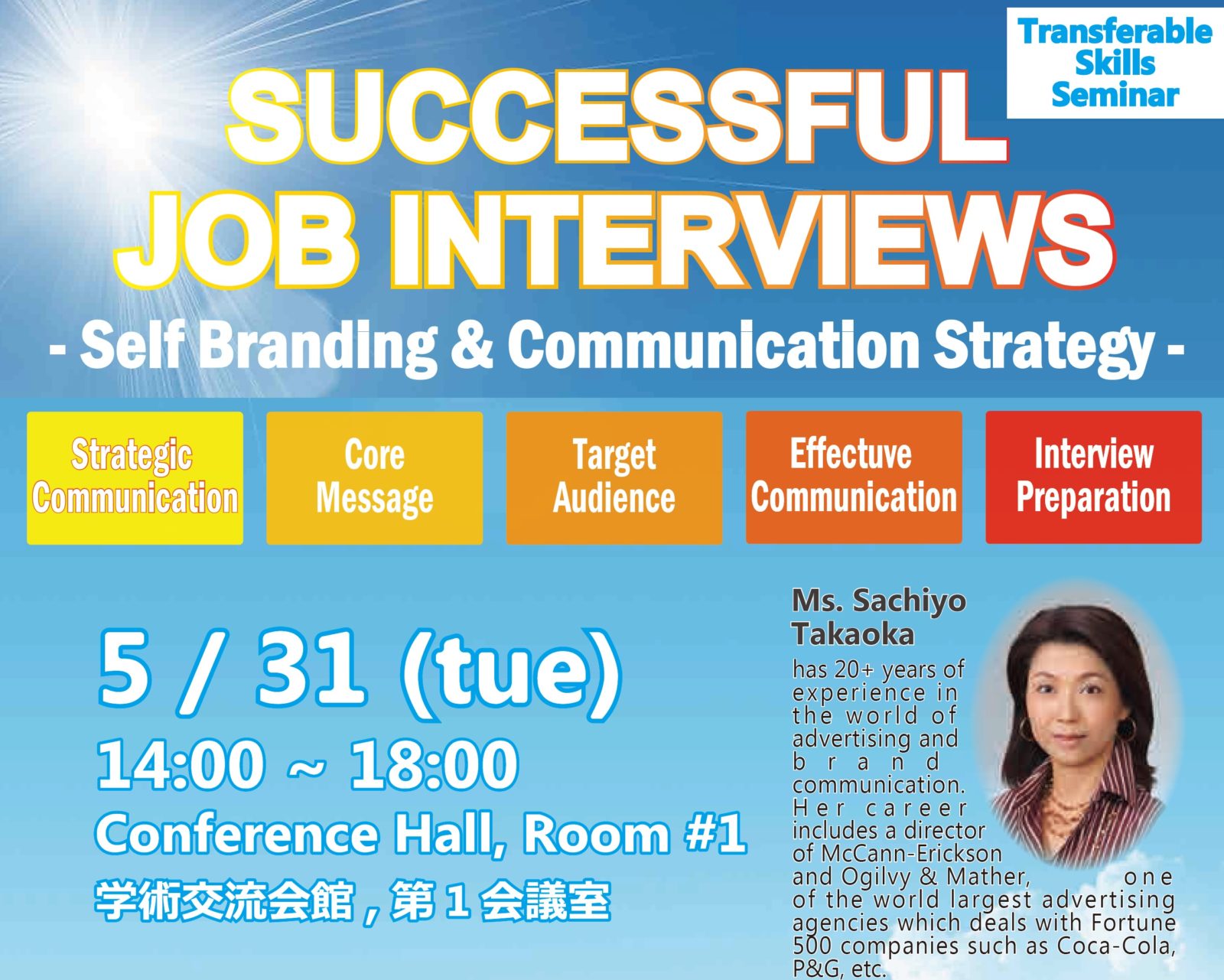 This transferable skills seminar is targeted for international researchers (DC, PD). Seminar will be conducted in English.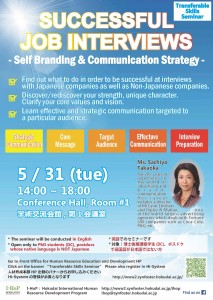 (click to get PDF)
Developing your vision and self-branding for your career is the most important element of your preparation for the successful interviews. The skill can be useful for any of your inter-personal communications opportunities including job interviews, paper presentation in a conference, public speech, or any presentations.
The instructor and facilitator, Ms. Sachiyo Takaoka has 20+ years of experience in the world of advertising and brand communication. This is an opportunity of your lifetime. Her extraordinary career includes a director of McCann-Erickson and Ogilvy & Mather, one of the world largest advertising agencies which deals with Fortune 500 companies such as Coca-Cola, P&G, etc.
The seat is very limited and is open only for DC and PD international students and researchers. Hurry and register through the Hi-system. This 4-hour session is a great investment of your time for the future.
■ Seminar Objectives
 ・ Learn strategic communication and think how you can apply it to job interviews
 ・ Identify your "Self Brand (strength, core value, vision)"
 ・ Find out needs of target audience
■ Seminar Schedule
1) Orientation
 ・ Icebreaker activity
 ・ Seminar outline and objectives
2) What is "strategic communication"?
 ・ Difference between ordinary communication and strategic communication
 ・ Learn from strategic communication in advertisements
 ・ What is a brand? What is Self-branding?
3) What is your "core" message?
 ・ Identify your strength, specialty and what you are proud of
 ・ Looking back over yourself using "lifeline"
 ・ What is your belief and values?
 ・ Career role model
 ・ Vision
 ・ Identify your self-brand statement
4) Who is your target audience?
 ・ Define the ideal employee
 ・ Identify qualities your target audience looks for
(Who is wanted in Japanese company/Non-Japanese company, What is expected from researcher from foreign country/researcher with PhD, etc.)
5) How to communicate effectively
 ・ How to tailor your communication with target companies
 ・ The rule of Mehrabian (importance of non-verbal communication)
 ・ Communication that gains understanding, wins sympathy, makes a deep impression
 ・ Complete your Self-brand statement
6) Interview practice
 ・ Prepare for most common interview questions
7) Summary
 ・ Conclusion
 ・ Share opinions
 ・ Q&A
■ Place
 Conference Hall Meeting Room #1
■ Seminar date
 2016/5/31 14:00-18:00
■ Eligible
 Hokkaido University doctoral course students and postdocs whose native language is NOT Japanese
■ Application
 ~5/30/2016 23:00
■ Max participants
 25
■Inquiries
Front Office for Human Resource Education and Development / International Human Resource Development Program ( I-HoP ), Hokkaido University
E-mail: ihop@synfoster.hokudai.ac.jp
■You must be registered in the Hi-System.
If you are not, please register here.
Click here: "Transferable Skills Seminar" and scroll to the bottom of the page and click "申し込む/Apply" to register.
If you do not receive confirmation e-mail in three business days after registering, please contact I-HoP.–>ihop[at]synfoster.hokudai.ac.jp, +81-11-706-2157