Research Press Release | November 18, 2016
The memorandum of understanding to create the Asian Micro-satellite Consortium (AMC)  came into effect on November 18, marking a major step forward in establishing an unprecedented regional regime to develop microsatellite technologies and share and use collected data relating to the environment and natural disasters, etc. The consortium will comprise 16 space agencies and universities from nine Asian nations, including Japan.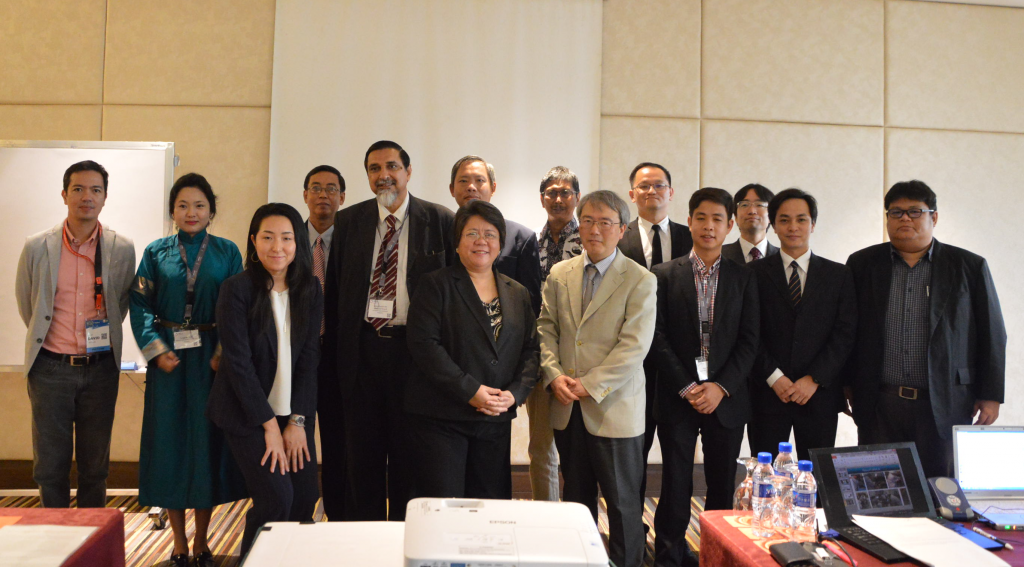 At the signing ceremony of Asian Micro-satellite Consortium (AMC) held on November 18th in Manila
Microsatellites have rapidly become a major factor in space exploitation, and their advent could spur a revolution comparable to that which followed the launch of humankind's first satellite, Sputnik-1, in 1957.
The advantages of microsatellites are multifold: In general, they can be developed within a few years, which is much faster than the 10 years required for some larger satellites; they generally weigh 100 kilograms or less; and they are cheaper to build, costing about one-hundredth the price of large satellites.
It is essential for Japan and other Asian nations to create an effective international framework toward the goal of obtaining state-of-the-art satellite bus and sensing technologies and the sharing and use of satellite-collected data, thereby maintaining a global presence in the field—this is the notion that has driven the formation of the AMC.
The 16 participating institutions are space agencies, governmental institutes or top-class universities from Bangladesh, Indonesia, Japan, Malaysia, Mongolia, Myanmar, Philippines, Thailand and Vietnam (see list below). Data relating to such fields as natural disasters and the environment are of great value to these disaster-prone nations. They also help tackle the issue of environmental destruction.
The AMC is also expected to make it much easier to share and standardize satellite bus and sensing technologies, observational data, and data application methodologies. In the future, the consortium is expected to share and utilize data collected by about 50 microsatellites that the participating nations are planning to launch. These microsatellites will allow the AMC to monitor any given location on the Earth around the clock, therefore making it possible to grasp a variety of situations, including major disasters if one should occur.
The standardization of advanced optical sensors and other devices is essential in order to effectively make use of satellite-gathered data. By using drones mounted with such sensors for ground observation in international joint undertakings, it will drastically increase the volume of data gathered and the precision of ground verification.
Data verified on the ground would also help researchers make far more accurate satellite-data-based estimates. The resultant effects could be enormous in such areas as disaster preparedness/mitigation, global environment change, promotion of agriculture, forestry, fisheries and mining, and countermeasures against air and marine pollution.
The signing ceremony for the consortium was held on November 18th at Hotel Jen in Manila, Philippines. Yukihiro Takahashi, the professor at Hokkaido University who led the formation of the AMC says "I believe that the consortium will trigger the advanced space utilization with microsatellites not only in Asia but also all over the world including Africa and South America".
Participating countries and institutions
Bangladesh

Bangladesh Space Research &Remote Sensing Organization (SPARRSO)

Indonesia:

Indonesian National Institute of Aeronautics and Space (LAPAN)

Agency for the Assessment and Application of Technology (BPPT)

Malaysia

Multimedia University

Mongolia

National University of Mongolia (NUM)

New Mongol Institute of Technology (NMIT)

German-Mongolian Institute for Resources and Technology (GMIT)

Myanmar

Myanmar Maritime University

Myanmar Aerospace Engineering University (MAEU)

University of Yangon (UY)

Philippines

Philippine Council for Industry, Energy and Emerging Technology Research and Development (DOST-PCIEERD)

Thailand

King Mongkut's Institute of Technology Ladkrabang (KMITL)

Vietnam

Vietnam National Satellite Center (VAST-VNSC)

University of Science and Technology of Hanoi (VAST-USTH)

Japan

Tohoku University

Hokkaido University
Contacts:
Professor Yukihiro Takahashi
Space Mission Center (SMC), Creative Research Institution (CRIS)
Department of Cosmosciences, Graduate School of Science
Hokkaido University
Email: yukihiro[at]sci.hokudai.ac.jp
Naoki Namba (Media Officer)
Global Relations Office
Institute for International Collaboration
Hokkaido University
Email: pr[at]oia.hokudai.ac.jp
Tel: +81-11-706-8034