Finished
Oct

04

2022 ~ Oct

11

2022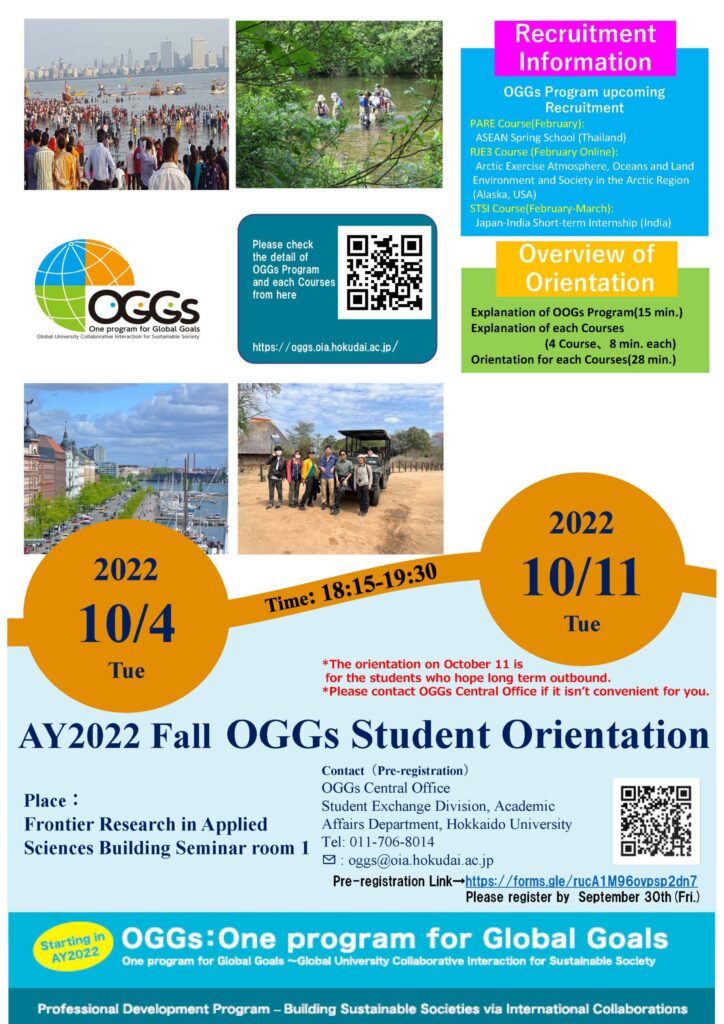 OGGs (One program for Global Goals) is the Interdisciplinary Graduate Education Program provided by Hokkaido University, which aims to develop human resources who contribute to solving global issues through cooperation and collaboration with people from various countries, regions, and organizations".
Through the program, students can acquire transferable skills that will enable them to contribute to sustainable global development, such as skills in identifying and solving issues, integrating, and developing different fields, gaining a multicultural understanding, and fostering international communication.
AY2022 Fall OGGs Student Orientation will be held. 
Date and time:
– Oct 4th (Tue)18:15~19:30
-Oct 11th (Tue)(Students for long term outbound)18:15~19:30
Venue:
Frontier Research in Applied Sciences Building Seminar room 1
Registration: (by September 30, 2022)
https://docs.google.com/forms/d/e/1FAIpQLSfgtVpap4ZbFMiWV3DylVbbASjSd8Ink4_tnsckos4oprIahw/viewform
Webpage:
https://oggs.oia.hokudai.ac.jp/en/archives/371