Finished
Apr

25

2019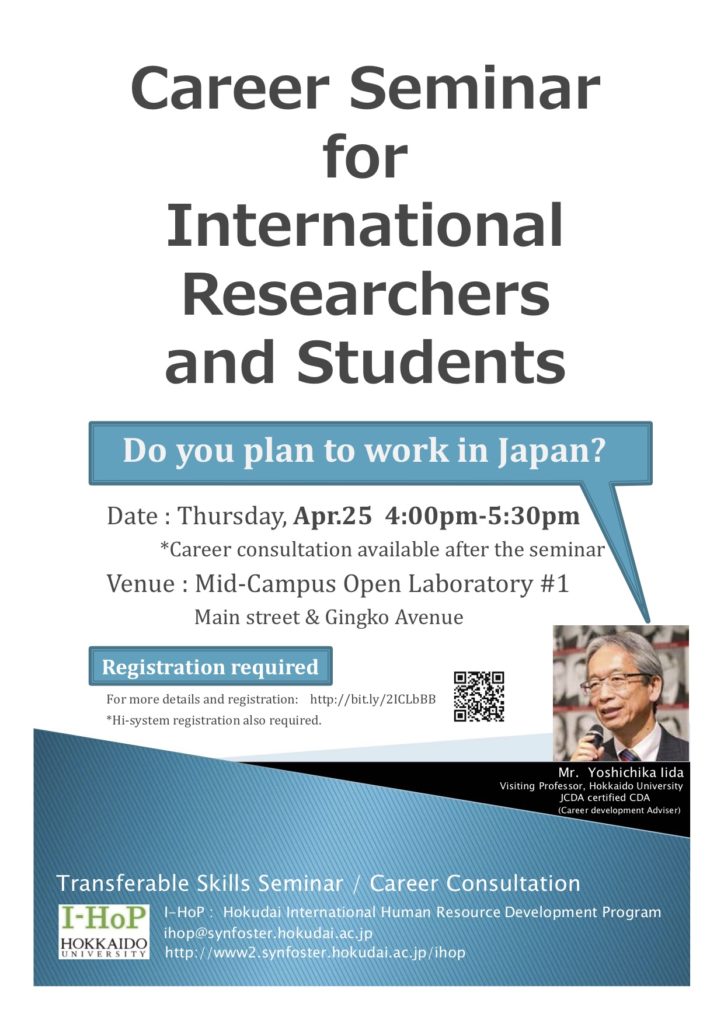 This transferable skills seminar is for international researchers (Master's Course, Doctoral Course, and Postdocs). The seminar will be conducted in English.
Your future career options may include, but are not limited to, pursuing an academic career as a scientist, practicing your scientific skills as a corporate researcher, advancing to a wide variety of business arenas, or launching your own company to realize your ambition. You may experience some or all of the options in your deserved career. This seminar introduces tips for diverse vocations and some unique career development programs that the university provides. Career consultation is available after the seminar
Lecturer 
Mr. Yoshichika Iida
Visiting Professor, Hokkaido University
JCDA certified CDA (Career development Adviser)
FY2014-2018: Program Director, I-HoP, Hokkaido University
FY2010-2013: Executive Expert, NEC Corporation (Business Development)
FY2006-2019: Senior Vice President, NEC Corporation of America
Date and time
Thursday, 25 April 2019, 16:00 – 17:30
Location
Mid-Campus Open Laboratory Building#1, 1st floor
South-East corner of Main Street & Gingko Avenue
Eligibility
Hokkaido University graduate school students and postdocs whose native language is NOT Japanese
Application deadline
Thursday, 25 April 2019, at 13:00
Max participants
30
How to register
Please click here to register. You will also need to be registered in the Hi-System. If you do not receive a confirmation e-mail within three business days after registration, please contact I-HoP.
Inquiries
International Human Resource Development Program (I-HoP)
ihop@synfoster.hokudai.ac.jp
011-706-2157