Finished
Jul

08

2022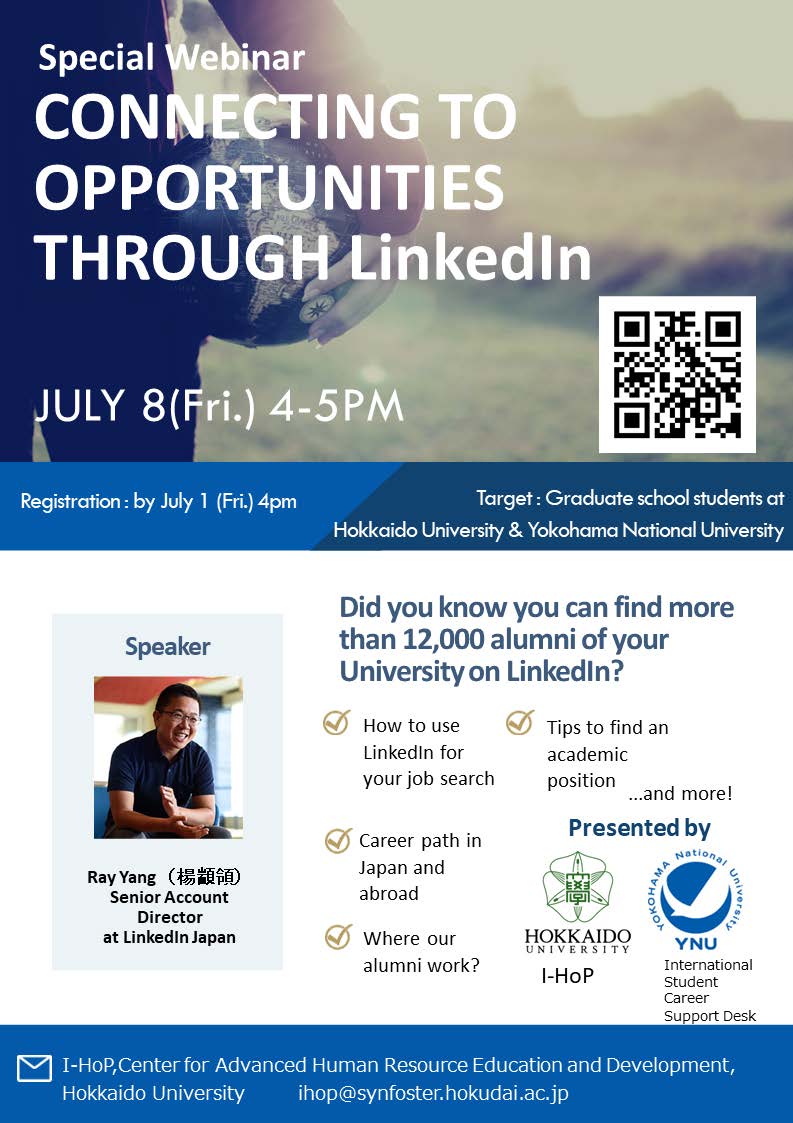 LinkedIn is an indispensable tool for job hunting and job search overseas. In Japan, there are still many people who have "never used it" or are "somewhat uncomfortable" with it. I-HoP (International Human Resource Development Program) will hold a seminar with a LinkedIn person as a speaker to learn basic usage and tips on how to make the most of it.
Date and Time:
July 8, 2022 | 16:00-17:00 (JST)
Location:
Online (Zoom)
(For registration, please click the visit the "Website" below,
please register by July 1, 2022, 16:00)
Website:
https://fohred.synfoster.hokudai.ac.jp/en/20-2/1079-2/1085-2/11540-2.html
Eligibility:
Hokkaido University & Yokohama National University graduate school students and postdocs
*The application form is for Hokkaido University students.
Speaker:
Mr. Ray Yang(楊顓領)
Senior Account Director at LinkedIn Japan
Multilingual and multicultural professional with experience across manufacturing, software, online travel, social media and HR tech industries. Currently working as an account director in LinkedIn Japan, helping enterprise customers utilize LinkedIn's solution. Instructor of (Japanese Version), LinkedIn Learning.
Outline:
-How to use LinkedIn for your job search
-Career path in Japan and abroad
-Where our alumni work?
-Tips to find an academic position
Organizers:
I-HoP,Center for Advanced Human Resource Education and Development, Hokkaido University
Yokohama National University International Student Career Support Desk
Contact:
ihop[at]synfoster.hokudai.ac.jp