Finished
Jul

25

2019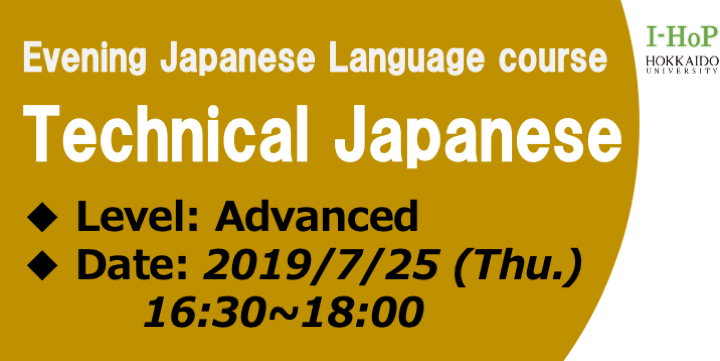 I-HoP strongly supports international graduate students and researchers in improving their Japanese language skills and will be organizing another Japanese language course in the evenings. Improve your proficiency of the Japanese language and make your university life more fruitful!
Outline
During your life as a researcher in Japan, you will face the opportunity to explain your research in Japanese. Learn some useful vocabulary, phrases and the structure of Japanese presentations to explain your research.
Instructor
Ryo Takeda, Ph.D.
Assistant Professor
Faculty of Engineering
Date and time
Thursday, 25 July 2019, 16:30 – 18:00
Location
Mid-Campus Open Laboratory Building#1, 1st floor
e
Eligibility
Hokkaido University graduate school students and postdocs whose native language is not Japanese
Application deadline
Tuesday, 23 July 2019 at 17:00
Max participants
30
How to register
Please click here to register. You will also need to be registered in the Hi-System. If you do not receive a confirmation email within three business days, please contact I-HoP.
Inquiries
International Human Resource Development Program (I-HoP)
ihop@synfoster.hokudai.ac.jp
011-706-2157