Finished
May

30

2019 ~ Jun

13

2019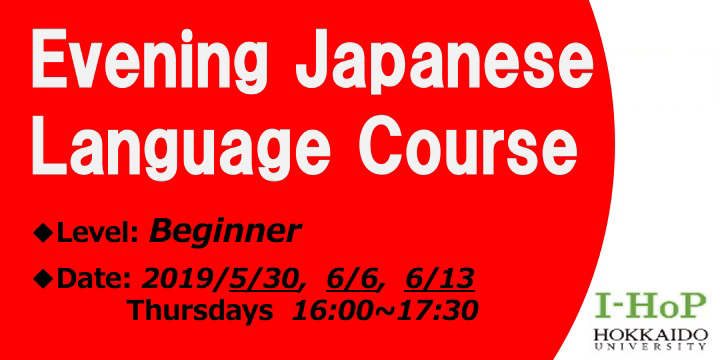 I-HoP strongly supports international graduate students and researchers in improving their Japanese language skills and will be organizing a Japanese language course in the evenings. Start learning the Japanese language and make your university life more fruitful!
Outline
Learning and practicing Hiragana and Katakana
Learning and practicing Japanese vocabulary used in university
Self introduction in Japanese
Instructor
Ms. Yuki Ota
Nihongo Lecturer
Ms. Ota was a Japanese language instructor (JLPT N2 to N4 levels) at Japanese IT companies in the Philippines from 2016 to 2018. After returning from the Philippines, she taught Japanese (JLPT N2 to N3 levels) to Chinese Highly Skilled Professionals. In 2019, she now teaches Japanese and life etiquette to Vietnamese and Chinese technical interns who have just arrived in Japan (N4 to N5 levels). She also teaches the technical interns who have stayed in Japan for more than 1 year how to pass the JLPT N3.
Date and time
Thursdays from 30 May to 13 June 2019, 16:00 – 17:30
Participants are required to attend all three lectures. 
Location
Mid-Campus Open Laboratory Building#1, 1st floor
e
Eligibility
Hokkaido University graduate school students and postdocs whose native language is not Japanese
Application deadline
Friday, 24 May 2019 at 17:00
Max participants
30
How to register
Please click here to register. You will also need to be registered in the Hi-System. If you do not receive a confirmation email within three business days, please contact I-HoP.
Inquiries
International Human Resource Development Program (I-HoP)
ihop@synfoster.hokudai.ac.jp
011-706-2157