University News | June 01, 2016
Ways of deepening Japan-US industry-academia collaboration, particularly on the issues of big data and cybersecurity, was the main focus of an event recently hosted by Hokkaido University (HU) titled Forum for the 21st Century Super Smart City: Creating a New US/Japan Computational Platform.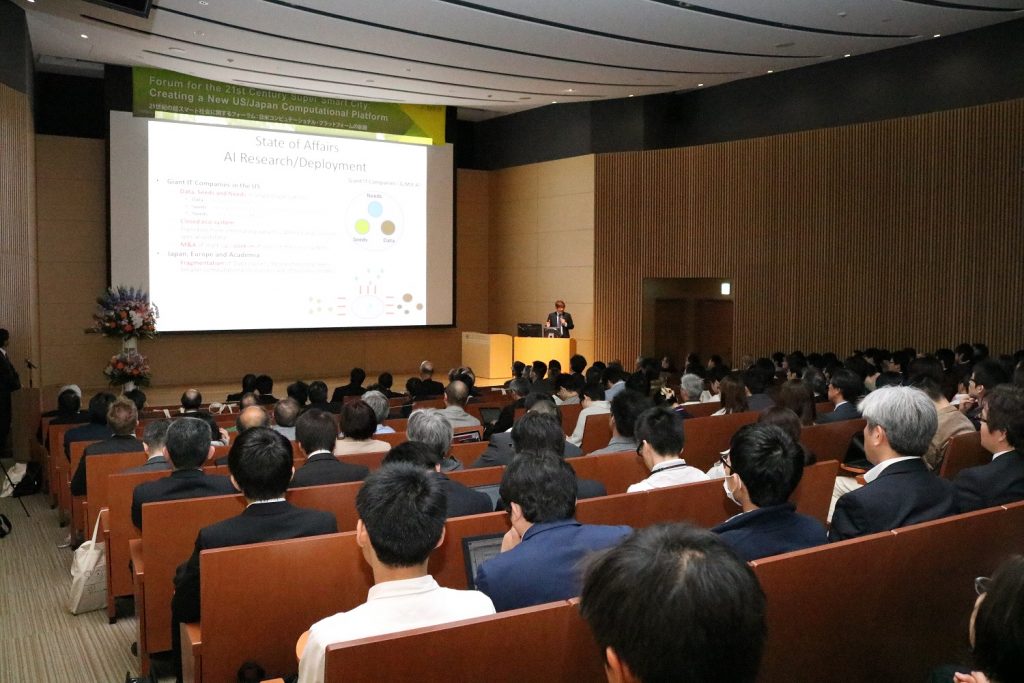 Opening ceremony
Held 16–17 May and taking the form of an open debate, the forum opened with an address from HU President Keizo Yamaguchi, in which he emphasised the importance of hosting the event at the university. Sadayuki Tsuchiya, Vice Minister of the Ministry of Education, Culture, Sports, Science and Technology (MEXT); Takeo Hoshino, Deputy Director General of the Ministry of Economy, Trade and Industry (METI); and Yoshihiro Yamaya, Deputy Governor of Hokkaido Prefecture, gave guest speeches, outlining their expectations of the expanding activities in these rapidly developing fields.
The world is currently undergoing drastic changes engendered by digital transfer, leading to new social structures. It is therefore essential to establish an ecosystem that can foster sustainable industry-academia-government collaboration. For its part, HU has been promoting international collaboration—particularly in the fields in question—at the newly established Global Station for Big Data and Cybersecurity within the Global Institution for Collaborative Research and Education (GI-CoRE) framework. HU has also established the Institute for the Promotion of Business-Regional Collaboration, which takes the lead in the systematic promotion of industry-academia and regional cooperation toward the social implementation of research outcomes.
The forum welcomed distinguished guest speakers from Japan and overseas who shared their expertise and knowledge on such topics as digital transfer, smart cities, and international or industry-academia collaborations, and included personnel from University of Massachusetts Amherst, Ohio State University, U.S. National Academy of Science, Consulate-General of the U.S. in Sapporo, University of British Columbia (Canada), Tohoku University, Kyushu University, Keio University, IBM Japan Tokyo Lab., Hitachi Ltd.'s Centre for Exploratory Research, TEPCO, Fujitsu Ltd., and Takeda & Associates. The event comprised an opening ceremony, guest speeches and lectures, the HU Industry-Academia Collaboration Seminar—which was open to the public—and the Round Table Discussion. The forum provided an opportunity for participants to consider the current situation and the necessity for an industry-academia collaborative ecosystem, with the promise of further cooperation.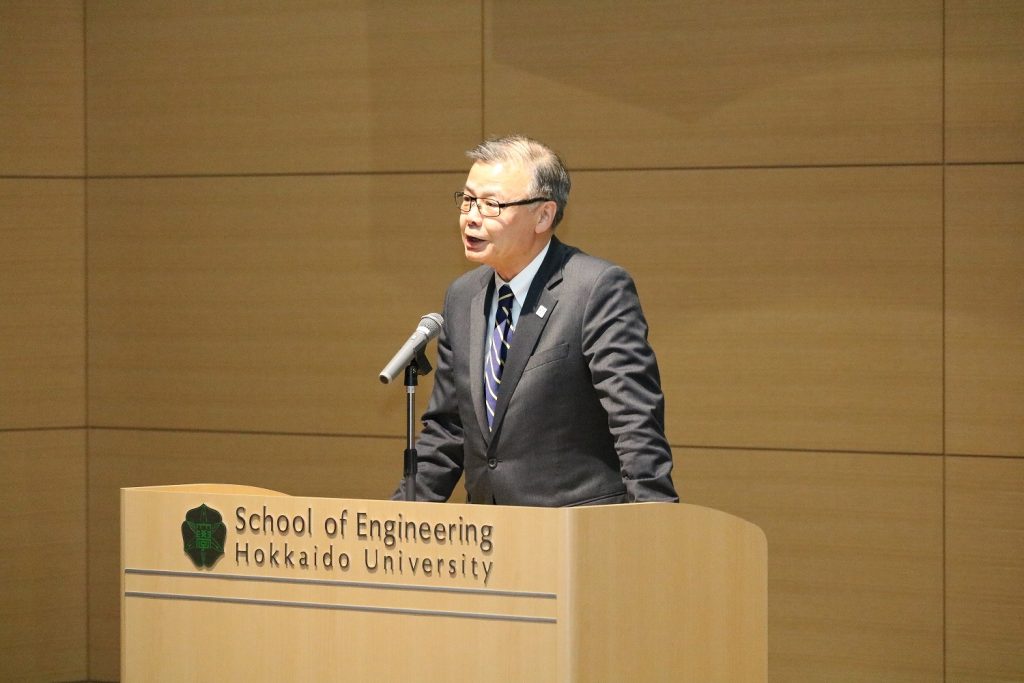 MEXT Vice Minister Sadayuki Tsuchiya delivers a guest speech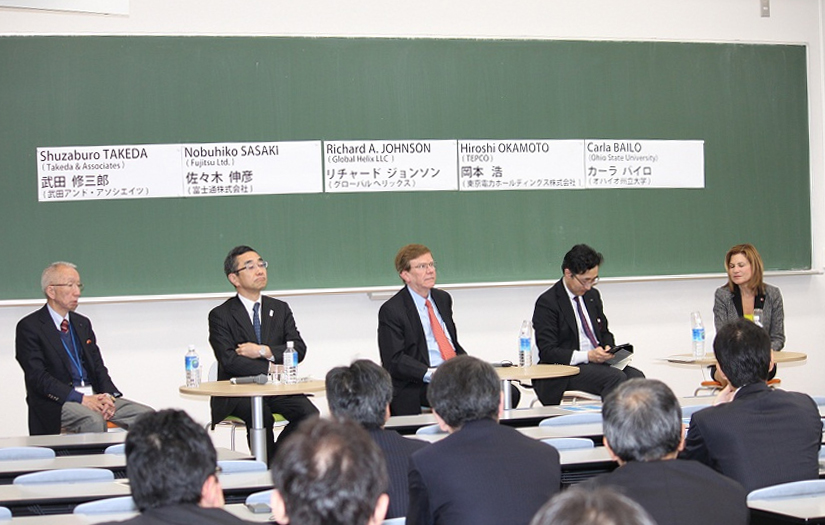 Panel discussion during the HU Industry-Academia Collaboration Seminar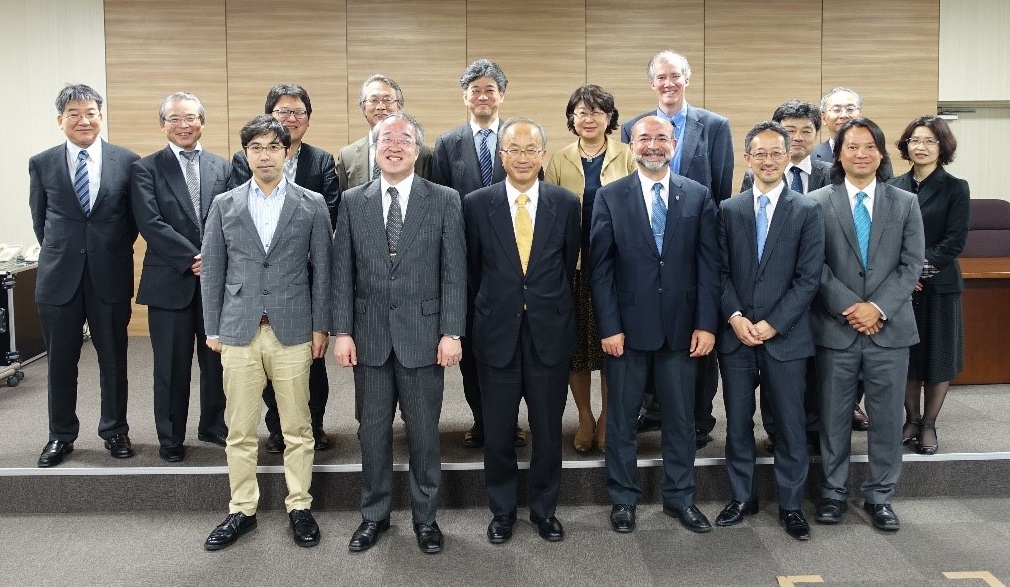 Round Table Discussion participants