Finished
Jan

21

2022 ~ Jan

22

2022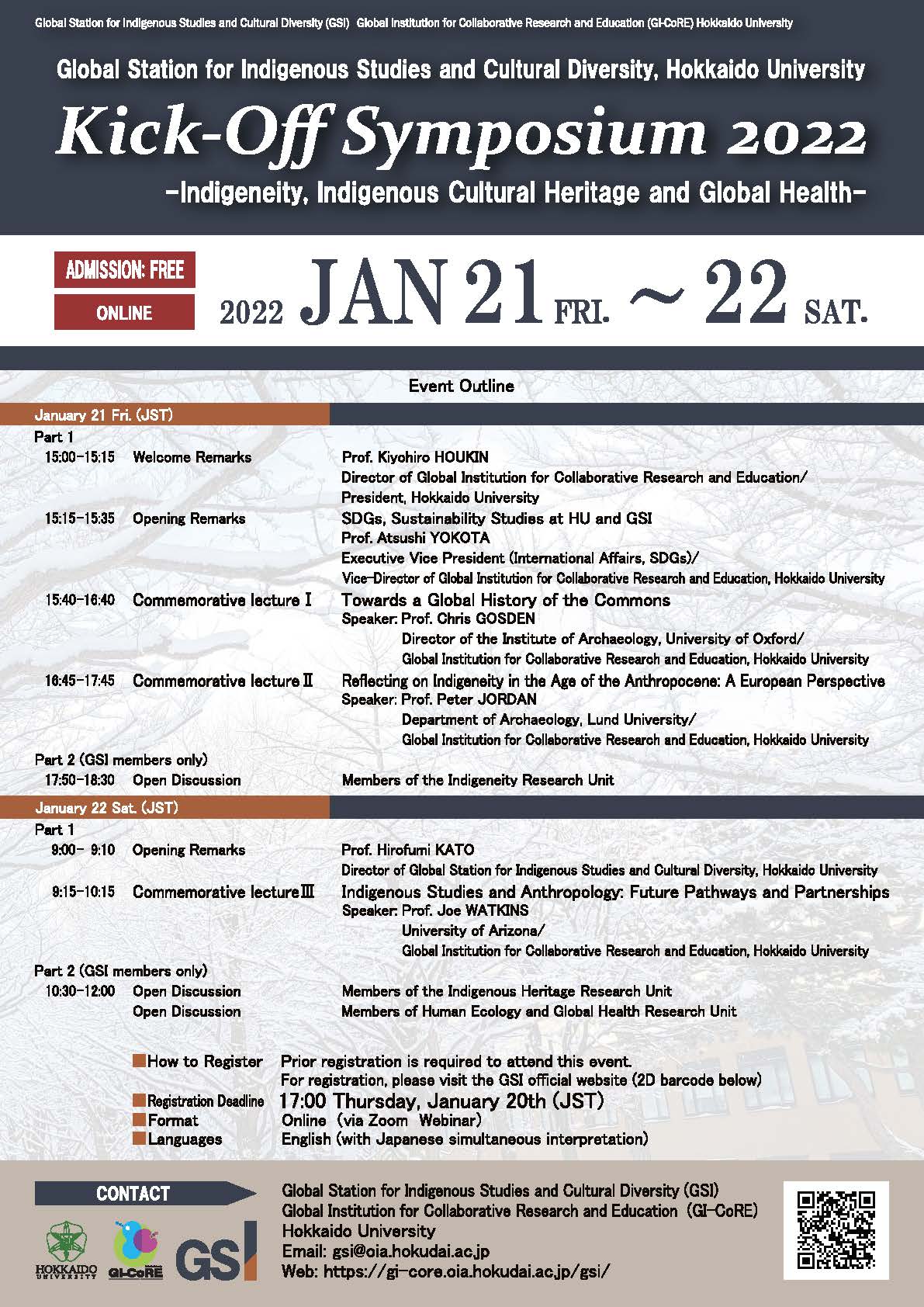 The Global Station for Indigenous Studies and Cultural Diversity (GSI) was launched in April 2021 as an international research hub facilitating innovative collaborative research. Our goals are to solve the global and regional issues of Indigenous peoples and elucidate the nature of cultural diversity with Indigenous communities.
As we set out to achieve our mandate, we are pleased to announce the GSI Kick-off Symposium to be held on January 21st and 22nd, 2022. In addition to launching GSI's activities and collaborations, the goal of the Symposium is to facilitate a multi-disciplinary venture into the fields of Indigenous Studies and Cultural Diversity. This virtual symposium will feature presentations from GSIs varying membership.
Participation is open to all interested persons and institutions.
Date and Time:
January 21st, 2022 (Fri.)
Part I 15:00-17:45 
Part II 17:50-18:30
                               
January 22nd, 2022 (Sat.)
Part I 9:00-10:15 
Part II 10:30-12:00
* The times shown above are JST(Japan Time)
 ** Part II is only for GSI members
Venue:
Online (zoom webinar)
Language:
English (with Japanese simultaneous interpretation)
Program:
Click here to find the program
Registration:
https://docs.google.com/forms/d/e/1FAIpQLScC4aHwqCz_8Y0-JkyhL2ABeUTWOM9EFFaf3jFsKnzLwAwiLQ/viewform
Contact Person:
For inquiries on this event and GSI: gsi[at]oia.hokudai.ac.jp
GSI's website: https://gi-core.oia.hokudai.ac.jp/gsi/