University News | December 07, 2019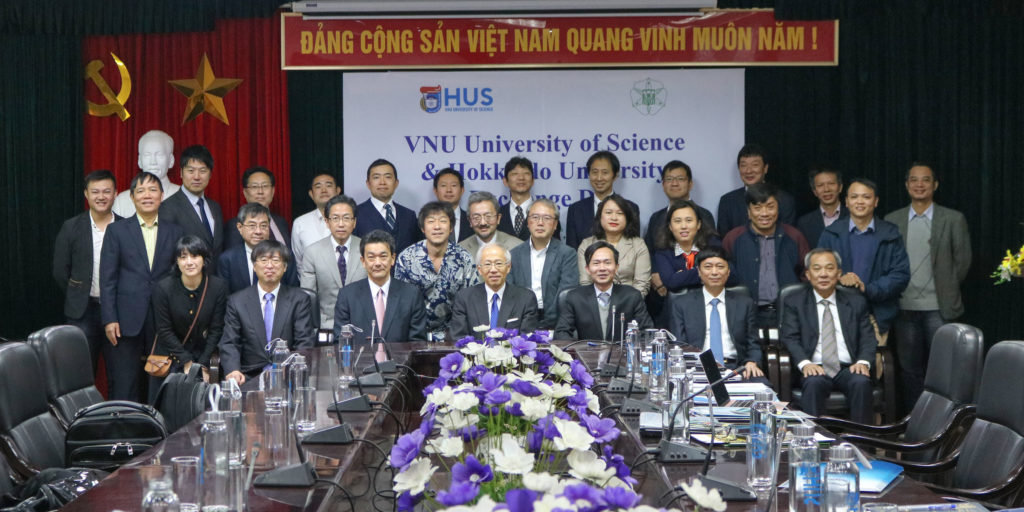 On December 6th, a series of events were held in Hanoi to strengthen student and faculty exchanges as well as develop the Hokkaido University community in Vietnam. This included the first Vietnam National University–University of Science (VNU-HUS) and Hokkaido University Exchange Day, the opening ceremony of the Hokkaido University and VNU-HUS Joint Office, the inaugural meeting for the Hokkaido University Alumni Association in Northern Vietnam, and the appointment ceremony of the Hokkaido University Ambassador from Vietnam.
The day began with the opening ceremony of the Hokkaido University and VNU-HUS Joint Office. Opening and welcome remarks were made by the Vice-Rector of VNU-HUS Nguyen Tien Giang, Hokkaido University's Acting President Masanori Kasahara, and the Minister of the Japanese Embassy in Hanoi Shinichi Asazuma. Presentations for students interested in studying in Japan were then given by the Director of Hokkaido University's Institute for International Collaboration So Kawanobe and the Director of the Japan Student Services Organization (JASSO) Takashi Hagihara.
This was followed by parallel sessions between Hokkaido University and VNU-HUS faculty. Since these were separated by research field, faculty were able to discuss education and research collaborations relevant to their respective disciplines.
At the end of the day, a reception was held to celebrate the establishment of the new overseas office and alumni association, as well as to officially appoint the Hokkaido University Ambassador in Vietnam Le Viet Dzung.
Associate Professor Le Viet Dzung of Can Tho University graduated from Hokkaido University's Graduate School of Agriculture and is the Vice Rector for International Research Affairs and Quality Management at Can Tho University. Amongst his many activities, he has played active roles in promoting collaborations between Can Tho University and Hokkaido University through JICA, the First Step Program, and the Vietnam-Japan Friendship Association.
Hokkaido University has a history of strong connections with Vietnamese universities and programs. Student and faculty exchanges were made possible by the ASEAN University Network/Southeast Asia Engineering Education Development Network (AUN/SEED-Net) and exchange agreements were made between VNU-HUS and Hokkaido University in 2013. As one of Hokkaido University's 11 overseas offices, the opening of the joint office at VNU-HUS furthermore acts as a significant milestone.
Hokkaido University plans to continue acting as a bridge between Vietnam and Japan through developing deeper relationships with Vietnamese universities and expanding the Hokkaido University community in Vietnam.
Written by Katrina-Kay Alaimo, Ph.D.