Finished
Aug

22

2021
We are HSI Team OMOTENASHI, student volunteers of HSI (Hokkaido Summer Institute). 
The following announcement is for the "Hokkaido University Virtual Tour" sponsored by HSI, providing you with a chance to know more about Hokkaido University.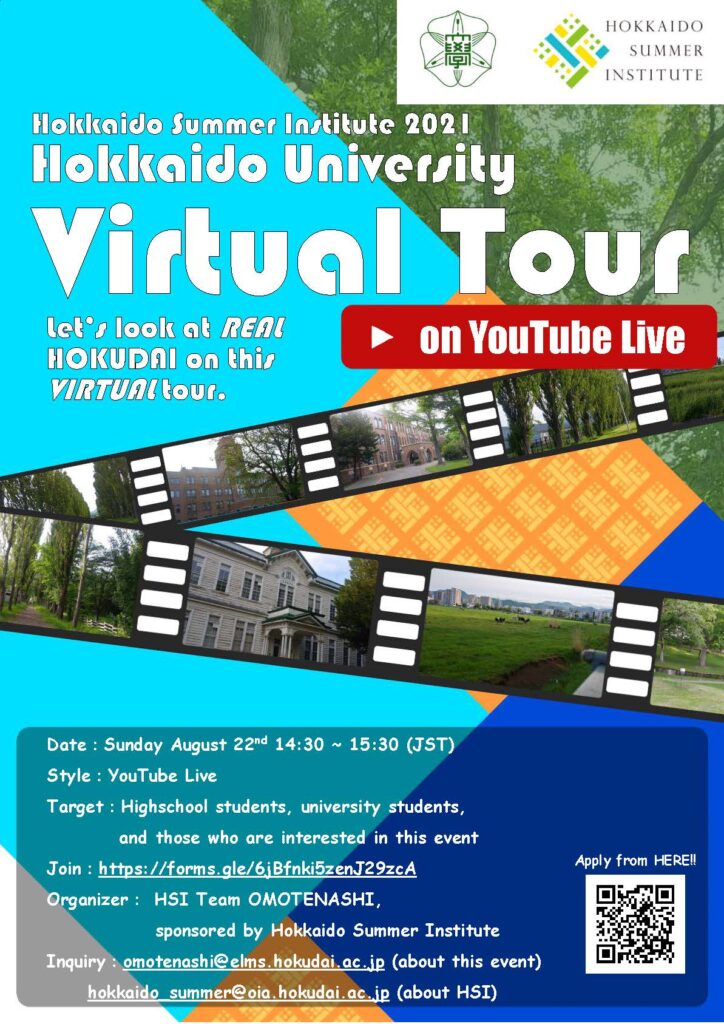 Event overview
The "Hokkaido University Virtual Tour" will be a great opportunity to know more about Hokkaido University (HU). In this virtual tour, HU students themselves introduce the best spots on campus in English. The tour will be available via YouTube Live, and questions are welcome! 
This year, a lot of people might not have had the chance to come to HU campus due to the pandemic. Therefore, this event will be good for everyone all over the world, including high school students and university students who are wanting to enter our university, and anyone who is interested in HU.
You can easily participate in this event online, so please be sure to come!
Purpose
Every summer, Hokkaido University holds HSI (Hokkaido Summer Institute), one of the largest summer schools in Japan, utilizing the beautiful advantage of Hokkaido's beautiful summer climate. In 2019, before this pandemic, 210 of the world's leading researchers gathered at HU, and provided 137 courses for about 4,600 participants in cooperation with HU.
Last year, however, students from all over the world did not have the chance to come to HU because of the pandemic, which has been going on for a while now. HSI also provides various events for participants annually, and these precious opportunities enable people like you to know and enjoy Hokkaido and HU. Therefore, in the virtual tour, we will introduce as many advantages of HU as possible. This tour will be good for not only those curious about HU and Hokkaido, but especially for those who desire a deeper understanding of HU and the daily lives of HU students.
Date and Time
Sunday 22nd August 2021   2:30pm~3:30pm (Japan Standard Time)
Organizer 
HSI Team OMOTENASHI
Sponsor:Hokkaido Summer Institute
Location
Online streaming (YouTube Live)
※You can ask questions on chat.
Participants
High school Students, University Students, and general public
Capacity
500 people
Fee
Free
Language
English
Registration
To participate, please fill out the form shown below by 12 o'clock on Sunday 22nd August
https://forms.gle/6jBfnki5zenJ29zcA
Contact Support
If you have any questions, please contact the email address below.
If you cannot participate in this on YouTube Live, then please contact us via email as well.
You can also follow us on these social media accounts, so you don't miss information about further events!
・twitter(https://twitter.com/Team_OMOTENASHI)
・Instagram(https://www.instagram.com/team_omotenashi/)
・Facebook(https://www.facebook.com/TeamOMOTENASHI/)