University News | January 19, 2018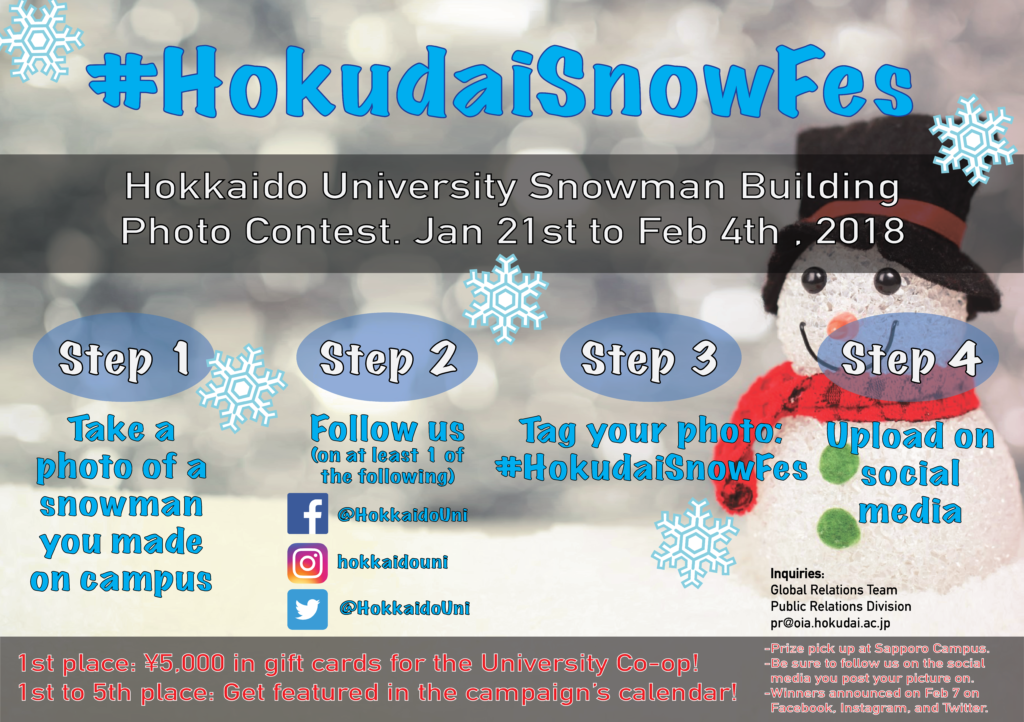 Winter is here, and we've already seen many snowmen scattered across campus. But, can you make the best Hokkaido University snowman?
From January 21st to February 4th, the university will be hosting a snowman photo contest. All you need to do is take a photo of a snowman you made on campus, follow us on social media, and post your photo with the hashtag #HokudaiSnowFes.
The winner will receive ¥5,000 in gifts cards to use at any place on campus owned by the university co-op. That includes the cafeterias, bookstores, and convenience stores. The top 5 entries will be featured in and receive the campaign's calendar for free. All of the winners will be announced on February 7th, and prize pick up will be at Sapporo campus.
We look forward to seeing all your lovely snowmen!
If you have any inquiries, please free to message us on social media or contact the Global Relations Team at pr@oia.hokudai.ac.jp.
Note:
Stay safe when participating, being sure to keep out of traffic and not block walkways.
Photographs entered into the contest may be used for Hokkaido University PR activities in the future.
Click here for the announcement in Japanese.