University News | September 21, 2022
In order to deepen its inter-university research partnership, initiated by collaboration on infectious disease research, Hokkaido University (HU) and The University of Melbourne (UoM) held the Case Study Afternoon: Snapshots from Australia and Japan – Integrated Allied Healthcare for Older Adults online on September 16. This event was arranged by researchers on allied health and healthy ageing from the universities' HU-UoM Virtual Conference on Healthy Ageing event on March 8. It was part of the Joint Research Workshops Fund budgeted by both universities. Gathering expertise of allied health workers within and outside the universities would give people an opportunity to consider geriatric care comprehensively; therefore, this event was delivered online with simultaneous English-Japanese interpretation for non-specialists and general public—which resulted in over 70 attendees in various occupations from both countries.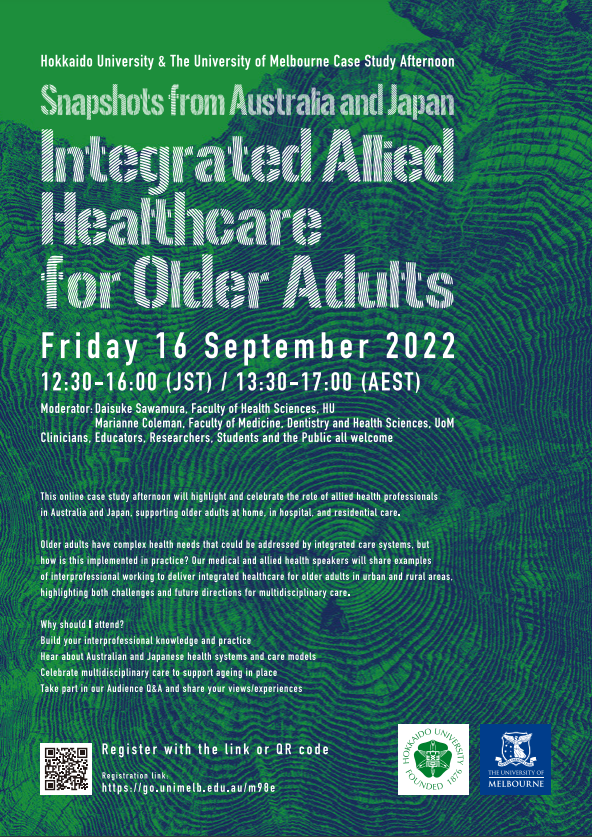 With Dr. Daisuke Sawamura from HU and Dr. Marianne Coleman from UoM as moderators, the event opened with remarks from Associate Dean Rika Yano of the Faculty of Health Sciences, HU, and Associate Dean for Research Alicia Spittle of the Faculty of Medicine, Dentistry and Health Sciences, UoM. On the topic of allied health's roles in geriatric care in the hospital, and aged care and community settings in Victoria, Australia and Hokkaido in Japan, UoM's Dr Sandra Iuliano (nutritionist) provided an overview and a case study for consideration from the perspectives of a geriatrician (Dr. Claire Maddison), dietitian (Ms Louise Murray), and exercise physiologist (Dr Myrla Sales); HU's Associate Professor Naoya Hasegawa also introduced an overview of long-term care provision and funding in Hokkaido, physical therapist's perspective, and shared Mr Atsushi Fukushima's regional geriatric healthcare worker perspective, which also included a case study.
The event aimed to understand and identify similarities and differences in the frameworks to care older people in Australia and Japan, and showcased good practices and case studies of evidence-based older adult healthcare. Speakers shared their perspectives of medical and healthcare workers in Hokkaido and Victoria with audiences. A partnership developed by the universities should lead clarification of actual needs in healthcare system for contribution to the global community, and research seeds which shall be linked to improve older adult healthcare services in both countries. The organising team expects to have a follow-up hybrid event at HU next February.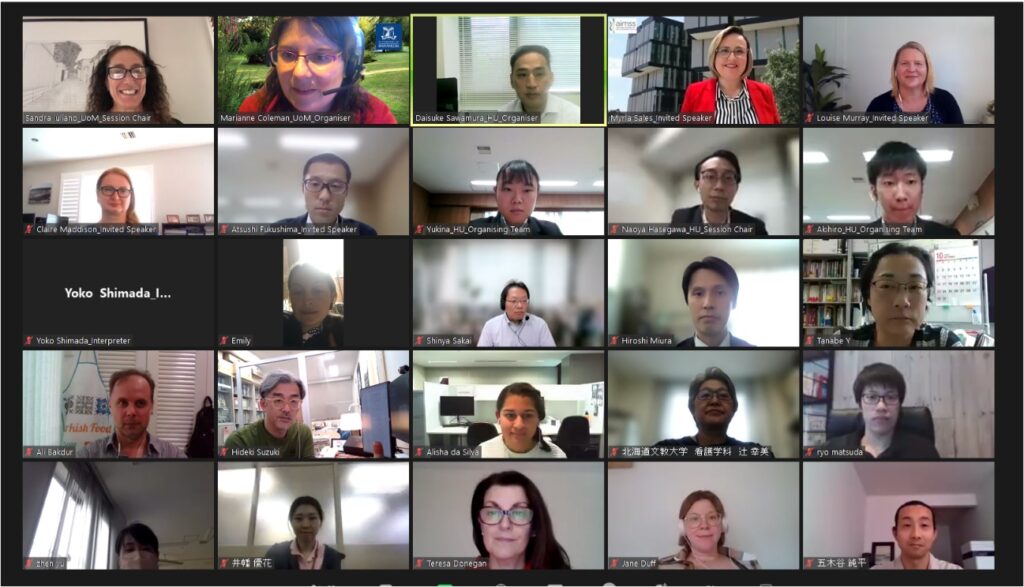 This case study afternoon became an opportunity for staff development for regional health care workers in remote areas, which is a common challenge for both countries; and for international education, for undergraduate and postgraduate students at both universities to learn counterpart case studies. The audience included participants from Health Sciences University of Hokkaido, Sapporo Medical University, Fuji Women's University, Bunkyo University, Asahikawa Medical University Hospital, Tokyo Metropolitan University, Deakin University, and Royal Melbourne Hospital. Also present were participants from private hospitals, clinics, home-visit care services, pharmacies, city council health care centres, ministry-related organisations, etc., who enjoyed interactions with speakers.
(Faculty of Health Sciences and Institute for International Collaboration)