University News | August 28, 2017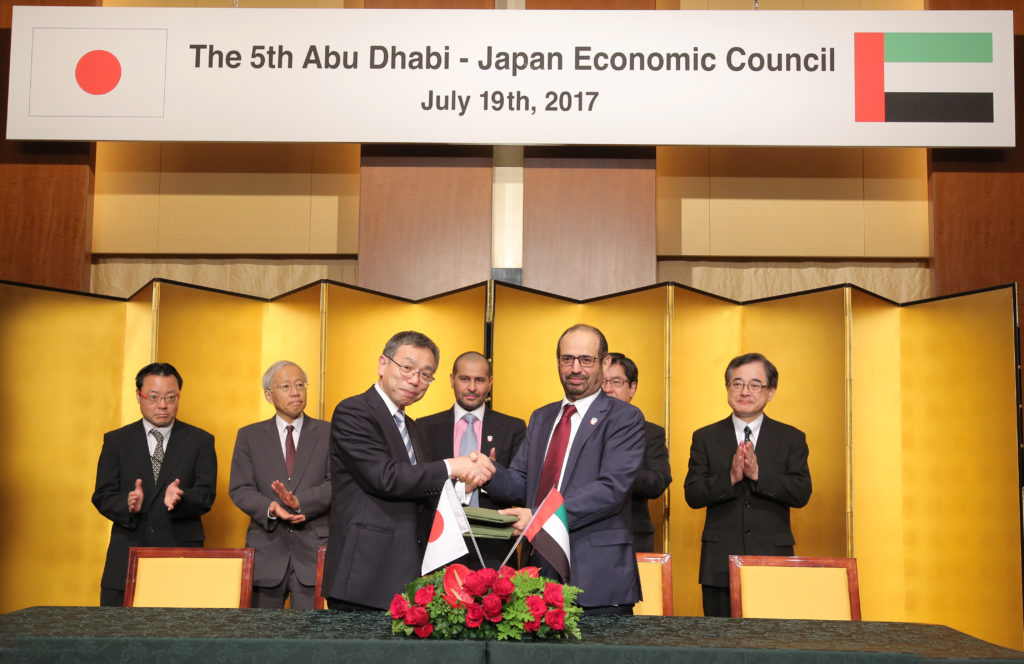 Commemorative photograph after the signing
On July 19th, Hokkaido University (HU) signed a Memorandum of Understanding concerning the new Academic Exchange Agreement and Student Exchange Agreement with United Arab Emirates University (UAE University) at Conrad Tokyo in Japan. The ceremony was held during the 5th Abu Dhabi – Japan Economic Council (ADJEC).
UAE University, established in 1976, is the oldest national university in the UAE. It has nine colleges, including the colleges of Medicine & Health Science, Law, Humanities & Social Science, and Engineering; and around 14,000 students and 600 faculty members are enrolled there. Since an international academic exchange agreement between UAE University's College of Medicine and Health Sciences and HU's Graduate School and School of Medicine was signed last November, there have been student exchanges in the field of medicine. With the recent signing, we can now expect collaborations in other fields as well.
During the ceremony, Chancellor Dr. Ali Rashid AI Nuaimi and President Nawa signed the agreement in the presence of H.E. Saif Mohammed AI Hajeri, Chairman of the Abu Dhabi Department of Economic Development (ADDED), HU Executive and Vice President Prof. Masanori Kasahara, Prof. Mitsuhiro Yoshioka, Dean for the School of Medicine, and Prof. Kiyohiro Houkin, Director of Hokkaido University Hospital.