Finished
May

13

2015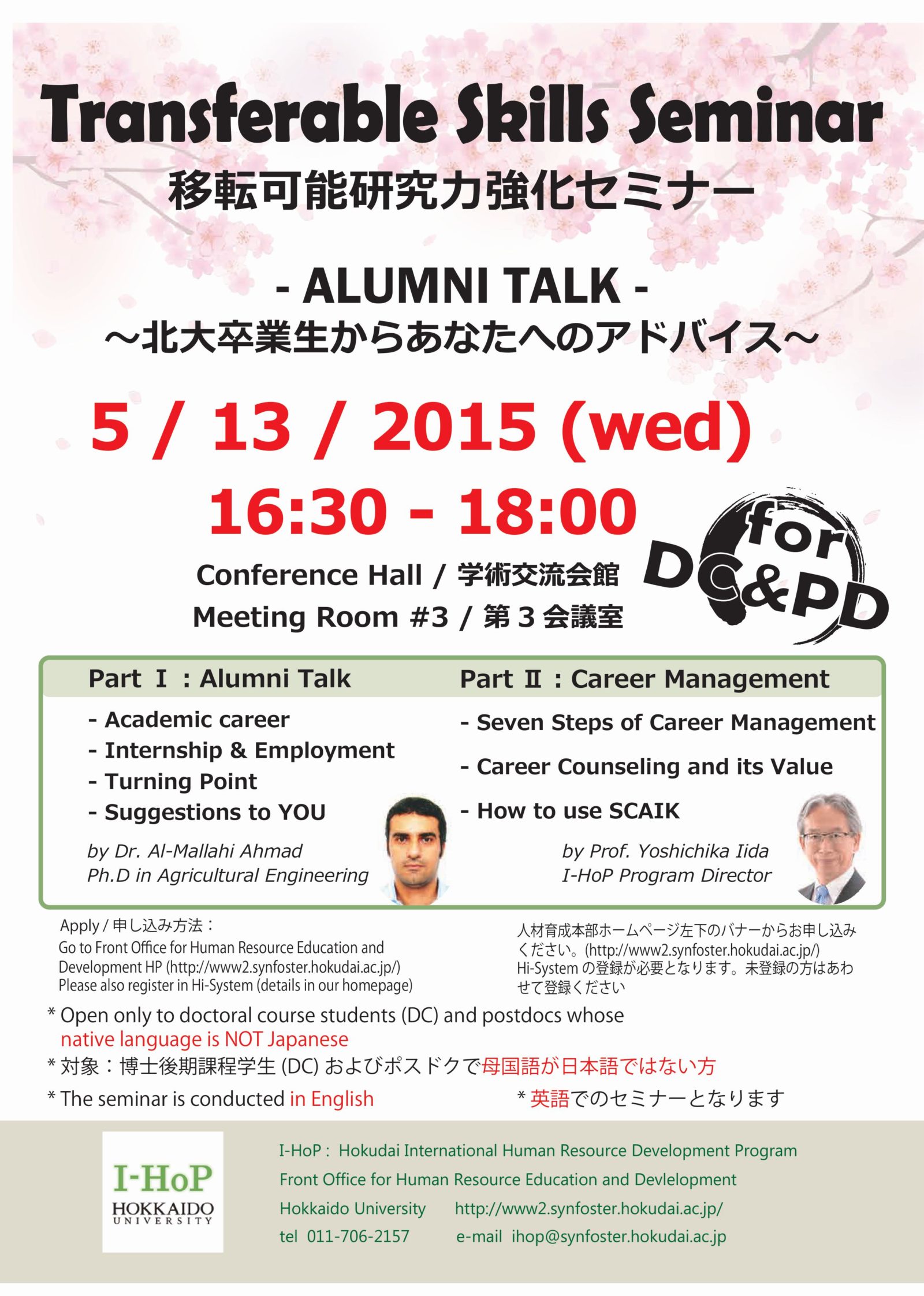 Transferable Skills Seminar – ALUMNI TALK –
The seminar begins with Alumni Talk from Dr. Ahmad Al-Mallahi who is a graduate of the Faculty of Agriculture. He will talk about his experiences and give advise to doctoral researchers in regard to their career plans. Part II of the seminar is given by Professor Iida on the career management process and specific information on fully utilizing the career development programs that I-HoP is providing to  doctoral course researchers from abroad.
Date & Time:

May 13, 2015 (16:30-18:00)

Venue:
Conference Hall Meeting Room #3
Target Audience:

Hokkaido University international doctoral course students and postdocs whose native language is NOT Japanese




Seminar will be conducted in English.

 Agenda:

Part I. Learn from an Alumni

Introduction
My academic career
Turning Point
Suggestions to DC researchers
Q&A

Part II. Career Management Process

Seven Steps of Career Management
Career Counseling and its Value to you
How to use SCAIK

Max participants:

40

Inquiries:

Front Office for Human Resource Education and Development / International Human Resource Development Program ( I-HoP ), Hokkaido University

E-mail: ihop@synfoster.hokudai.ac.jp

Registration &

How to Apply:

Register by 5/12/2015 (noon).




■You must be registered in the Hi-System.

If you are not, please register here.




Click here: "Transferable Skills Seminar" and scroll to the bottom of the page and click "申し込む" to register.




If you do not receive confirmation e-mail in three business days after registering, please contact I-HoP.

Note:

For information in Japanese, click here.