University News | December 02, 2019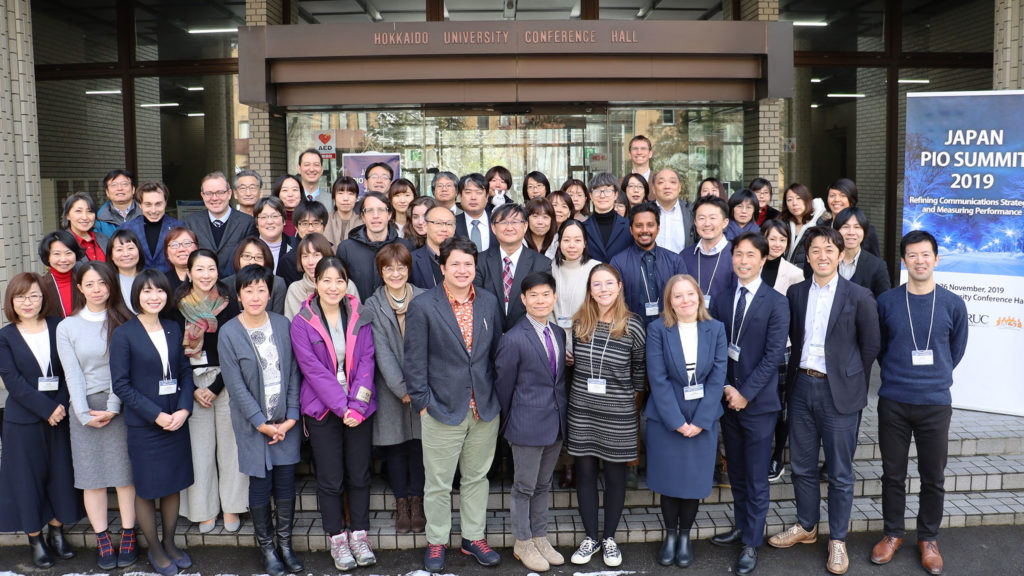 Public information officers (PIOs) and science communicators from all across Japan gathered at Hokkaido University for the 2019 Japan PIO Summit on November 25th and 26th. Over 90 participants from academic institutions and companies attended the summit, which was organized by Hokkaido University, EurekAlert!, the Research University Consortium, and the Japan Association of Communication for Science and Technology (JACST). The summit focused on refining communication strategies and measuring performance of PR activities.
The first day provided key introductions to the conference theme as a whole, including keynotes by Brian Lin from EurekAlert! and Euan McKay from The University of Tokyo who discussed various aspects of science communication and developing a professional PR team, respectively. It also gave 6 PIOs from 5 Japanese institutions the chance to introduce activities they are engaged with, ranging from video production to crisis communication. This was followed by a goal setting/logic model workshop by JACST.
The day ended with an evening reception at the Hokkaido University Museum. The exhibits were opened specially for the participants and included refreshments and free drinks.
The next day began early and participants were encouraged to engage in discussions throughout the day. Talks were also given on how to measure certain activities, for example press releases and social media, as well as case studies on projects taking place at institutions across Japan. Directly following the event, there was a special meeting to take steps towards creating a common metrics and KPI guide for PIOs.
The summit was particularly unique in that it brought together PIOs, science communicators, faculty and staff from across the country to discuss how to develop effective PR strategies and measure the outcomes of those activities.
Written by Katrina-Kay Alaimo, Ph.D.