University News | October 12, 2021
In the HaRP (Human Resource Development Platform for Japan-Russia Economic Cooperation and Personnel Exchange) project, which our university is conducting jointly with Niigata University as part of the Ministry of Education, Culture, Sports, Science and Technology's Inter-University Exchange Project, eight specialized sections have been established based on the Eight-Point Cooperation Plan between the Japanese and Russian governments, and efforts have been made to expand Japan-Russia human resource development and exchange in these fields. One of the specialized sections, the Energy Development section, was reorganized in August of last year to form the SDGs: Environment, Resource Development, and Multicultural Education section with the goal of developing human resources who have expertise in not only energy development but also in the Sustainable Development Goals, which are goals for urgent issues that need to be addressed on a global scale.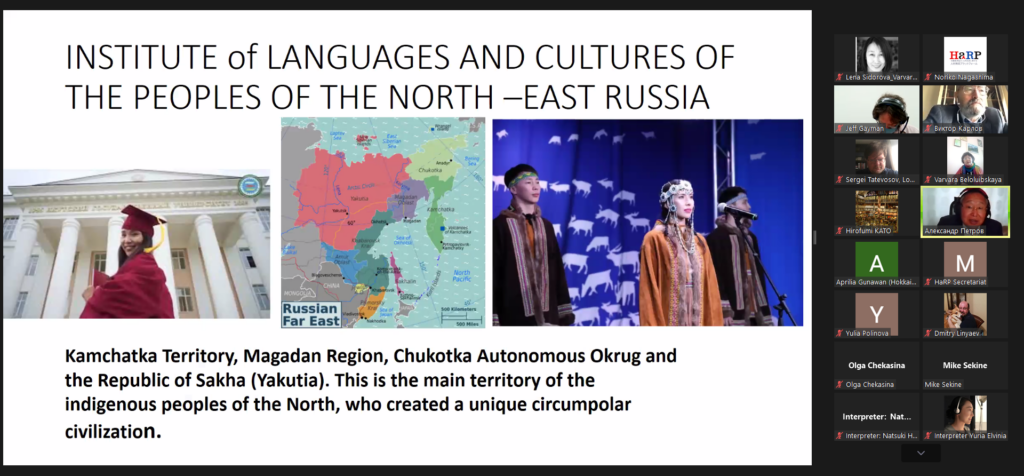 Outside of the campus, the university has been conducting education, research, activities, and projects for the achievement of a sustainable society by utilizing a vast area from land to sea, including our farms, experimental forests, and training ships. In order to further accelerate these activities, HaRP established a sustainability promotion organization in August as a means of promoting SDG-related initiatives throughout the university.
On the occasion of the 3rd General Assembly Meeting of the Association of Institutions of Higher Education of the Russian Federation and Japan, our university, in cooperation with Moscow State University, conducted four scientific forums under the theme of Sustainable Development Goals in an effort to promote academic exchange between Japan and Russia with the aim of achieving the Sustainable Development Goals.
At the Japan-Russia online seminar held on September 14 titled "Sustainable Regional Development, International Cooperation and the Protection of the Arctic Environment," about 100 researchers and practitioners from government agencies and other organizations from seven countries participated in a discussion about raising environmental awareness in Russia and the activities of local people and organizations that contribute to monitoring and protecting the fragile environment in the Arctic. Furthermore, while clarifying the connection between the environment and the traditional way of life of indigenous peoples, those giving presentations focused on how environmental legislation and the guarantee of indigenous peoples' rights have been linked. In the latter half of the presentation, various models of local economies and city development, the impact of global decarbonization efforts on sustainable development in the Arctic, and the impact of global warming on international relations in the Arctic were discussed. By holding similar seminars in the future, HaRP plan to continue our efforts towards multi-level governance and cooperation beyond borders for sustainable development and environmental protection in the Arctic.
The seminar was followed by three forums held on September 15.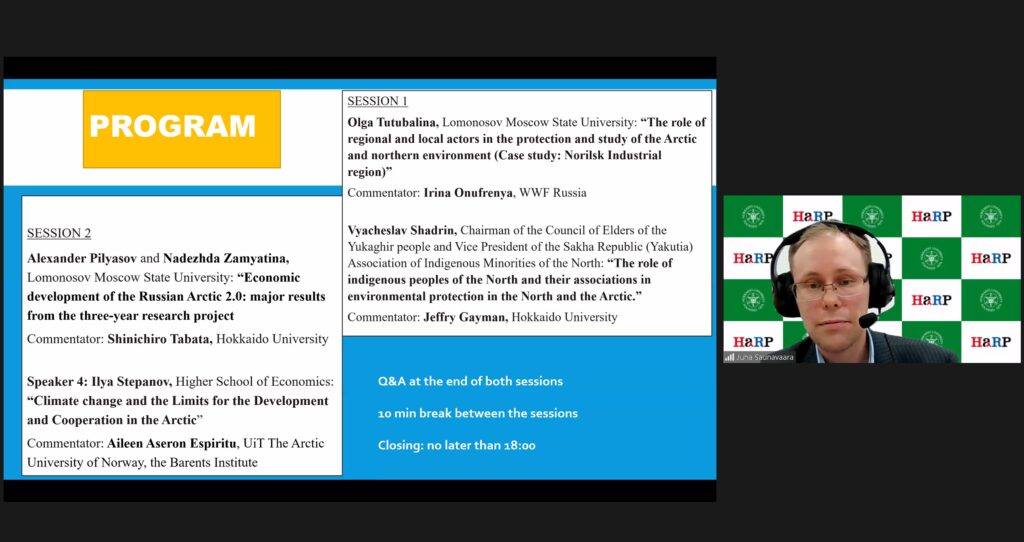 The online seminar "Language and cultures of ethnic minorities in higher Education in Russia and Hokkaido" aimed to further strengthen cooperation with indigenous peoples to promote their cultures and achieve the Sustainable Development Goals. Approximately 50 people from 10 countries participated in this seminar. In this seminar, there were presentations on the history and current status of linguistic and ethnological research in Japanese and Russian universities, as well as the history and current status of education and research support systems for minority languages and cultures. The presenters affirmed the importance of the involvement of indigenous peoples and ethnic minorities themselves in the study and education of their own mother tongues and cultures. HaRP plan to continue our dialogue to build cooperative organizations across borders between non-indigenous, non-ethic-minority researchers and indigenous and ethnic minority individuals and communities.
In the online seminar "Child Health and Growth," 30 participants from Japan and Russia discussed lifestyles for transitioning to a better and healthier life, with a particular focus on the growth, nutrition, and health of the next generation of children in Russia and Japan, in order to achieve Goal 3 of the Sustainable Development Goals—Good Health and Well-Being. In order to achieve this goal, HaRP have concluded that it is vital to consider children's health in a comprehensive manner by considering society, culture, and views of the body in addition to assessments of height, weight, obesity, and weight loss. HaRP also affirmed that the universities of Japan and Russia will continue to cooperate closely in the future.
In the Japan-Russia online seminar "Japan-Russia Collaboration for Ecosystem Monitoring," HaRP discussed how to derive evidence-based solutions for sustainable forest management from remote sensing monitoring of boreal ecosystems, with consideration for Goals 13 (Climate Action) and 15 (Life on Land) of the Sustainable Development Goals. The seminar was attended by over 60 faculty members and students from nine countries. In this session, researchers from Japan, Russia, and the United Kingdom gave presentations and discussed the importance of long-term field observation data and geospatial data, especially data from remote sensing, for improving the accuracy of monitoring ecosystems in the boreal region. Furthermore, it was demonstrated that the use of advanced multi-sensor data, machine learning, and deep learning will lead to new discoveries in the near future, and new research collaborations between Japan, Russia, and the UK are anticipated in the future.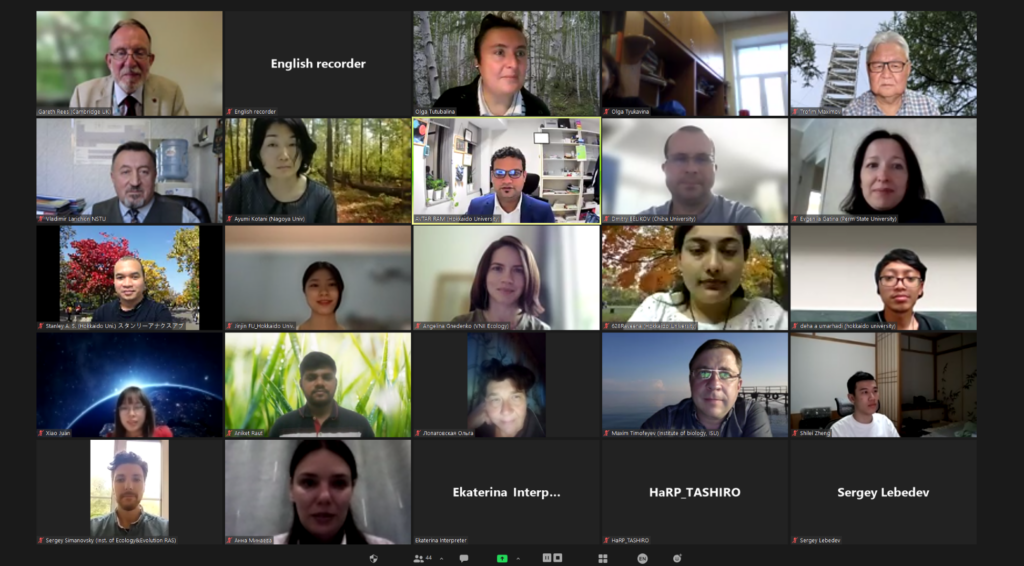 In terms of the specialized sections, these four seminars are closely related to the Health and Medicine and Language, Culture and Tourism sections in addition to SDGs: Environment, Resource Development, and Multicultural Education section. The 17 Sustainable Development Goals are interrelated and require cooperation across various disciplines to solve problems. HaRP will continue to conduct these academic exchange activities in order to strengthen the cooperative relationship between Japan and Russia and to contribute to the resolution of global issues.
HaRP homepage:
https://russia-platform.oia.hokudai.ac.jp/en/
Pictures and article provided by HaRP