University News | May 11, 2018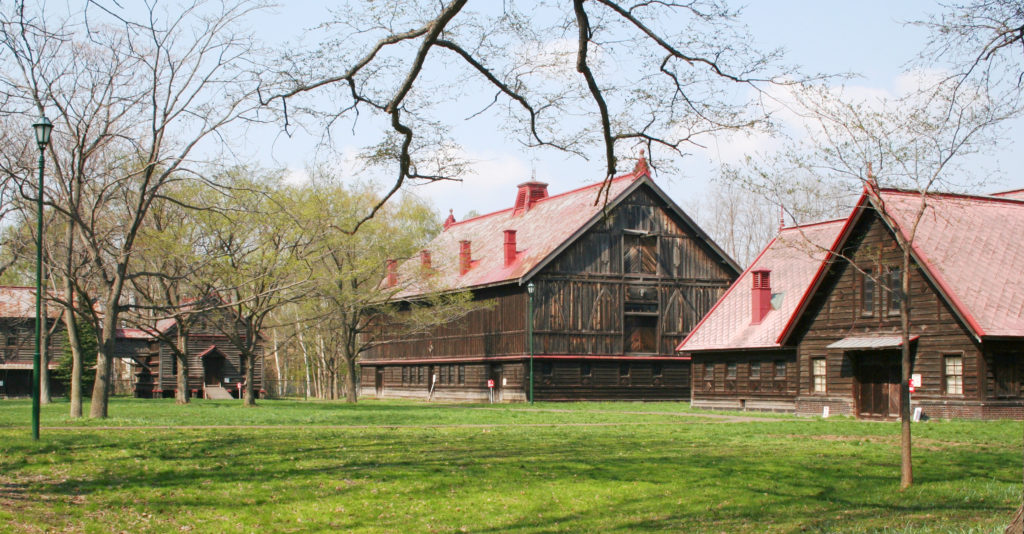 The historical Sapporo Agricultural College Farm No. 2 is reopening to the public following a winter hiatus. Visitors will be able to access the model livestock barn, feed storehouse, and cattle shed buildings which comprise the farm complex.
Visiting Information:
Open from 10:00~16:00
Every day from April 29, 2018 to November 3, 2018
Closed on the 4th Monday of Every Month
(The exterior grounds are accessible from 8:30~17:00 year-round)
Address:
Kita 10-jo, Nishi 8-chome, Kita-ku, Sapporo, Hokkaido Prefecture 060-0810
(Only a 6-minute walk west from Kita 18-jo Subway Station on the Namboku Subway Line)
The Sapporo Agricultural College Farm No. 2 was conceived by Dr. William S. Clark and inaugurated as a pioneering model of a newly envisioned Hokkaido dairy production homestead. Established in 1877, the model barn and feed storehouse complex are the oldest Western-style farm buildings of their kind in Japan, and are regarded as important cultural properties not only in Hokkaido, but also throughout Japan thanks to their contributions to the modernization and technological advancement of the Japanese agricultural industry.
The facilities house a number of agricultural tools and machinery from the time of the founding of Sapporo Agricultural College (now Hokkaido University). These items include tractors, engines, a variety of agricultural and livestock machinery imported to Japan from the West at the start of the Meiji Era, and a collection of antique Japanese agricultural tools, which help visitors understand the story of the technological advancements in farming that occurred throughout Hokkaido's history.   
The Farm is not only highly praised for its Meiji-style architecture, but also for the beautiful scenery which surrounds it, helping create a space that can be appreciated by Hokkaido University students, staff, and visitors alike. We encourage anyone who has an interest in the founding story of Hokkaido University or the history of Sapporo Agricultural College to take this chance to take a step back in time at Sapporo Agricultural College Farm No.2.
The official website for the Farm:
https://www.museum.hokudai.ac.jp/english/about-the-museum/sapporo-agricultural-college-farm-no-2/