Event | November 25, 2019
Finished
Nov

25

2019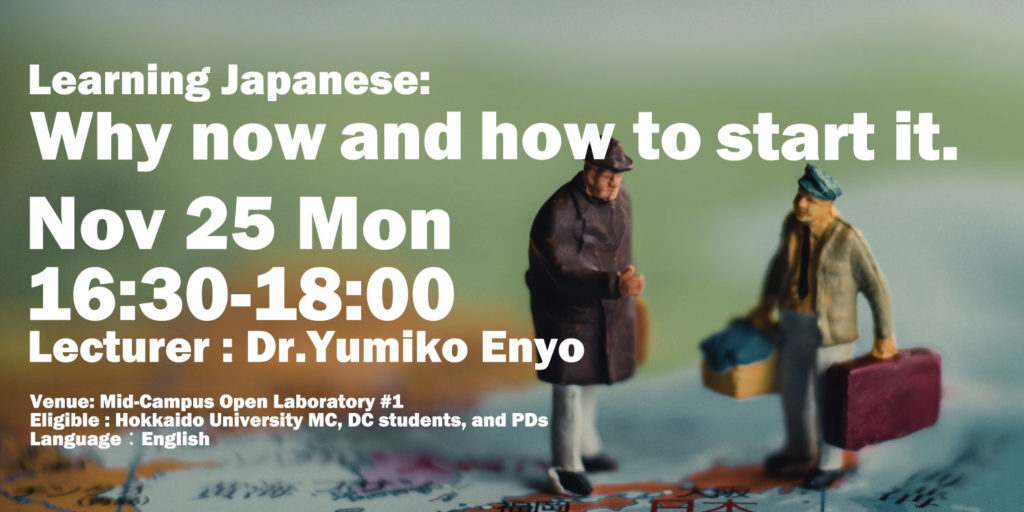 In this seminar, you will learn about how to learn Japanese and why it is necessary to do so in English. Join and get pointers for learning Japanese!
Lecturers
Dr. Yumiko Enyo is a part-time instructor at Hokkaido University and other universities, teaching Japanese language for non-native speakers. She received her doctorate in linguistics from the University of Hawai'i at Mānoa. Her teaching experience includes full-time instructor positions at two colleges in the United States for 10 years.
Date and time
Monday, 25 November 2019, 16:30 – 18:00
Location
Mid-Campus Open Laboratory Building#1, 1st floor
South-East corner of Main Street & Gingko Avenue
Language
English
Eligibility
Hokkaido University international graduate students and postdocs
Application deadline
Thursday, 21 November 2019
Max participants
30
How to register
Please click here to register. You need to register to the Hi-System in advance.
Inquiries
International Human Resource Development Program (I-HoP)
ihop@synfoster.hokudai.ac.jp
011-706-2157