University News | March 26, 2014
Proudly display your diploma in a genuine Hokkaido University frame!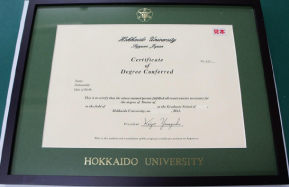 The Hokkaido University Diploma Frame is available at the Elm no Mori (Elm Forest Shop).
This solid, flat wooden frame is matted in HU green and is just the right size for your diploma. The University symbol and the words "Hokkaido University" are embossed in gold.  This is a limited offer. Order or come in now!
*Frame size: 288 x 379 mm (20mm thick)
*Price: 6,980 yen (tax excluded)
*Also available with "Hokkaido University" in kanji : 北海道大学
Orders can also be submitted via fax (011-708-0389) ( order form ) or phone (0120-0656-38) (reception only available in Japanese).