University News | April 24, 2018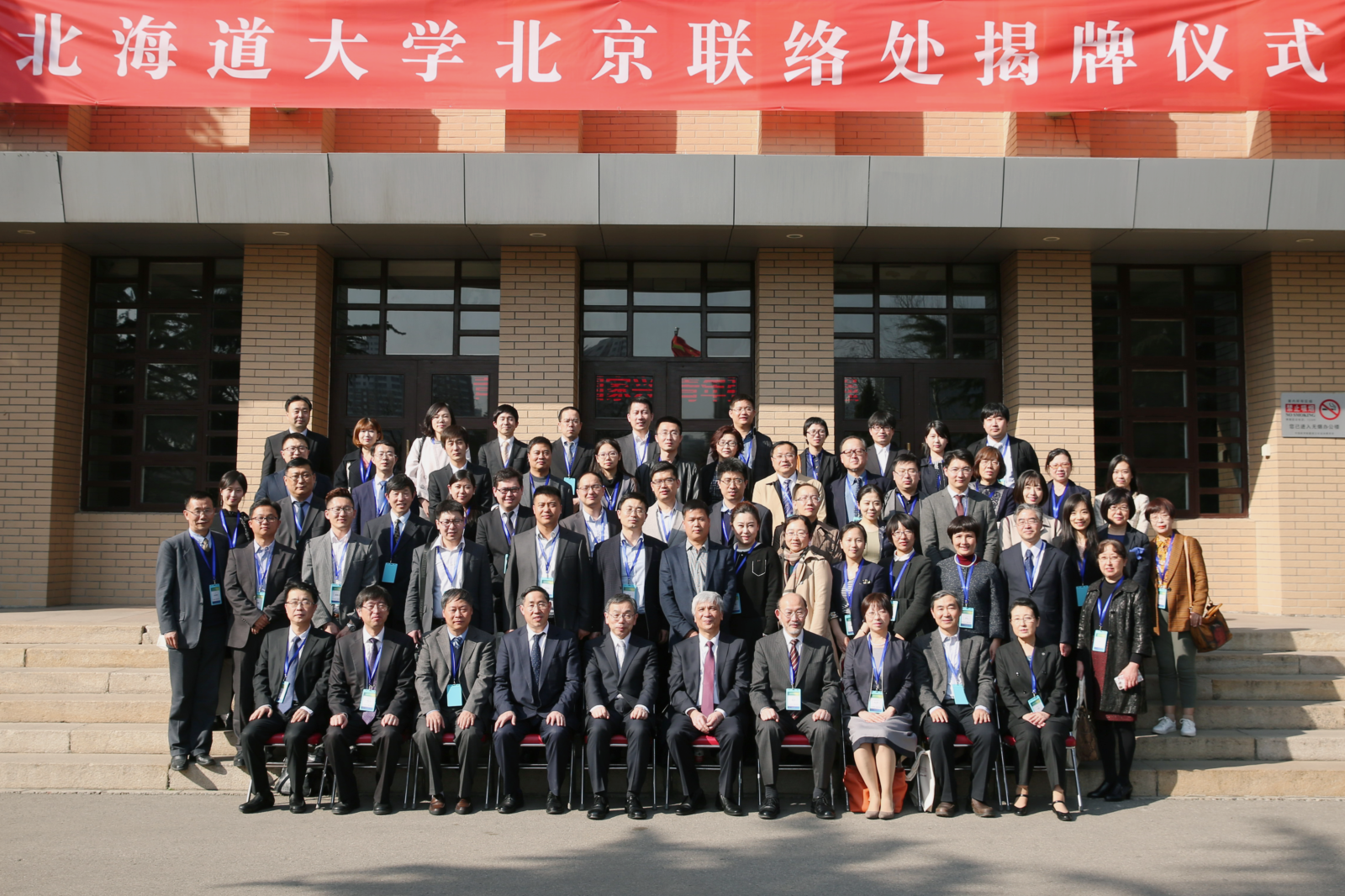 The opening ceremony of the Hokkaido University liaison office in Beijing, China and the Honorary Doctorate of Philosophy award ceremony for President Ding Zhongli was held at the University of Chinese Academy of Sciences (UCAS) on March 25, 2018. President Toyoharu Nawa, Professor Atsushi Yokota, Dean of the Research Faculty of Agriculture, Professor Oh Shuho, Advisor to the President, Professor So Kawanobe, Deputy Executive Director, and 2 members from Hokkaido University participated in the ceremonies.
Vice President Wu Yueliang, UCAS gave the opening address at the opening ceremony. This was followed by speeches from President Ding Zhongli, President Nawa and Director-General Haruko Yoneyama, China Research and Communication Center from the Japan Science and Technology Agency. Afterwards, a promotional movie about UCAS was shown, and Professor Kawanobe introduced some of the activities being done by Hokkaido University.
The establishment of the Hokkaido University liaison office on the UCAS campus would not have been possible without the outstanding contributions by President Ding Zhongli. This office is located between the President's and Vice-President's rooms, thereby placing it at the center of UCAS. Especially due to its useful and convenient location, this office is expected to create networks and develop academic exchanges between Japan and China.
Following the establishment of the liaison office, in accordance with the Rules and Regulations set for Honorary Degrees Hokkaido University conferred upon President Ding Zhongli an Honorary Doctorate of Philosophy. President Ding Zhongli's contribution to the advancement of education and research at Hokkaido University via international cultural exchanges and other activities has been exceptional, and deserves full recognition.
Over the past two decades, President Ding Zhongli's research has focused on changes in climate over the last 2.6 million years and the forces driving these changes through systematic observation of the stratigraphy of the Loess Plateau in China. His research has laid the foundations for such studies in China.
His relationship with Hokkaido University has been cultivated through occasions such as the Japan–China University Forum held in Shanghai in May 2017, as well as a visit to UCAS in July of the same year by the Hokkaido University delegation. These exchanges led to the signing of an Academic Exchange Agreement and Memorandum of Understanding on Student Exchange between the two universities in December 2017 and to the earlier-mentioned establishment of a Hokkaido University liaison office at UCAS in March 2018.
Over 60 Hokkaido University alumni and representatives from 2 research institutions of the Chinese Academy of Sciences with research exchanges with Hokkaido University participated in the award ceremony. The total number of Honorary Doctorate of Philosophy awardees from Hokkaido University is 41.