Event | September 09, 2016
Finished
Sep

09

2016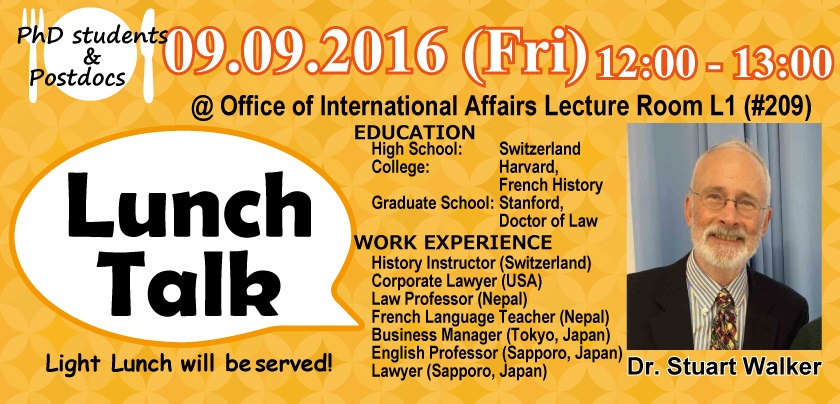 This seminar is for international researchers (DC, PD). Seminar will be conducted in English.
Come and join the I-HoP's new program for international DC and PD researchers, PhD Lunch Talk. We will invite guest speakers from industry, academia, government or other organizations to discuss about their career, life, or special topics which may be stimulus for international PhD researchers in Japan. Registration is required because we will provide lunch for all the attendees.
Listening to the story of experts especially focusing on the turning points of their life would be informative and enlightening when you are formulating or reviewing your career design.
■ Speaker
Dr. Stuart Walker (English Professor, Lawyer)
The speaker of PhD Lunch Talk in September is Dr. Stuart Walker from USA.
Although he has been living in Sapporo for decades, his life career is filled with wide variety of international education and experiences. As you can find from his profile on the poster, he earned Doctor of Law from Stanford University after finishing his undergraduate education at Harvard where he studied French history. His work experience includes history instructor in Switzerland, corporate lawyer in San Francisco, law professor in Nepal and business manager in Tokyo before he settled in Sapporo as
English professor and lawyer. Please come and join the event where you can learn from a man who has been challenging to ever-changing environment around him.
■ Place
Office of International Affairs 2nd Floor Lecture Room (#209)
■ Seminar date
9/9/2016 (fri) 12:00-13:00
■ Eligible
Hokkaido University doctoral course students and postdocs whose native language is NOT Japanese
■ Application
8.12.2016 – 9.7.2016, 12:00
■ Max participants
36
■ How to register
You must be registered in the Hi-System. If you are not, please register here.
*Hi-System details are found at here
Click here: and scroll to the bottom of the page and click "申し込む/Apply" to register.
If you do not receive a confirmation e-mail in three business days after registering, please contact I-HoP.
■Inquiries
I-HoP :International Human Resource Development Program, Front Office for
Human Resource Education and Development, Hokkaido University
ihop[at]synfoster.hokudai.ac.jp
011-706-2157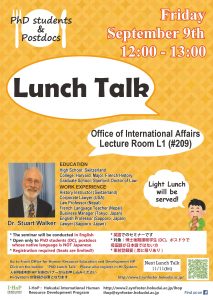 (click to get PDF)