Finished
Jul

20

2016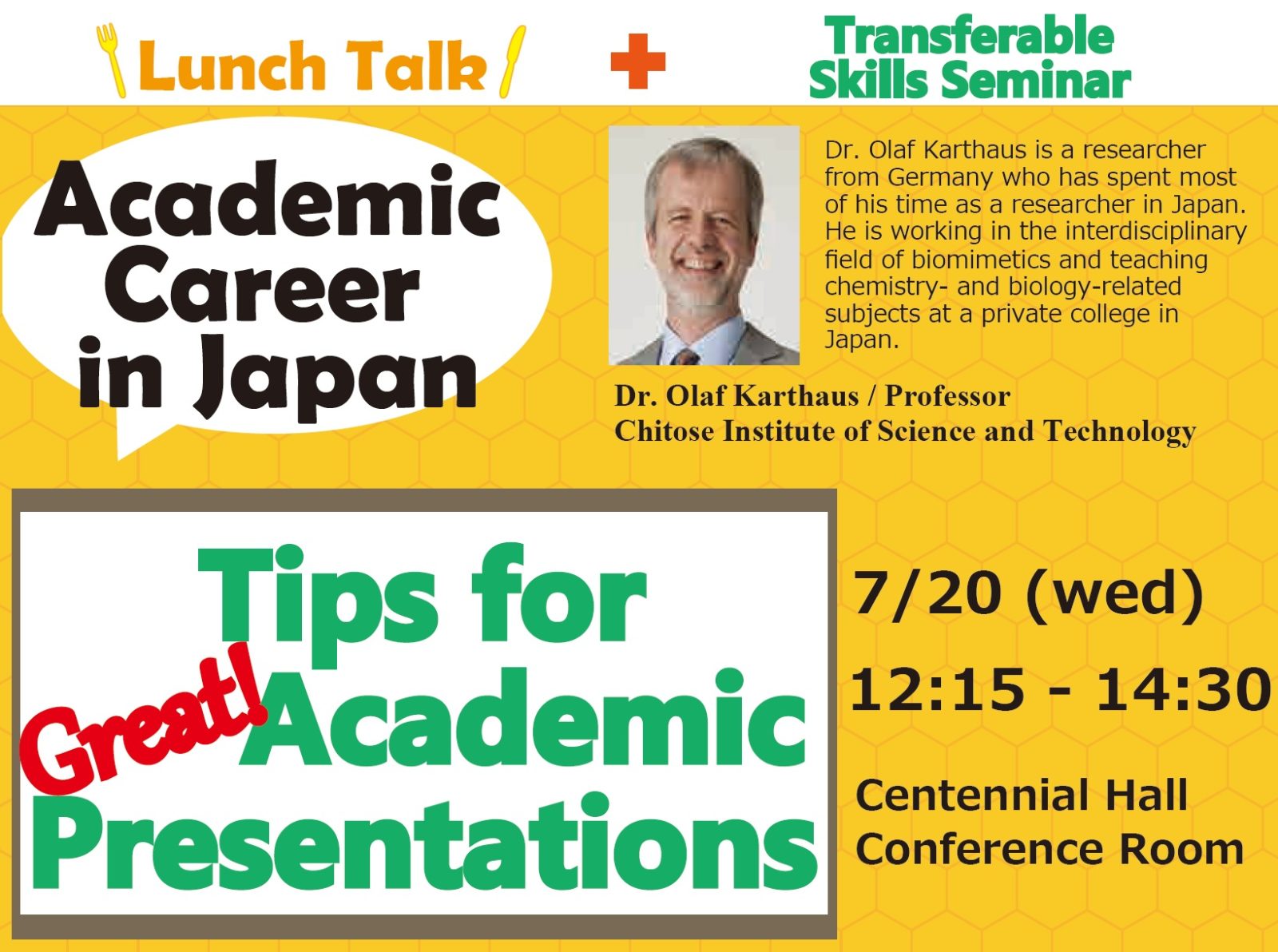 This seminar is for international researchers (DC, PD). 
Seminar will be conducted in English.
Transferable Skills Seminar will follow Lunch Talk after a short break.
(( PhD Lunch Talk – Academic Career in Japan ))
At his luncheon speech, Dr. Karthaus will share with us his enduring academic career since 1992 in Japan which includes 6 years with Hokkaido University. You will learn, from his diversified and multi-disciplinary undertaking of academic functions at national universities, private universities, national research institutions, world-wide consortium, editor of journals and more, how he has been enjoying his life in Japan.
(( Transferable Skills Seminar – Tips for Great Academic Presentation ))
The objective of your academic presentation is to convey the key messages to your audiences. This requires not only the preparation of strong visuals, but also mental preparation and control over your body language.
This seminar will give you a few tips and lists some do's and don'ts for making your next presentation more attractive.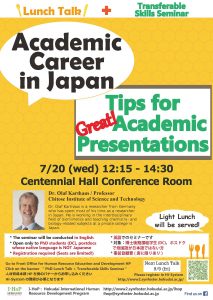 (click to get the PDF)
■ Lecturer
Dr. Olaf Karthaus / Professor / Chair / Dr.rer.nat. / Chitose Institute of Science and Technology
Dr. Olaf Karthaus is a researcher from Germany who has spent most of his time as a researcher in Japan. He is working in the interdisciplinary field of biomimetics and teaching chemistry- and biology-related subjects at a private college in Japan.
■ Place
Centennial Hall, Conference Room
■ Seminar date
2016/7/20 (wed) 12:15 – 14:30
■ Eligible
Hokkaido University doctoral course students and postdocs whose native language is NOT Japanese
■ Application Deadline
7/18/2016 23:00
■ Max participants
30
■ How to register
You must be registered in the Hi-System. If you are not, please register here.
*Hi-System details are found at here.
Click here: scroll to the bottom of the page and click "申し込む/Apply" to register.
If you do not receive confirmation e-mail in three business days after registering, please contact I-HoP.
■Inquiries
I-HoP: International Human Resource Development Program, Front Office for Human Resource Education and Development, Hokkaido University
ihop[at]synfoster.hokudai.ac.jp
011-706-2157