Finished
May

13

2016
This seminar is for international researchers (DC, PD). Seminar will be conducted in English.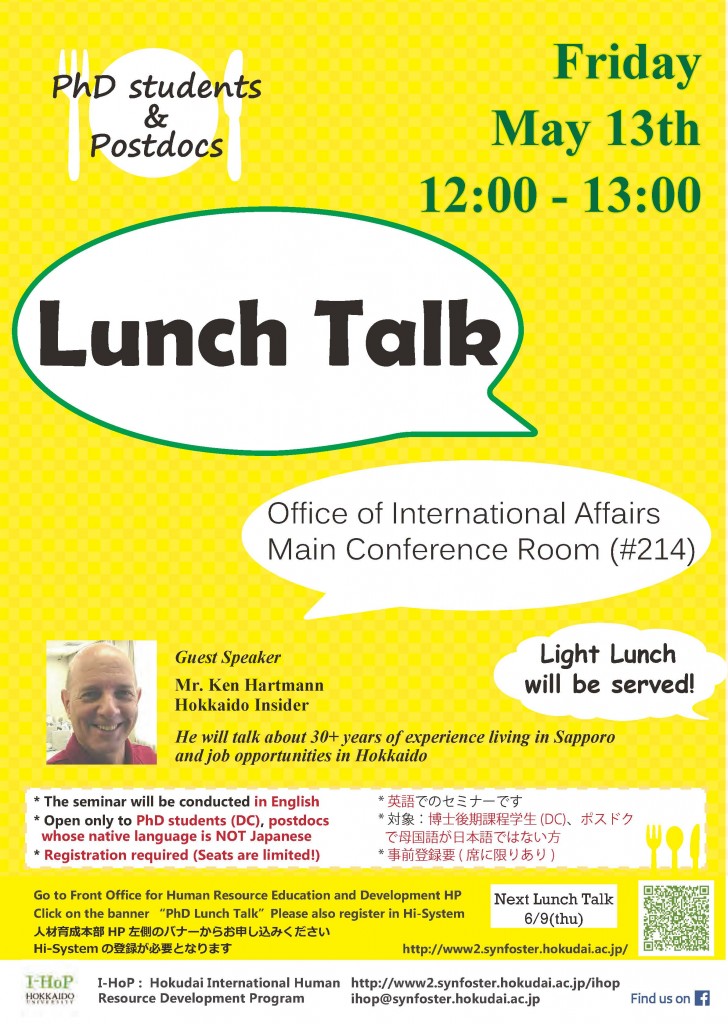 Come and join the I-HoP's new program for international DC and PD researchers, PhD Lunch Talk. We will invite guest speakers from industry, academia,  government or other organizations to discuss about their career, life, or special topics which may be stimulus for international PhD researchers in Japan.
Registration is required because we will provide lunch for all the attendees.
Listening to the story of experts especially focusing on the turning points of their life would be informative and enlightening when you are formulating or  reviewing your career design.
The first guest in history of the PhD Lunch Talk is Mr. Ken Hartmann, the Internet Voice for Hokkaido. He is the publisher of Hokkaido Insider, a subscription-based on-line information source for foreigners in Hokkaido. He will talk about his 30+ years of life in Japan and may touch briefly on job opportunities in Sapporo for English-speaking individuals.
■ Speaker
Mr. Ken Hartmann
Owner/Manager of Hokkaido Insider
http://www.hokkaidoinsider.com/HOKKAIDO-INSIDER/mainindex.html
■ Place
Office of International Affairs 2nd Floor Main Conference Room (#214)
https://www.global.hokudai.ac.jp/global/office-of-international-affairs/
■ Seminar date
5/13/2016 (fri) 12:00-13:00
■ Eligible
Hokkaido University doctoral course students and postdocs whose native language is NOT Japanese
■ Application
4/21-5/11 23:00
■ Max participants
36
■ How to register
You must be registered in the Hi-System. If you are not, please register here.
*Hi-System details are found at here
Click here and scroll to the bottom of the page and click "申し込む" to register.
If you do not receive a confirmation e-mail in three business days after registering, please contact I-HoP.
■Inquiries
I-HoP: International Human Resource Development Program, Front Office for Human Resource Education and Development, Hokkaido University
ihop@synfoster.hokudai.ac.jp
011-706-2157