University News | October 10, 2017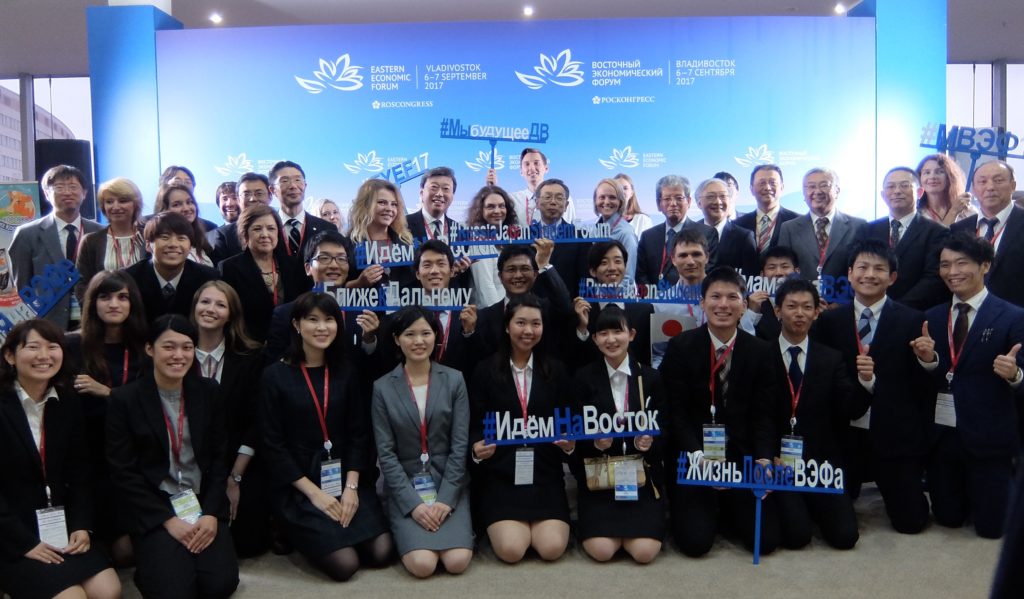 Commemorative photo with participants of the Japan-Russia Student Forum
The Eastern Economic Forum 2017 and Japan-Russia Student Forum 2017 were held at Far Eastern Federal University, a partner university of HU, in Vladivostok, Russia from September 5th to the 7th.
The Eastern Economic Forum is an annual forum to promote overseas investments and international businesses. Politicians, economists and educators from all over the world including leaders from Japan and Russia come to participate.
The Japan-Russia Student Forum, this year held in conjunction with the Eastern Economic Forum, focuses on promoting mutual understanding amongst youths from the two countries. 16 students from 12 Japanese universities and 8 students from 2 Russian universities participated. The students were able to discuss and give presentations on their individual specialisms related to future relations between Russia and Japan. President Nawa attended one of the plenary sessions on the 5th and encouraged the students through humor. With President Nawa and other officials in attendance, the students then met with Prime Minister Abe on the 6th to offer their thoughts on the current relationship between Japan and Russia and to present him with the conference's memorandum.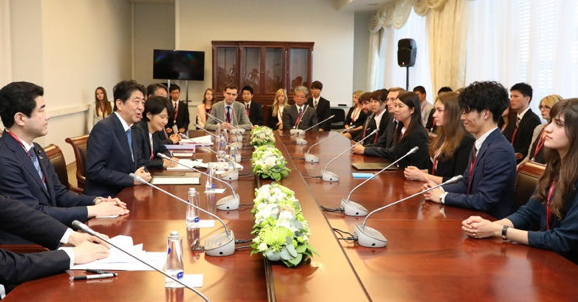 President Nawa also attended the conference session held as a part of the 6th APEC Conference on Cooperation in Higher Education titled "Developing APEC Education Strategy" as a panelist and introduced the education and research of HU as well as the university's exchange initiatives with Russia. The presentation was followed by discussions concerning active future exchanges and educational collaborations between Japan and Russia. President Nawa then participated in a roundtable meeting with Prime Minister Abe to exchange ideas on how to develop interactions between Japan and Russia.
Read more about the event in a news release by the Prime Minister of Japan and His Cabinet here.