University News | September 11, 2017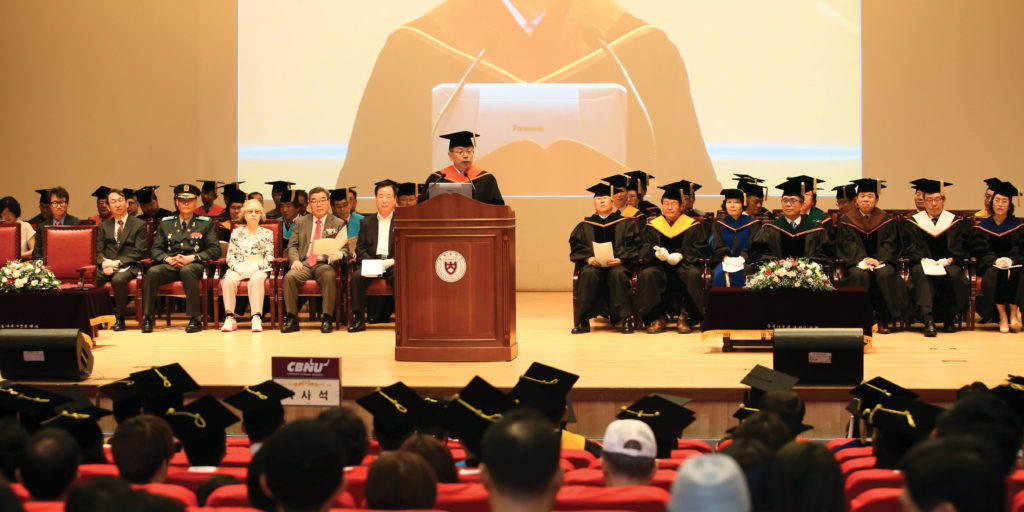 President Nawa giving his acceptance speech
At the degree award ceremony held at the New Culture Center of Chungbuk National University on August 23th, 2017, President Toyoharu Nawa was awarded an Honorary Doctor of Engineering. He was particularly praised for his contributions in education and research in the field of engineering, as well as to university management and the development of higher education in Japan.
Chungbuk National University in South Korea is one of the country's Flagship National Universities and is located in Cheongju, North Chungcheong Province. It has a track record of securing first place for its now third consecutive year in the student satisfaction survey for Korean universities. Chungbuk National University and Hokkaido University signed an inter-university exchange agreement in January 2013, but educational and research activities such as joint symposiums and internship student exchanges have been taking place at the Faculty of Engineering since 2001.
Before the ceremony, a breakfast meeting was held between President Nawa and members of the Hokkaido University Korean Yeolyeoncho (Korean "Enireiwo") Association. They talked about the activities of ambassadors and partners in Korea, overseas networks of Hokkaido University, and their support projects.
In his acceptance speech, President Nawa spoke about how Chungbuk National University has built brilliant traditions since its establishment in 1951, has responded to globalization, and has produced many excellent students, faculty and staff members. Finally, he expressed his sincere appreciation to the university for awarding him an Honorary Degree of Engineering.