University News | August 23, 2017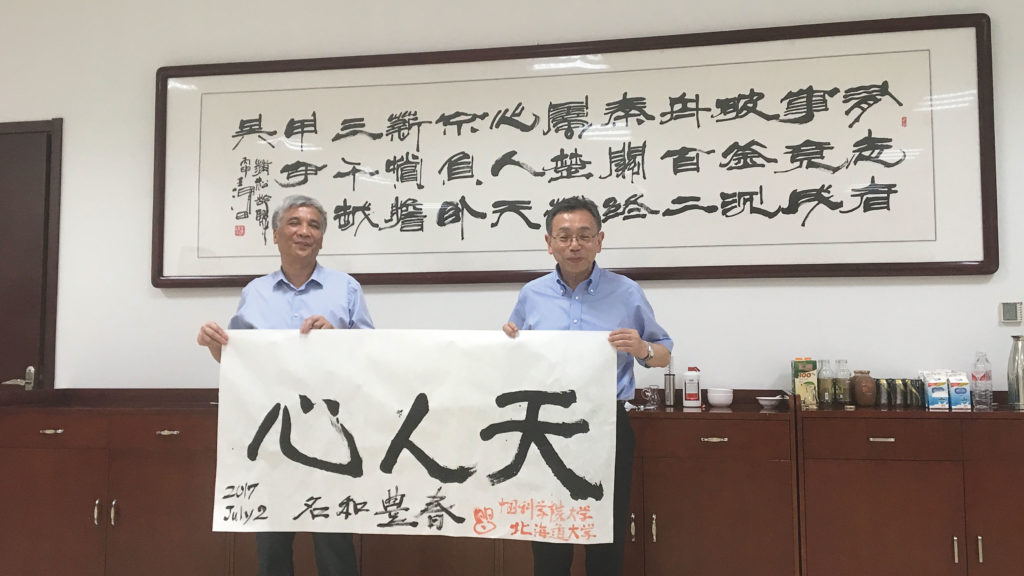 President Nawa visits the University of Chinese Academy of Sciences
On July 2nd and 3rd, President Nawa visited the Yanqihu Campus of the University of Chinese Academy of Sciences (UCAS) in Beijing. There have been collaborations between researchers at UCAS and Hokkaido University in fields such as agriculture, fisheries sciences and inorganic chemistry.
On the evening of July 2nd, President Ding Zhongli and 5 representatives from UCAS invited a delegation from Hokkaido University which included President Nawa and Associate Prof. Xiufeng Wang, Advisor to the President, to a welcome dinner meeting.
During the meeting, they reflected on past collaborations between the two universities and deeply discussed future collaborations in new fields. Afterwards, they strengthened their cordial relations by doing calligraphy together.
The next morning, President Nawa was given a tour of UCAS' Yanqihu Campus. UCAS has four campuses in Beijing, with the Yanqihu Campus being the largest. The whole site covers an area of 3,121,383 square meters. The tour made it clear that the campus conditions were perfect to foster excellent students and researchers.
Overall, the visit helped solidify the friendship between the University of Chinese Academy of Sciences and Hokkaido University.