Event | November 28, 2018
Finished
Nov

28

2018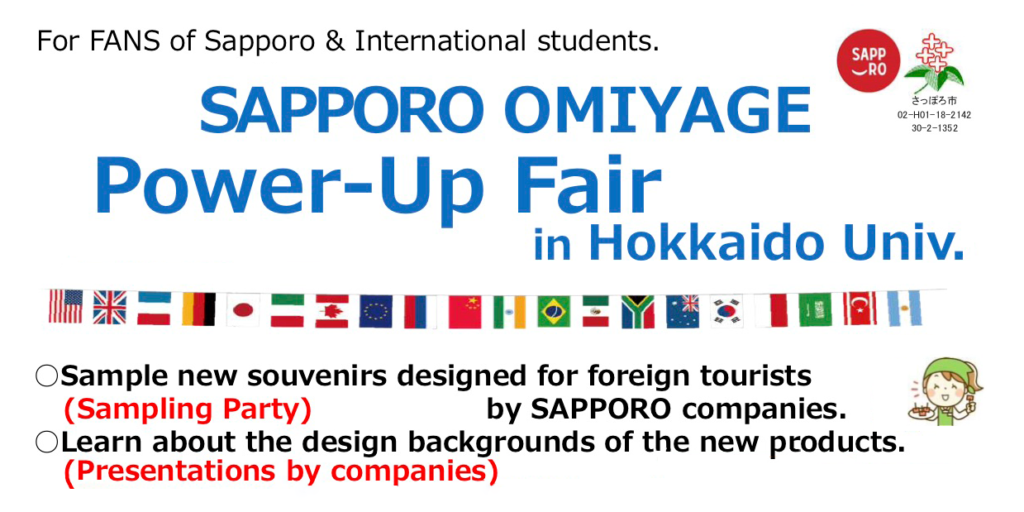 This free event is open to all international students as well as members of the public. Join us for an evening of souvenir sampling and presentations from local companies. The first 100 participants who respond to a survey at the event will receive a Japanese "tenugui" towel. To sign up, please follow the application instructions below.
Event
Sampling party: test and sample new souvenirs designed for foreign tourists by local Sapporo companies.
Company presentations: learn about the design process of each new product
Location
Hokkaido University Conference Hall
Date and time
11/28/2018 (Wed.) 16:00–18:00
Participant eligibility
This event is open to international students and members of the public. 
Cost
This is a free event. 
How to apply
Please apply by email: omiyage[at]city.sapporo.jp
Please include your name, nationality, phone number, and work/school affiliation in the email.
Hosted by
The City of Sapporo, in collaboration with North Pacific Bank, Ltd and Hokkaido University 
Inquiries
Please contact Niwa-san and Ohashi-san of the City of Sapporo Economic and Tourism Affairs Bureau at omiyage[at]city.sapporo.jp