University News | June 23, 2017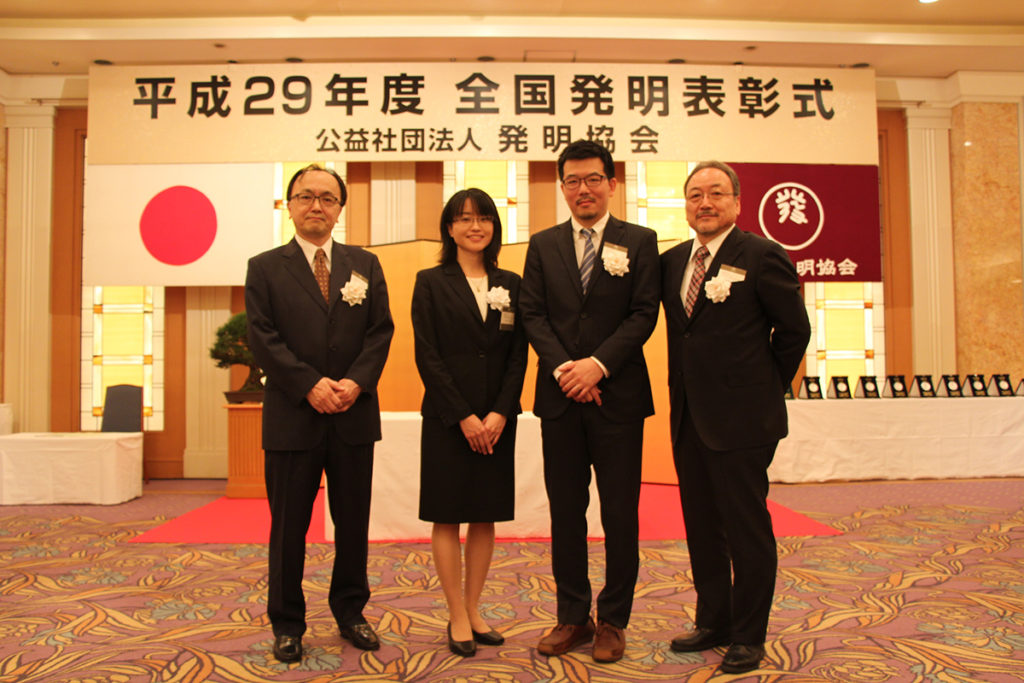 Awardees from Hokkaido University at the ceremony. From the left: Professor Hiroki Shirato, Associate Professor Taeko Matsuura, Assistant Professor Naoki Miyamoto, Professor Kikuo Umegaki.
Seven scientists, engineers and doctors of Hokkaido University and Hitachi, Ltd. have been awarded the Imperial Invention Prize for their "Real-time tumor-tracking particle beam therapy system." This prize is given to the most outstanding invention at the National Commendation for Invention sponsored by the Japan Institute of Invention and Innovation (JIII).
The National Commendation for Invention has been held since 1919 to contribute to the progress of science and technology and the development of industry by formally recognizing creators of particularly outstanding inventions, devices or designs as well as researchers and/or scientists who have rendered distinguished services in the creation and promotion of inventions in Japan. The Imperial Invention Prize is presented to the most outstanding invention from the Imperial Grant the JIII has received.
The award ceremony was held at Hotel Okura in Tokyo on June 12th and was attended by the awardees, the President Toyoharu Nawa of Hokkaido University, Chairman of the Board and Representative Executive Officer Hiroaki Nakanishi of Hitachi, and His Imperial Highness Prince Hitachi. The awardees from Hokkaido University were Professor Kikuo Umegaki, Associate Professor Taeko Matsuura, Assistant Professor Naoki Miyamoto and Professor Hiroki Shirato.
On the award ceremony, Professor Kikuo Umegaki said "This technology is made possible by collaborations between medical doctors and engineers, and academia and industry. I am grateful to the team, who have worked tirelessly up to this point, and am very proud to be a part of it. I would also like to show my appreciation to everyone who has supported us – leading us to receive this remarkable award. I hope this event will encourage researchers to continue developing outstanding medical systems."
President Nawa commented "It is an honor and great privilege that the Imperial Invention Prize of National Commendation for Invention has been awarded to four faculty members from Hokkaido University. Amidst the nation's aging society, there has been a global search on how to improve our quality of life. For those who have been stricken with cancer, we hope these research results bring good tidings, and we will continue our ceaseless efforts for the future."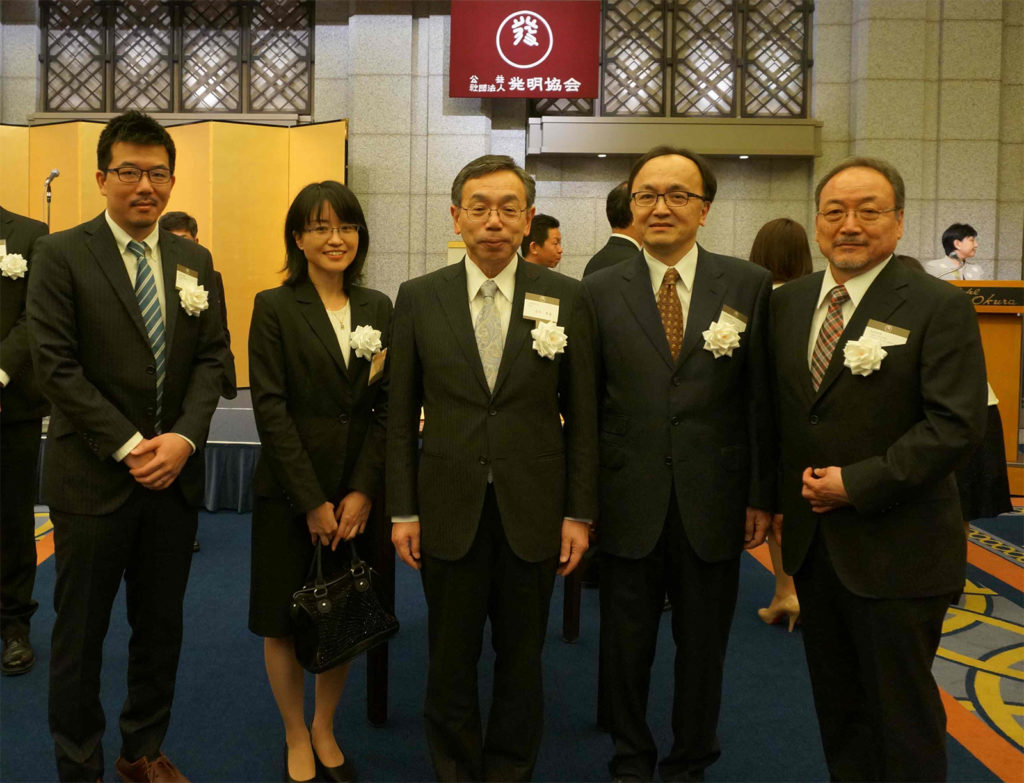 The awardees and President Nawa (center) of Hokkaido University
Particle beam therapy is a form of radiation-based cancer therapy. Using an accelerator, particles such as protons (hydrogen nuclei) and carbon ions are accelerated, and the particle beam produced is delivered directly to the tumor. Since the therapy causes little pain and has far fewer side effects than other forms of radiation therapy, it helps patients continue their social life while receiving treatment. The therapy is being introduced at an increasing number of medical institutions in Japan and abroad.
However, for tumors located in the trunk of the body that move due to respiratory activity, such as in the lungs and liver, there has been a need for a technique to track the moving target tumor in real time and accurately irradiate the tumor.
Against this backdrop, Hokkaido University and Hitachi jointly developed a system incorporating the university's real-time tumor-tracking radiation therapy method and Hitachi's spot-scanning irradiation technology – the first system of its kind in the world. This joint development project was supported by a grant under the Funding Program for World-Leading Innovative R&D on Science and Technology, sponsored by the Cabinet Office and the Japan Society for the Promotion of Science.
Use of this invention enables more accurate irradiation of moving tumors and shorter irradiation times, thereby significantly reducing the burden on patients. The Hokkaido University Hospital has offered proton beam cancer treatment based on these technologies since 2014 and receives about 70-80 patients every year.
Hokkaido University and Hitachi will continue combining their respective outstanding technologies, knowledge, and experience in the medical and engineering fields to contribute to cutting-edge radiation therapy and cancer treatments that maintain excellent QOL for patients.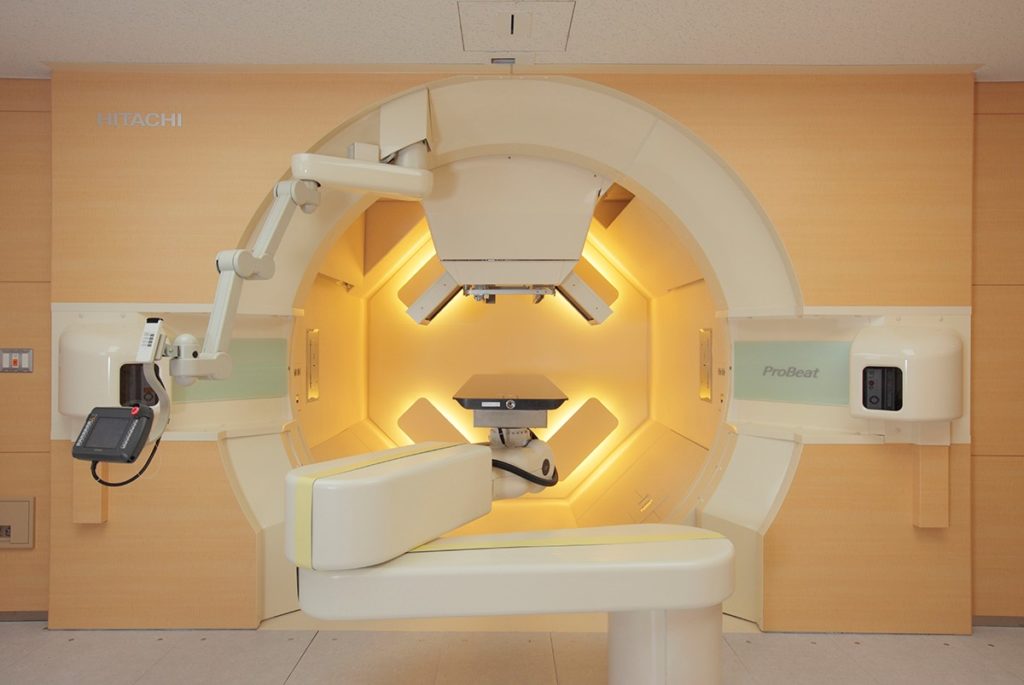 Proton beam therapy facility at the Hokkaido University's Proton Beam Therapy Center.