Event | February 17, 2014
Finished
Feb

17

2014
The Faculty of Engineering, International Affairs Office, is pleased to announce a special lecture by Mr. Stéphane-Enric Beaulieu Counsellor/Senior Trade Commissioner for Investment, Energy and Natural Resources at the Embassy of Canada in Japan. This event is organised as a part of internationalization activities of the Faculty of Engineering, and all talk and discussion will be conducted in English.
We welcome all students, faculty members, and interested persons to join us as we welcome Mr. Beaulieu and contemplate this timely subject.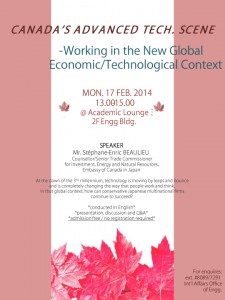 Special Lecture in English
Date
February 17, 2014
Time
13:00-15:00
Venue

Academic Lounge 3, Engineering Bldg., Hokkaido Univ.

N13 W8 Kita-ku, Sapporo

Details

– Observation on the current form of government and its sustainability

– Brainstorming session on how the private sector, namely technology will be called upon to take over many of the functions that have been traditionally occupied by governments

– Discussion between the speaker and the participants on the extent to which technology could change the Japanese work space in the next 10-15 years and how future workers can prepare themselves to be pioneers of that environment




Speaker Details:

Mr. Stéphane-Enric Beaulieu

Cons./Senior Trade Commr. for Invt., Energy & Natural Resources at the Embassy of Canada in Japan

*Previous assignments incl. Senior Trade Cmmr. for Syria, Jordan, Lebanon & Iraq,Trade Commr. for the ICT Sector in Tokyo, NE Regnl. Coord. for ICT at Foreign Affairs & Int'l Trade HQ in Ottawa, and Exec. Asst. to the Asst. Deputy Minister for Asia & Africa

**Graduated from Université de Montréal with BA Japanese Studies & Political Sciences

Admission
Free / No registration is required.