Research Highlight | November 25, 2013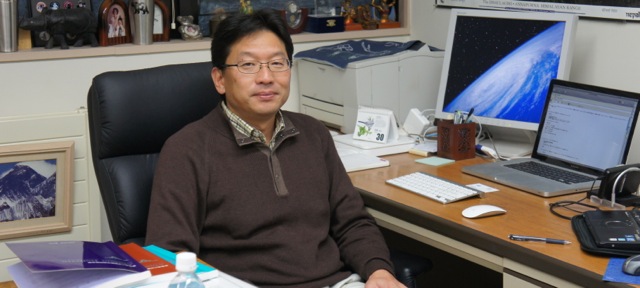 Professor Toshio Tsubota in the Department of Environmental Veterinary Sciences
"The Hokkaido Prefectural Government…" The article published on the Mainichi newspaper's English website at the end of September announced, "...has predicted that brown bears will make more encroachments on human settlements than usual this fall."
While written in calm prose, it was a headline to make you hesitate stepping outside to visit the convenience store: exactly how many bears were you prepared to face down to get that pint of milk?
Yet exactly how serious was this threat and what can be done to protect both the bears and the humans from conflict?
Professor Toshio Tsubota in the Department of Environmental Veterinary Sciences is an expert on the Hokkaido brown bear population. He explains that bears normally live in the mountains and only come into residential areas if there is a shortage of food. Sapporo City's high altitude surroundings make it a popular destination when times are tough and bears have been sighted as far in as the city library in the Chuo Ward.
The problem this year came down to acorns. Wild water oak acorns are a major source of food for bears in the Autumn months, and this year the harvest has been low. Despite the flurry of concern, a low acorn crop is not an uncommon phenomenon. The natural cycle of growth produces good years with a high yield of nuts and bad years with a lower count in rough alternation. However, a bad yield year does increase the risk of bear appearances in the city.
With food being the driving desire, bears entering residential streets typically raid trees and garden vegetables. The quality of your little allotment not withstanding, bears will return to the mountains once the food supply improves, meaning their presence in the city is a short-lived, intermittent issue.
That is, unless the bears get into the garbage.
High in nutrients and calories, bears that begin to eat garbage will not return to their normal hunting habits. This is when more serious problems between humans and bears start to develop. Since yellow bagged waste products do not strongly resemble the bears' normal food, they will not initially know that garbage is worth eating. It is therefore essential, Toshio says, to ensure your garbage is properly stored before collection.
In Japan, brown bears are found exclusively in Hokkaido with Honshu hosting a black bear population. The brown bear is the larger of the two species, with the females weighing in around 150 kg and the males between 200 – 300 kg. The exact population number in Hokkaido is unknown, but estimates put it around 3000 – 3500 bears on the island.
On the far eastern shore of Hokkaido is the Shiretoko World Heritage Site. Free from hunting, bears living in this area have little to fear from humans, making it the ideal location to study bear behaviour and habitat. Able to approach within 10 – 20 m of the bears, it is here that Toshio collects data for his research into bear ecology.
The acorn feast in the autumn comprises of the final meal the bears will eat before hibernation. Hokkaido's long winters are passed in dens, with bears beginning their deep sleep near the end of November and not emerging until April or May. In warmer climates, this hibernation time is greatly reduced, with black bears on Honshu sleeping for a shorter spell and bears in southern Asia avoiding hibernation altogether.
For bears that do hibernate, this sleepy winter is also the time when expectant mothers give birth. Despite this rather strenuous sounding activity, the mother bear's metabolic rate remains low during this period, even while she suckles her cubs. This is in stark contrast to the first few months after a human baby's arrival where the mother typically gets very little sleep at all.
Another feature human expectant mothers may envy is the ability of the bear to put her pregnancy on hold for several months. Bears mate in the summer whereas the cubs are born in the middle of winter, making the bear pregnancy official clocking in at 6 – 7 months. However, the foetus only actually takes about two months to develop; roughly the same time scale as for a cat or dog. This pregnancy pausing is known as 'delayed implantation' and stops the pregnancy at a very early stage, waiting until the mother has gained weight and begun her hibernation before allowing the cubs develop.
Brown bears typically have two cubs per litter and the babies stay with their mother during the first 1.5 – 2.5 years of their life. With an infant mortality of roughly 40 – 50%, this means that drops in the bear population are difficult to replenish. Toshio's work in understanding brown bear ecology is therefore particularly important to preserving the species in Hokkaido.
As hunting drops in popularity, Hokkaido's bear population has improved, yet this could be seriously damaged if humans and bears come into conflict.
"A bear does not want to attack a person," Toshio explains. "He just want to find food. But sometimes bears may encounter people and this leads to a dangerous situation."
To date, bears venturing into Sapporo have not resulted in serious accidents, although people have been killed by bears in the mountains during the spring. These attacks occur when both people and bears seek out the wild vegetables, producing a conflict over a food source.
Toshio believes that education is of key importance to keeping both bear and human parties safe, and advocates that a wildlife program be introduced in schools.
"If there are no accidents, people love bears! They are happy with their life and population," Toshio points out. "But if people see bears in residential areas they will become scared and want to reduce their number."
If you do see a bear in the street, Toshio says that keeping quiet and not running are key. In most cases, the bear will ignore you, allowing you to walk slowly away and keep your distance.
"We talk about 'one health'," Toshio concludes. "Human health, animal health and ecological health. These are important and we need to preserve them all."
Author: Elizabeth Tasker