University News | August 25, 2017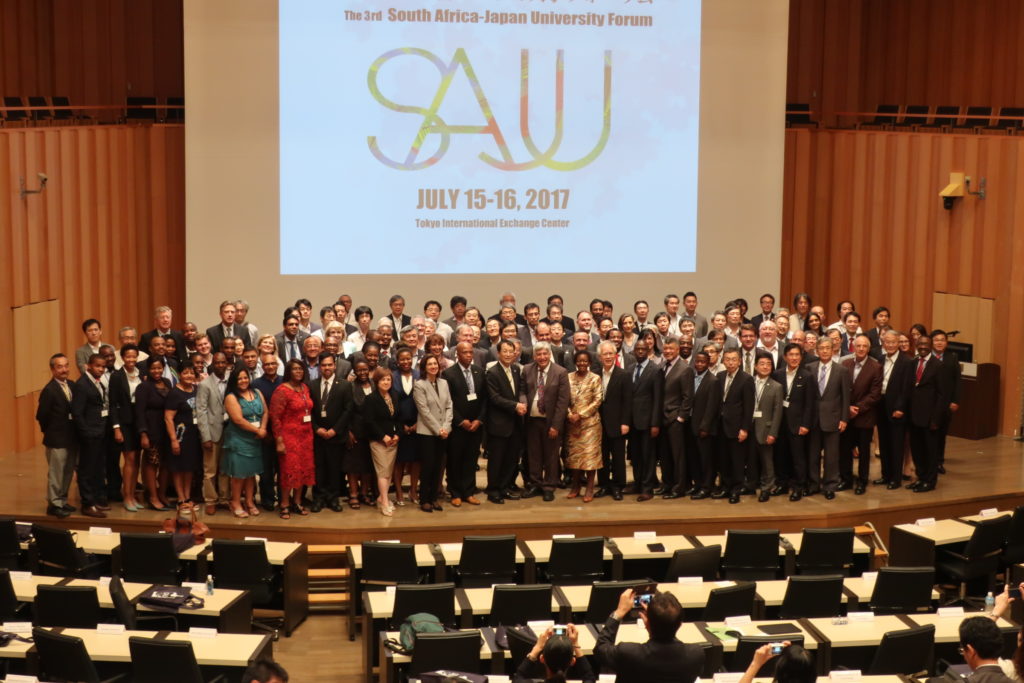 Photo session with representatives at the 3
rd
SAJU Forum
The 3rd South Africa – Japan University (SAJU) Forum was held at Odaiba, Tokyo from July 15th to 16th. President Nawa and Prof. Masahiro Okumura, Director of the Hokkaido University Africa Lusaka Office, attended the event.
Until now, two SAJU forums have been held to establish frameworks for academic collaboration between South Africa and Japan in higher education: the first one was held at Hiroshima in 2007 and the second one at Cape Town in 2008. For the third one this year, around three hundred representatives from twenty-five Japanese universities, twenty-one South African universities, and officials of the government and industry participated.
This year, under the main theme "Cooperation between South African and Japanese universities towards achieving sustainable development goals (SDG)," there were keynotes by specialists from industries, the government, and universities from Japan and South Africa. This was followed by four parallel sessions dedicated to "Environment and Energy," "Health," "Education, Humanity and Society" and "Agriculture and Food." In each session, participants and panelists discussed ways for universities in Japan and South Africa to collaborate in the future to solve global and local problems and achieve set SDGs.
President Nawa chaired the "Environment and Energy" session and discussion which followed. The session consisted of presentations by seven Japanese universities and six South African universities about their activities in preserving the environment and energy. As one of the chairmen, President Nawa acted as facilitator and summarized the session. Prof. Okumura was one of the presenters for the session and introduced prospective research collaborations between Hokkaido University and the South African region. In his presentation, he talked about the university's Science and Technology Research Partnership for Sustainable Development (SATREPS) and their project titled "Visualization of Impact of Chronic/Latent Chemical Hazard and Geo-Ecological Remediation." This project is led by Prof. Mayumi Ishizuka and Prof. Toshifumi Igarashi. His presentation also included other research activities undertaken with researchers in South Africa as follows:
"Indoor airborne radioactivity measurement near mine tailings in West Rand, SA" by Associate Prof. Kazuhiro Toyoda, Faculty of Environmental Earth Science.
"Is DDT really safe for vector control? Bio-hazard control vs. Chemical-hazard" by Associate Prof. Yoshinori Ikenaka, Faculty of Veterinary Medicine.
  Afterwards, President Nawa and the South African chairman wrapped up the session and expressed their expectations that future collaborations between Japan and South Africa will put to practical use the technical strength of Japan and resources of South Africa.