Event | February 12, 2016
Finished
Feb

12

2016
Great opportunity to think about what we can do in terms of international cooperation. Learn from HU student/alumni's experiences in the world.
The 4th International Cooperation Cafe @ HU Library
*The talk session will only be in Japanese.
Date: Februrary 12, 2016
Time: 18:30-20:00
Venue: Open Area, 2F, Central Library, Hokkaido University
Apply from the following URL or QR code in the flyer image.
http://www.lib.hokudai.ac.jp/2016/01/07/36362/
*For the first 20 people who signed up, hot tea will be offered at the venue.
(first-come-first-served)
Guests:
Shuuki MIURA
Worked in Zambia as JICA intern.
Currently Master's course student at Graduate School of Engineering, Hokkaido University.
Sayuri KON
Graduated with Master's degree at Graduate School of Health Sciences, Hokkaido University in 2011.
Worked (as physical therapist) in Tanzania as a menber of Japan Overseas Cooperation Volunteers by January, 2016.
Keiko TAMURA
Graduated from School of Law, Hokkaido University, and Graduate School of the London School of Economics and Polictical Sciences.
Worked for United Nations (United Nations Development Programme/Bureau for Crisis Prevention and Recovery/UNDP Sudan), JICA, Save the Children and other programs.
For more information, contact:
cref[at]lib.hokudai.ac.jp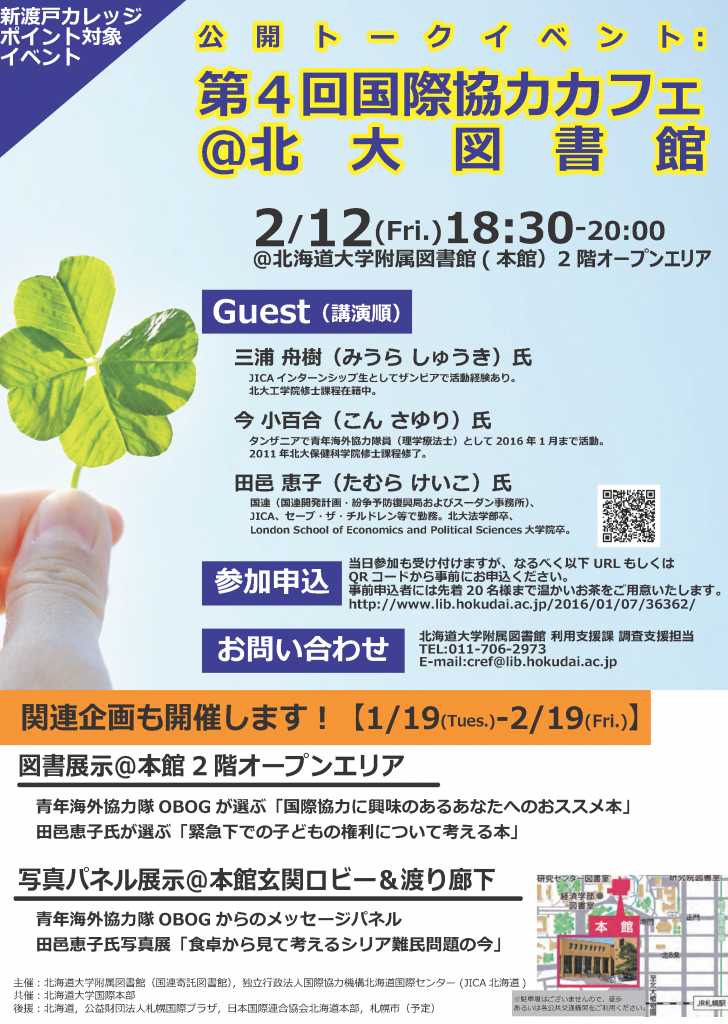 Related Library events up to February 19, 2016:
Books on display  (Open Area, 2F, Central Library)
"Recommended Books" selected by former members of Japan Overseas Cooperation Volunteers
"Books on thinking about children's rights under emergency situations" selected by Keiko TAMURA
Photos and panels on display (entrance lobby/connecting corridor, Central Library)
Messages from former members of Japan Overseas Cooperation Volunteers
Photo exhibit of Keiko TAMURA on "Current state of Syrian refugee issue captured from the viewpoint of dining table"