University News | November 10, 2017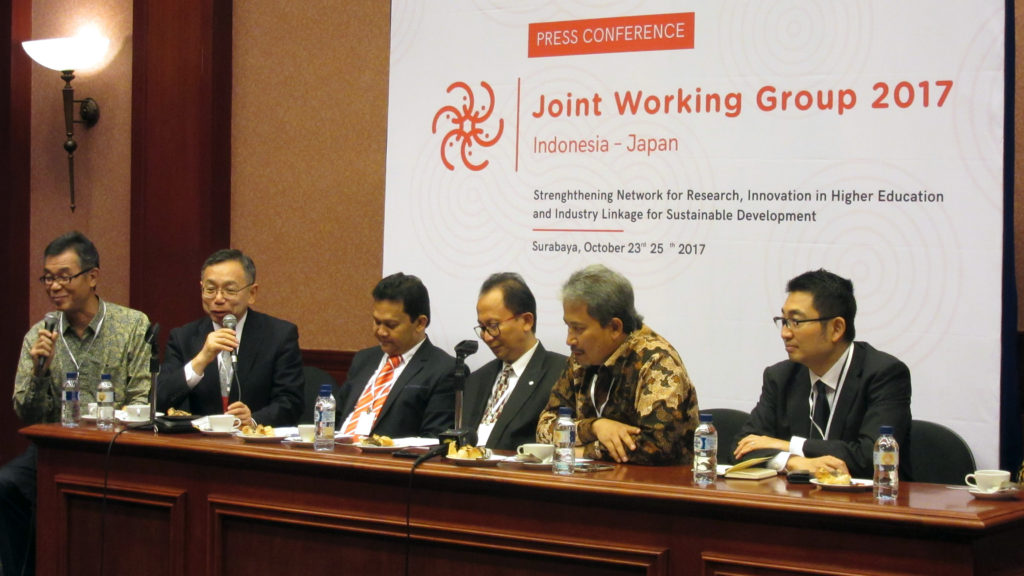 Media press conference during the meeting
The Joint Working Group 2017 Indonesia-Japan, attended by President Toyoharu Nawa, was held at Surabaya, the Republic of Indonesia, from October 23rd to 25th.
Until now, 3 conferences have been held to accelerate collaborations in research and education among universities in both countries: the first one was held at Nagoya in 2012, the second one at Yogyakarta in 2013 and the third at Sapporo in 2015. This year, under the theme "Strengthening Network for Research, Innovation in Higher Education and Industry Linkage for Sustainable Development," around one hundred and fifty representatives from twenty-three Japanese universities and sixty-two Indonesian universities participated. Since Hokkaido University hosted the previous event, the university coordinated the Japanese side of operations for the conference.
The opening ceremony saw welcome addresses by Prof. Ir. Joni Hermana MSc.ES PhD, Rector of Sepuluh Nopember Institute of Technology (IST), and Prof. Dr. Ir. Kadarsah Suryadi, Representative of the Council of Rector of Indonesia State University (CRISU). This was then followed by a welcome address by Mr. Ryo Nakamura, Minister of the Embassy of Japan in Indonesia who acted as a representative of the Japanese participants.
There was then a photo session, after which was followed by a number of lectures. Ms. Taka Horio, Deputy Director of the Office for International Planning, MEXT Japan first offered an introduction on the current situation of Japanese higher education. Dr. Edward Otto Kanter, Vice President Director of PT Toyota Manufacturing Indonesia, then gave a keynote on collaborations in academia and industry between the two countries.
Lecture by Ms. Taka Horio, Deputy Director, Office for International Planning, Higher Education Bureau, MEXT
Keynote lecture by Dr. Edward Otto Kanter, Vice President Director, PT Toyota Motor Manufacturing Indonesia
While these lectures were taking place, President Nawa and IST Rector Hermana as well as other representatives from the Indonesian and Japanese governments attended a press conference for the Indonesian media. At the press conference, President Nawa and IST Rector Hermana expressed their enthusiasms for collaborations between both countries.
Parallel sessions and discussions of topics set during a meeting with experts from each university the previous day, these being "Commission for Education Collaboration & Univ. Governance," "Commission for Research and Innovation Collaboration," "Commission for I-U Cooperation in Innovation" were held later in the day.
In the evening, a dinner reception providing social opportunities to discuss future collaborations was held at the Surabaya North Quay. Remarks were given by IST Rector Hermana, and Mr. Masaki Tani, Consul General of Japan. These were accompanied by remarks given by President Nawa, representing the former conference host institution, and Dr. Yasushi Maruyama, Vice President of Hiroshima University, where the next conference will be held in 2019.
Group photos of the participants