Finished
Oct

21

2014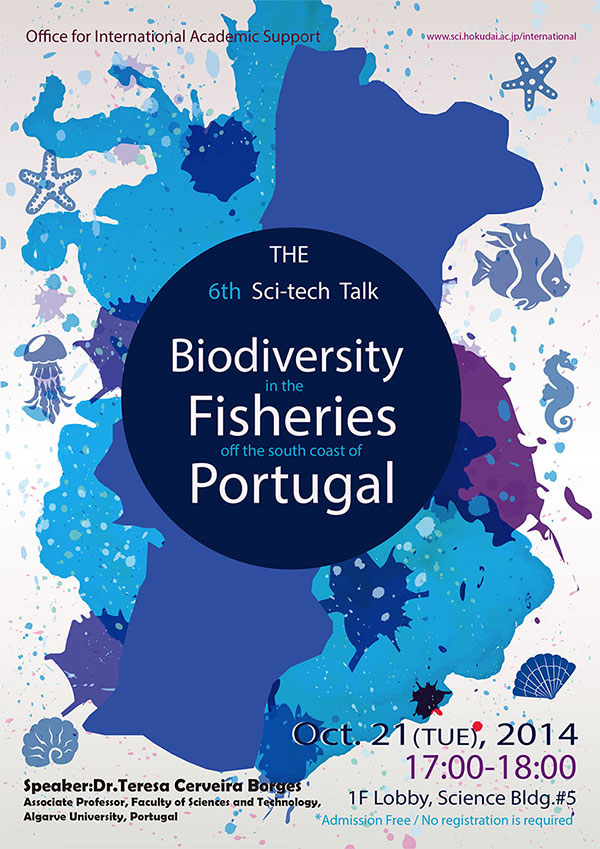 Office for International Academic Support (OIAS), Faculty of Science is pleased to announce the 6th "Sci-Tech Talk in English" by Dr.Teresa Cerveira Borges (Associate Professor, Faculty of Sciences and Technology, Algarve University, Portugal).
This event is organized as a part of internationalization activities of the Faculty of Science and intended for non-specialists. All talk and discussion will be conducted in ENGLISH.
We welcome all students, faculty members and others who are interested in science.
TITLE
Biodiversity in the fisheries off the south coast of Portugal
SPEAKER
Dr.Teresa Cerveira Borges
(Associate Professor, Faculty of Sciences and Technology, Algarve University, Portugal)

TIME AND DATE

Tuesday, October 21, 2014 17:00-18:00

*Admission Free / No registration is required.

VENUE
1F Lobby, Science Building No.5, Hokkaido Univ.(N10 W8 Kita-ku, Sapporo)
Organizer

Office for International Academic Support, Faculty of Science

Web