Event | November 15, 2018
Finished
Nov

15

2018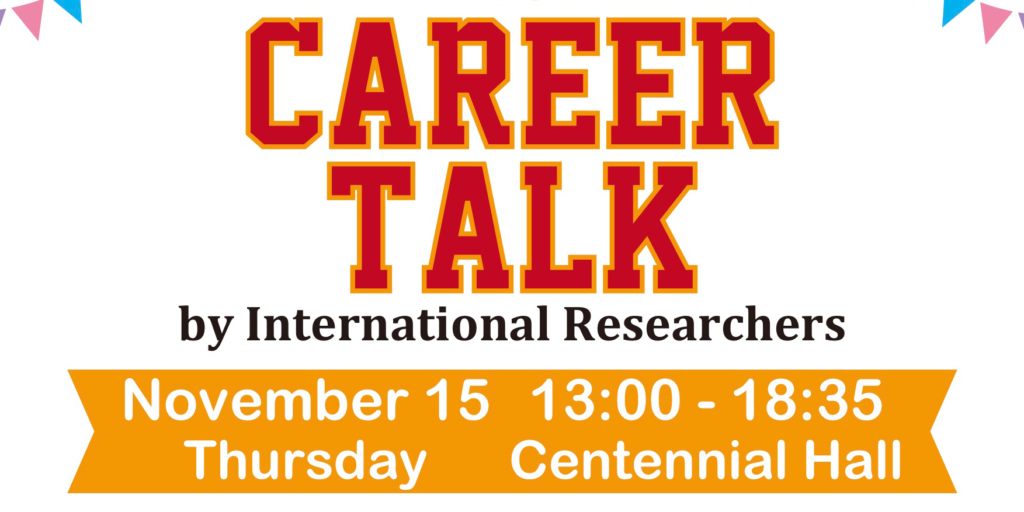 This seminar is for young researchers (Master's course, Doctoral course, Postdocs), and will be conducted in English.
Career Talk gives the audience a chance to listen to the life stories of international business professionals with advanced degrees who are currently working for companies in Japan. They will talk about their career, especially focusing on turning points of their life such as graduation, job hunting, changing jobs or companies, and so on. To cover a wide range of interests from many different academic disciplines, guest speakers are chosen from a variety of backgrounds, such as life science, agriculture, economics and engineering. Each session is followed by a Q&A so you are encouraged to ask questions.
For the sake of better understanding of many different vocations, listening to all the speakers is highly recommended. 
Agenda
13:00 Introduction
13:15 Mr. Zobaer Hasan, Ms. Sindhu Thangavel, ROHTO Pharmaceutical Co., Ltd.
14:30 Mr. Adam Kassab, TERUMO Corporation
16:00 Mr. Woo-Hyeun Jeong, Panasonic Corporation Eco Solutions Company
17:15 Mr. Emmanuel de Gabory, NEC Corporation
18:30 Closing Remarks
Lecturers
Md. Zobaer Hasan, Ph.D. (Biological Sciences)
Sindhu Thangavel, Ph.D. (Material Science)
Research & Development, ROHTO Pharmaceutical Co.,Ltd.
Adam Kassab, Ph.D. (Business Administration)
Human Resources Development Department, TERUMO Corporation
Woo-Hyeun Jeong, Ph.D. (Agriculture)
Intellectual Property Department, Panasonic Corporation Eco Solutions Company
Emmanuel de Gabory, Master of Science & Engineering
System Platform Research Laboratories, NEC Corporation
Seminar date
11/15/2018 (Thur.) 13:00–18:35
Place
Centennial Hall 1st Floor Conference Room
Eligibility
Hokkaido University graduate students and postdocs
Application deadline
11/14/2018 (Wed.) 23:00
Max participants
50
How to apply
You must be registered in the Hi-System. If you are not, please register here.
Click here "Career Talk" and scroll to the bottom of the page and click "申し込む/Apply" to register.
If you do not receive a confirmation e-mail within three business days after registering, please contact I-HoP.
Inquiries
Front Office for Human Resource Education and Development
International Human Resource Development Program (I-HoP)
Hokkaido University
E-mail: ihop@synfoster.hokudai.ac.jp