Finished
Oct

14

2016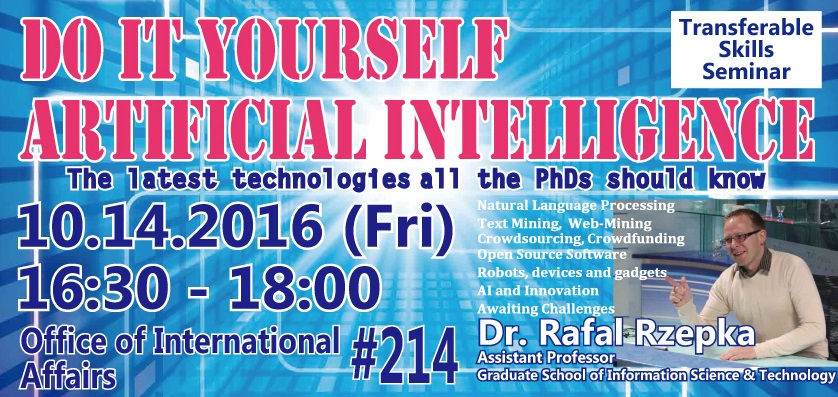 This transferable skills seminar is targeted for researchers (MC, DC, PD, faculty member).
Seminar will be conducted in English.
『 In my talk I will present the latest advances in the field of Artificial Intelligence and try to broaden the participant's knowledge on how computers are currently changing our lives and how they are going to influence our near future.
I will introduce some techniques from natural language processing, vision recognition and data mining which are becoming available for people who don't have background in computer science. Trends in crowd-sourcing and crowd-funding which change job-markets and invite broader social changes will also be presented.
I will give examples of utilizing open-source software in everyday life applications and in non-technological fields of science.
In the last part of my presentation I will describe potential problems and challenges the developers and researchers already face or will soon face while automating our daily activities.
By showing challenges of simple cleaning robots and advanced self-driving cars I want to pass the participants a message about the need for mixing fields in the era of accelerating innovation.
There will be also a small workshop for creative thinking to spark a discussion about the need of shrinking the growing transformational gap between Japan and the rest of the world. 』
■ Lecturer
Dr. Rafal Rzepka, Assistant Professor, Graduate School of Information Science and Technology.
■ Place
Office of International Affairs, 2nd Floor, Main Conference Room (#214).
■ Seminar date
10/14/2016 (fri) 16:30-18:00
■ Eligible
Hokkaido University graduate students, postdocs and faculty members.
■ Closing
10/14/2016 noon
■ Max participants
40
■ How to register
< Graduate students and postdocs >
You must be registered in the Hi-System. If you are not, please register here.
*Hi-System details are found here.
Click here: and scroll to the bottom of the page and click "申し込む" to register.
< Hokkaido University faculty members/staffs >
Please register from the page.
If you do not receive a confirmation e-mail in three business days after registering, please contact I-HoP. 
■Inquiries
Front Office for Human Resource Education and Development
International Human Resource Development Program ( I-HoP )
ihop[at]synfoster.hokudai.ac.jp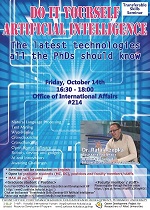 (click to get PDF)