Finished
Jan

28

2016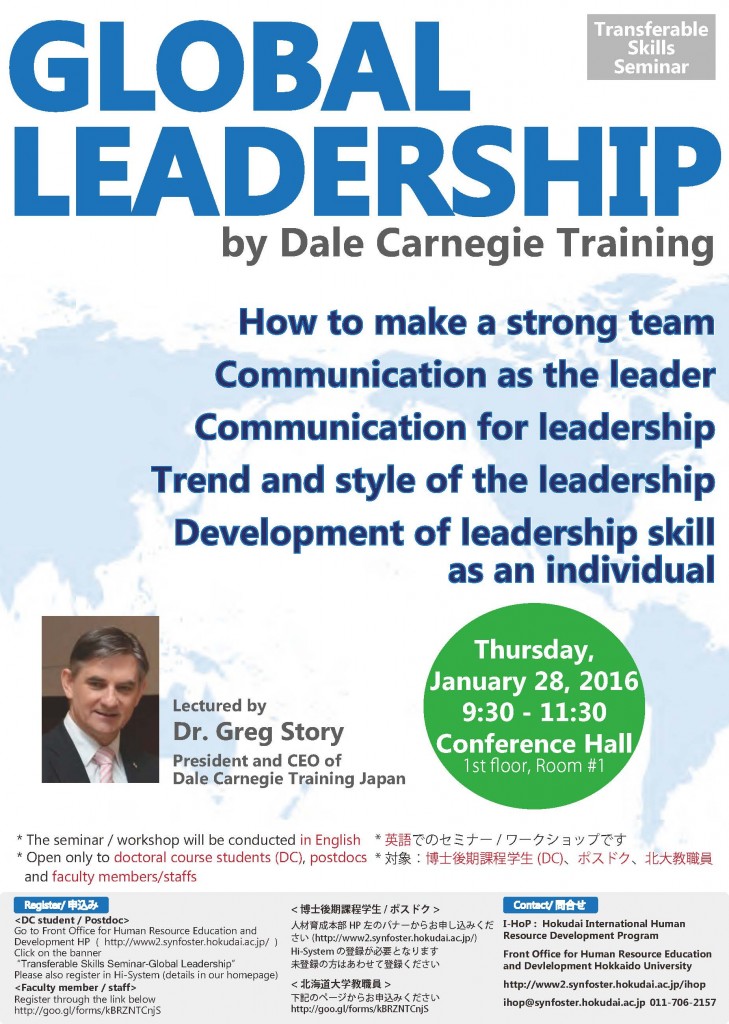 (click to get the PDF)
This transferable skills seminar/workshop is targeted for researchers.
Seminar/workshop will be conducted in English.
We invite Dr. Greg Story, president and CEO of Dale Carnegie Training Japan as the lecturer of this transferable Skills Seminar.
Dale Carnegie Training is an American corporate training organization with more than 100 years of history that has been providing comprehensive training programs for more than 90% of the companies listed in the Fortune 500.
You will be able to experience the essence of corporate leadership training in two hours which must be attractive and informative not only for PhD course students and postdoc researchers (both Japanese and International), but also for faculty members and staff of the school.
This is very rare opportunity for academic institution like Hokkaido University to learn how global business leaders are trained.
In this two hour interactive seminar in English, five selected elements out of 38 components of leadership development program that Dale Carnegie Training has will be covered;
1. How to make a strong team
2. Communication as the leader
3. Communication for leadership
4. Trend and style of the leadership
5. Development of leadership skill as an individual
■ Lecturer
Dr. Greg Story
President and CEO of Dale Carnegie Training Japan
Dale Carnegie Training is the oldest corporate training company in the world and also the oldest, continuously operating corporate training organisation in Japan as well.
http://japan.dalecarnegie.com/
■ Place
Conference Hall 1st Floor Room#1
■ Seminar date
1/28/2016 (Thu) 9:30-11:30
■ Eligible
Hokkaido University doctoral course students, postdocs and faculty members/staffs. (International students and faculty members/staffs will be given priority)
■ Max participants
100
■ How to register (registration period: 12/22/2015 –
1/26/2016 15:00

)
* Doctoral course students & Postdocs *
Click here: and scroll to the bottom of the page and click "申し込む" to register.
You must be registered in the Hi-System.
If you are not, please register here.
* Hokkaido University faculty members/staffs *
Please register from the page below.
If you do not receive a confirmation e-mail in three business days after registering, please contact I-HoP.
■Inquiries
I-HoP :International Human Resource Development Program, Front Office for Human Resource Education and Development, Hokkaido University
ihop[at]synfoster.hokudai.ac.jp
011-706-2157