Finished
May

30

2018
This transferable skills seminar is targeted for all students and faculty members. Seminar will be conducted in English.
Among the vocations that would require intercultural communication skills, diplomats possess one of the most sophisticated and insightful attainments. I-HoP, together with Nitobe College, Nitobe School and the University Library, is honored to welcome two US diplomats who have been providing their relentless support for our activities in the campus as the guest speakers of this seminar. Mr. Harvey Beasley and Mr. Justin Tull, consuls of the US Consulate General Sapporo will successfully complete their term in Sapporo soon, and they will kindly share with us their experience and stories despite their tight schedule. 
Introduction
Speech by Mr. Beasley
Speech by Mr. Tull
Panel Discussion (moderator: Ms. La Fay) 
Theme 1: How to understand the counterpart
Theme 2: Tactics for setting up the mutual goal
Q&A from the floor
Closing remarks (by Mr. Iida) 
■ Lecturers
Mr. Harvey Beasley, Public Affairs Officer, U.S. Consulate General Sapporo 
"He began his assignment as Public Affairs Officer at the United States Consulate General in Sapporo in August 2015. Previously he served as Vice Consul in Chennai, India and as Vice Consul in Shanghai, China. Before joining the Foreign Service, Mr. Beasley worked in the private sector and spent most of his career in Japan. He has a master's degree in International Relations from The Fletcher School and bachelor's degrees in Computer Information Systems and Japanese from Indiana University Bloomington. Mr. Beasley studied at Nanzan University in Nagoya for one year as an exchange student during his undergraduate studies, and has also studied at the Inter-University Center for Japanese Language Studies in Yokohama."
Mr. Justin Tull, Management Officer, U.S. Consulate General Sapporo
"He joined the United States Consulate General in Sapporo in August 2015. He previously served as the Consul in Suva, Fiji, a Staff Assistant to the Assistant Secretary for African Affairs, and the Special Assistant to the Assistant Secretary for Conflict and Stabilization Operations at the U.S. Department of State. Before joining the Foreign Service, Mr. Tull was a pilot in the U.S. Air Force and worked in both the private sector and city government. He holds a Bachelor's and Master's degree in Public Policy from Brigham Young University. Currently, he is a PhD candidate at Virginia Tech's Center for Public Administration and Policy. Justin studied Japanese at the Foreign Service Institute in Yokohama and spent almost two years as a volunteer living in Japan's Kanto region."
Moderator: Ms. Michelle La Fay, Associate Professor, Hokkaido University
■ Hosts
Front Office for Human Resource Education and Development, the University Library, Nitobe College, and Nitobe School
(Nitobe College students will earn a point if they attend)
■ Place
Hokkaido University Central Library, Media Court
(Please bring your student ID card with you.)
■ Seminar date
5/30/2018 (Wed.) 15:00-16:30
■ Eligibility
Hokkaido University students, postdocs and faculty members
■ Application deadline
5/30/2018 12:00
■ Max participants
70
■ How to register
No registration required. However, if you are a graduate student or a postdoc, we appreciate your registration through the Hi-System.
<Graduate students and postdocs>
Click here, scroll to the bottom of the page and click "申し込む" to register.  To use the system, you must first be registered. If you are not, please register here. If you do not receive a confirmation e-mail within three business days after registering, please contact I-HoP.
■Inquiries
I-HoP :International Human Resource Development Program
Front Office for Human Resource Education and Development
Hokkaido University
011-706-2157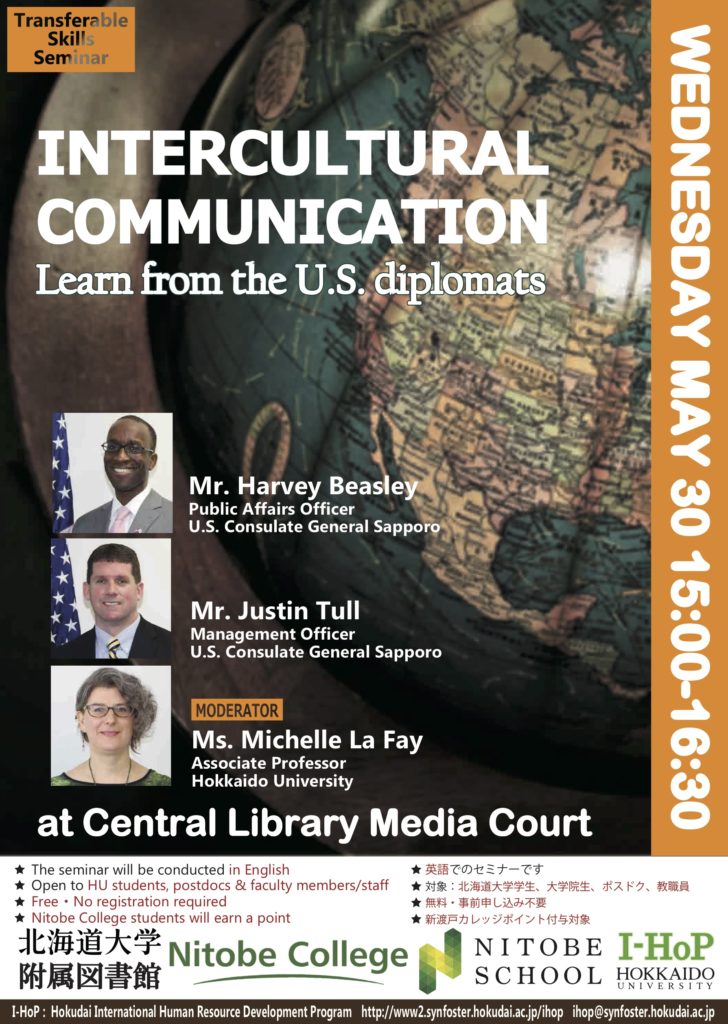 ---