Event | December 06, 2018
Finished
Dec

06

2018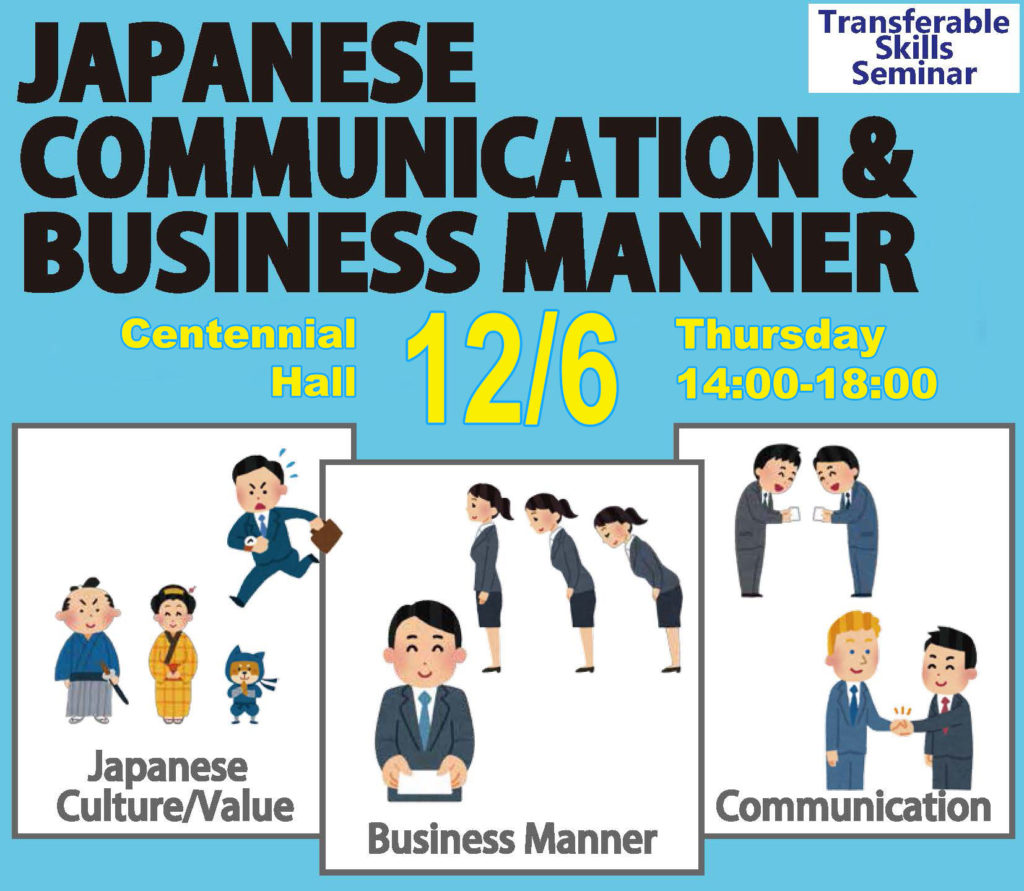 This transferable skills seminar is intended for international researchers (Master's and Doctoral students, and Post-docs). The seminar will be conducted in English.
This four hour seminar  contains both a lecture and a workshop. The lecture touches on the differences of culture, value judgment, time sense, and others between Japan and other countries, as well as the well-known yet and difficult-to-understand topic of "Honne" and "Tatemae." The workshop will consist of practicing fundamental Japanese business manners, including table manners, which are useful for daily communication and formal occasions in Japan. 
Cultural differences, different values seminar content: 
Unique characteristics of Japanese communication 
High-context vs. Low-context
Honne vs. Tatemae
Importance of communication
 Japanese business manner, table manners 
Seating order
Bowing, name card exchange, at an interview, etc.
Japanese table manners
Lecturer
Ms. Nana Mihama
Ms. Mihama has worked as a cabin attendant on both international and domestic flights. She also has experience training new cabin attendants. After coming back from the United States of America, she became an instructor at ANA Business Solutions teaching hospitality, business manner, protocol, etc. at various organizations.
ANA Business Solutions Co.,Ltd.
Location
Centennial Hall 1st Floor Conference Room
Date and time
12/6/2018 (Thu.) 14:00-18:00
Eligibility
Hokkaido University graduate school students and postdocs whose native language is NOT Japanese
Application Deadline
12/6/2018  (Thu.) 10:00
Max participants
40
How to register
You must be registered in the Hi-System. If you are not, please register here.
Click here and scroll to the bottom of the page and click "申し込む" to register for the event.
If you do not receive a confirmation e-mail within three business days after registering, please contact I-HoP.
Inquiries
International Human Resource Development Program (I-HoP)
Front Office for Human Resource Education and Development
Hokkaido University
ihop[at]synfoster.hokudai.ac.jp
011-706-2157