Event | November 19, 2018
Finished
Nov

19

2018
This seminar is for all international students, and will be conducted in English.
For the students learning and studying all in English, attending a Japanese class is very difficult. If you really want to gain Japanese language proficiency with minimum cost, there are some ways to do it by yourself using free resources. The seminar will give you some hints on how you can accomplish this challenging task.
Seminar Overview
Language is "sound." The best way to learn a foreign language is to stay in the country and take in words after words. Don't miss your chance to use this advantage while you are at Hokkaido University.
Workshop: Communicating with your friends. Tell who you are.
How to utilize free online tools: which one should I choose?
Q&A
Lecturer
Ms. Manami Tominaga, ALC Japanese Language Instructor
Ms. Tominaga graduated from Waseda University and Boston University School of Management (MBA). She has lead diverse multinational teams at a U.S. global corporation as an executive senior manager. She also holds Japanese language workshops for non-Japanese students through case studies created from her own experiences.
Seminar date
11/19/2018 (Mon.) 14:00–16:00
Place
Mid-Campus Open Laboratory Building#1, 1st floor
South-east corner of Main Street & Gingko Avenue
Eligibility
Hokkaido University international students
Application deadline
11/18/2018
Max participants
40
How to apply
For graduate students and postdocs:
You must be registered in the Hi-System. If you are not, please register here.
Click here "Let's learn Japanese" and scroll to the bottom of the page and click "申し込む/Apply" to register.
For other international students:
Please send an email to ihop[at]synfoster.hokudai.ac.jp
If you do not receive a confirmation e-mail within three business days after registering, please contact I-HoP.
Inquiries
Front Office for Human Resource Education and Development
International Human Resource Development Program (I-HoP)
Hokkaido University
E-mail: ihop@synfoster.hokudai.ac.jp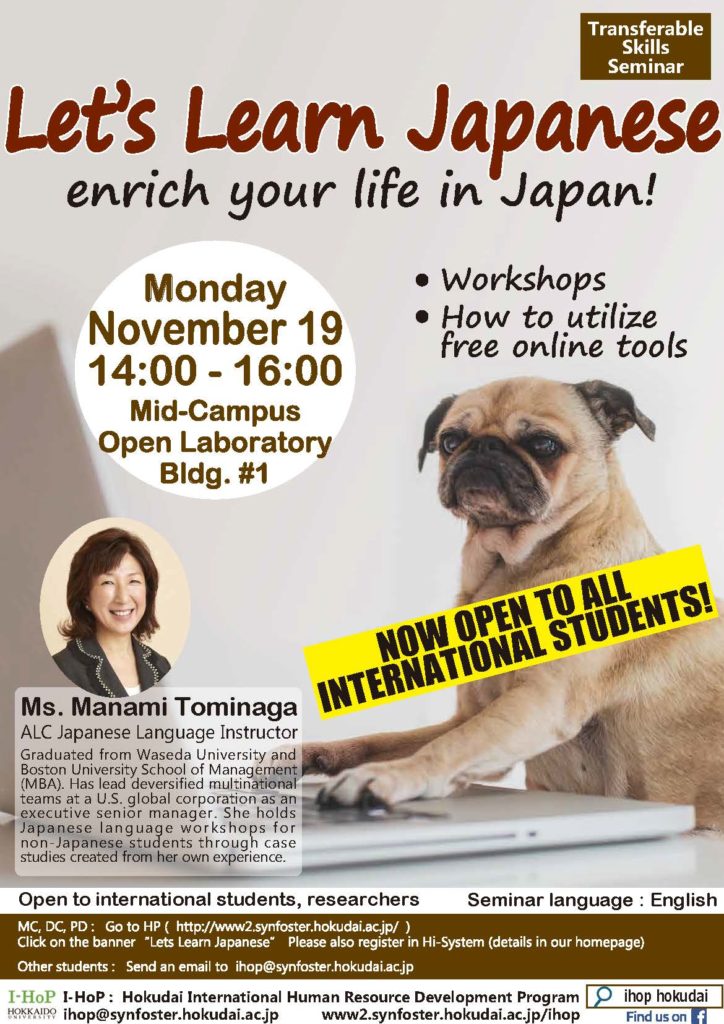 ---